How to use a Swiss ball: A guide to using exercise balls for workouts and recovery
Here's your guide on how to use a Swiss ball, a very versatile piece of fitness kit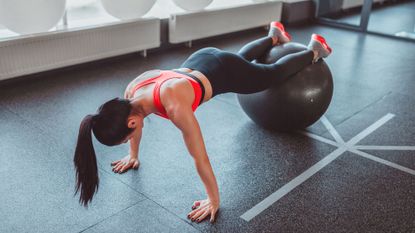 (Image credit: iStock)
Get the Fit&Well Newsletter
Start your week with achievable workout ideas, health tips and wellbeing advice in your inbox.
Thank you for signing up to Fit And Well. You will receive a verification email shortly.
There was a problem. Please refresh the page and try again.
If you walk into lots of gyms and fitness classes, chances are you've seen a Swiss ball – otherwise known as a yoga ball or exercise ball – in the corner of the room. You might even have seen somebody sitting on a Swiss ball at their desk at work, using the ball instead of an office chair.
The Swiss ball is a common piece of equipment because it's an easy bit of kit to keep at home. However, you might wonder what a big one-metre diameter plastic ball can do to enhance your workouts. And the answer is a lot, whether you're brand new to exercising or you've been hitting the gym for years.
For starters, it can provide you with better core and lower back strength. Doing situps and crunches on a Swiss ball removes some of the pressures a hard floor inflicts on your back, making it perfect for people who want to train their core but already suffer from lower back pain.
How to use a Swiss ball: Get a tight, toned core
Sitting on a Swiss ball to perform any exercise will place additional stress on your core, as your abdominal muscles have to fight to keep you steady. The journal Physical Medicine and Rehabilitation suggests incorporating Swiss ball exercises also provides a training stimulus for the rectus abdominis, otherwise known as the "six pack muscle". Incorporating Swiss balls into your training can certainly create a stronger core in an easy, low-risk way, making Swiss ball exercises perfect for people getting into fitness for the first time.
It's not just your core you're training, either. The Journal of Strength and Conditioning Research found Swiss-ball core strength training exercises can improve strength in your abdominals, lower back, quads, hamstrings, as well as your flexibility and dynamic balance.
Slowing down and performing exercises on an unstable surface like a Swiss ball activates muscles all over your. A study published in the Journal of Sports Sciences found the more unstable your weights are, the more muscle groups you're actually working.
If you're doing dumbbell presses to work your triceps and chest, you'll get the added bonus of your core, legs and even your biceps will also be getting a workout.
How to use a Swiss ball: Five moves to start you off
Below are five moves to begin using your Swiss ball to work your core, hip flexors, chest, triceps and legs.
Swiss ball hip raise
This variation of the hip raise, using an exercise ball, includes an additional leg curl.
Lie flat on your back with your arms by your side and the back of your heels resting on a Swiss ball.
Using your heels and core, raise your hips until your body forms a straight line from your shoulders to your feet.
Without lowering your hips, pull your knees and feet towards you by rolling the feet across the Swiss ball.
Swiss ball mountain climber
If you want to test your core stability as well as your core strength, this tricky Swiss ball variation is a good option.
Get into the plank position with your feet resting on the top of an exercise ball.
Keeping your left foot on the exercise ball, draw your right knee up towards your chest, before returning to the starting position.
Keeping your right foot on the ball, draw your left knee towards your chest. Return to the starting position. Alternate between legs for at least 30 seconds.
Swiss ball jack knife
This is a tricky exercise to get right if your balance is poor, but including it in your workouts helps improve your core stability. You should try and keep your back straight throughout.
Get into a plank position with your hands placed just outside shoulder-width apart, and your shins resting on the top of an exercise ball.
Your back, legs and upper body should form a straight line. Your feet and legs should be together, not apart, and your core should be braced with your abs pulled in.
Roll the exercise ball forward with your feet, towards your chest.
Pause briefly, and then push the ball backwards so that you return to the starting position.
Swiss ball dumbbell press
You don't need a weights bench to press; in fact, you can do it with an exercise ball and a pair of dumbbells. The softness of the Swiss ball means your core has to work harder to keep you balanced and stable.
Pick up a pair of dumbbells with an overhand grip and lie with your back on an exercise ball.
Your legs should be bent at the knees, with your feet planted firmly on the floor, and your core braced. The dumbbells should be held above your shoulders.
Push the dumbbells upwards in a straight line as quick as you can. Pause, before slowly lowering the dumbbells back to the starting position.
Swiss ball dumbbell fly
A classic chest exercise that can be performed on a weights bench or, as here, an exercise ball.
Lie with your back on an exercise ball and your feet planted firmly on the floor. Grab a pair of dumbbells with a hammer grip and hold them together, above your chest, at arm's length.
With your elbows slightly bent, lower your arms down until they're parallel with the floor. Pause, and then lift the dumbbells back to the starting position to complete one repetition.
Liked this?
Get the Fit&Well Newsletter
Start your week with achievable workout ideas, health tips and wellbeing advice in your inbox.
Matt Evans is an experienced health and fitness journalist and is currently Fitness and Wellbeing Editor at TechRadar, covering all things exercise and nutrition on Fit&Well's tech-focused sister site. Matt originally discovered exercise through martial arts: he holds a black belt in Karate and remains a keen runner, gym-goer, and infrequent yogi. His top fitness tip? Stretch.