All you need is five exercises and two kettlebells to build full-body strength
Work your arms, legs, back, core and more in under 30 minutes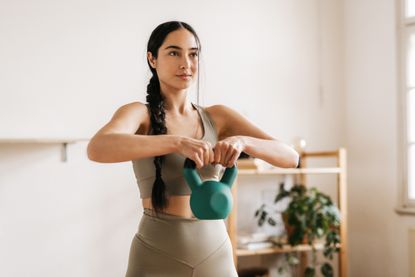 (Image credit: Future)
Bodyweight workouts are a fantastic way to stay fit and build strength, but adding a dumbbell or kettlebell can help increase the difficulty and intensity of your session. These tools also open up a world of possibilities when it comes to the exercises you can perform, helping keep your fitness routine fun, fresh and exciting.
Take the best kettlebells, for example. These versatile bits of kit allow you to perform everything from goblet squats and Russian twists to deadlifts and clean and presses. You can basically work every major muscle group in your body, thanks to their ergonomic design.
Someone who's no stranger to the kettlebell is Rhiannon Bailey, a fitness and yoga coach who regular shares challenging yet accessible workouts with her 34,000-strong Instagram following.
She recently posted a full-body strength workout that takes just 15-30 minutes and uses (you guessed it) two kettlebells. However, if you don't own a kettlebell, you can also give it a go with a pair of the best adjustable dumbbells or any other weight you can hold – even two tins of beans or a pair of water bottles, if that's what you have to hand!
The session involves five movements, completed one after the other as a circuit. You perform each exercise for 45 seconds, take a short 15 second rest, then get straight back to work with 45 seconds of the next exercise.
The workout is also scalable, making it suitable for all fitness levels. Bailey advises beginners to try three rounds of the five-minute circuit and use a lighter weight, while regular exercisers might want to perform 4-6 rounds with heavier kettlebells.
"Work to your level, (one) that will challenge you while keeping your form on point," Bailey says.
Watch Rhiannon Bailey's full-body kettlebell workout
This session is an example of high-intensity resistance training or HIRT. A twist on the popular HIIT (high-intensity interval training) format, this workout style uses high repetitions and low rest times to keep your heart rate high and burn calories. But, where HIIT focuses on cardio-based exercises, HIRT incorporates more strength-based movements to help you build muscle.
The result? You get two for the price of one when it comes to the health benefits of your training, boosting your strength and aerobic capacity in one fell swoop.
A study published in the Journal of Translational Medicine found HIRT can boost your metabolism, muscle mass and strength, as well as significantly increasing post-exercise energy consumption, leading to greater calorie burn than traditional resistance training. This makes it a favorable option for anyone looking to build muscle and burn fat, as it can help you create a calorie deficit.
After trying this intense workout, we would advise you recover the following day with a rest day or active recovery session – for example, a swim, cycle or jog at a steady pace.
Harry Bullmore is a Fitness Writer for Fit&Well and its sister site Coach, covering accessible home workouts, strength training session, and yoga routines. He joined the team from Hearst, where he reviewed products for Men's Health, Women's Health, and Runner's World. He is passionate about the physical and mental benefits of exercise, and splits his time between weightlifting, CrossFit, and gymnastics, which he does to build strength, boost his wellbeing, and have fun.
Harry is a NCTJ-qualified journalist, and has written for Vice, Learning Disability Today, and The Argus, where he was a crime, politics, and sports reporter for several UK regional and national newspapers.