Build lean arms in just 9 minutes with this 3-move workout
All you need is a pair of dumbbells to give this fast, effective session a go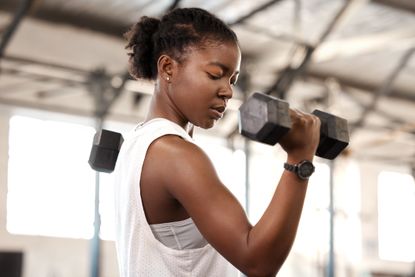 (Image credit: Future)
Unfortunately, we can't give you a superhero movie montage to grow your arms in a matter of moments. However, with this simple three-move workout you can put your biceps and triceps to task in just nine minutes. All you need is a pair of dumbbells and the willingness to work hard.
We'd recommend grabbing a set of the best adjustable dumbbells for this session as you can change their weight to suit your strength level. However, a fixed weight set, a pair of kettlebells or even two full water bottles will also do the trick.
This workout has been programmed by fitness trainer and former professional dancer Anna Dima, who specialises in creating minimal equipment sessions.
It consists of just three movements (the hammer curl to press, dumbbell front raise and shoulder press) performed back-to-back for 40 seconds each. It should take you two minutes to complete all three exercises, by which point you've definitely earned yourself a short rest. Take a 60-second breather then start the circuit again – repeat this for three rounds to finish.
Watch Dima's video below to learn more about the workout, including how to perform each exercise. Make sure you follow her lead to ensure you perform each movement with perfect form.
Watch Anna Dima's three-move dumbbell arm workout
Dima's workout is an example of high-intensity resistance training or HIRT. A twist on popular HIIT workouts, both of these exercise methods use intense bursts of exercise intermingled with short rest periods.
This approach keeps your heart rate high, offering many of the same benefits as traditional cardio. Research published in the British Journal of Sports Medicine found it could help decrease body fat, improve VO2 max and positively impact factors related to heart disease such as resting heart rate.
What sets HIRT apart from HIIT is its inclusion of resistance training movements that challenge your muscles. This makes it a more effective form of exercise for building strength and muscle.
If you want to slip this workout into your fitness routine, you can use it in isolation as an arm workout, or add it to an upper body session as a fun finisher. We would recommend giving your arms 24 hours to recover afterwards, so you could try a lower body session or even some active recovery like a run, cycle or walk the following day.
Harry Bullmore is a Fitness Writer for Fit&Well and its sister site Coach, covering accessible home workouts, strength training session, and yoga routines. He joined the team from Hearst, where he reviewed products for Men's Health, Women's Health, and Runner's World. He is passionate about the physical and mental benefits of exercise, and splits his time between weightlifting, CrossFit, and gymnastics, which he does to build strength, boost his wellbeing, and have fun.
Harry is a NCTJ-qualified journalist, and has written for Vice, Learning Disability Today, and The Argus, where he was a crime, politics, and sports reporter for several UK regional and national newspapers.