Build muscular arms and a stronger core with this low-impact, light weight workout
This six-move routine can be done on the floor and makes use of light weights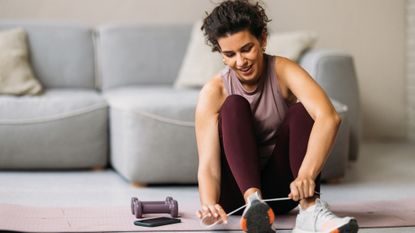 (Image credit: Getty Images)
You don't need to spend hours in the gym lifting heavy weights to build muscular arms. You can achieve good upper body strength at home with just a set of dumbbells.
Personal trainer Ally Aslaksen recently shared a low-impact workout that strengthens your arms and works your core in roughly 20 minutes. The moves are all done on the floor with a set of light weights, so it's a good option if you don't fancy a long, arduous session in the gym. You can watch the full workout here.
How to do Ally Aslaksen's floor-based dumbbell workout
All you need for this workout is a mat, some space and some weights. The weight you choose will depend on your bodyweight and history of training but we recommend 7lb weights for beginners, 10lb for intermediate and 15lb for advanced.
Aslaksen recommends that you do each exercise for 12-15 reps, and go through the workout three to four times (see her Instagram post for a list of the full exercises, which include plank rotations and reverse flyes). Take one to two minutes rest between each set, depending on your fitness levels.
Remember to warm up for at least five minutes before the workout, and cool down too, to reduce the risk of injury.
Why is upper body strength important?
Upper body strength improves posture, balance and functional strength—so you can carry the shopping and run for the bus. Working to build muscle in your arms, shoulders and chest can also help reduce the risk of age-related muscle wastage (known as sarcopenia). Plus, building upper body strength and improving your posture can counteract the damage caused from sitting at a desk all day.
A lot of these moves will also target your core muscles, which is useful as a strong core reduces the risk of lower back pain. If you want really work these mid-body muscles, try adding these core-strengthening exercises into your workout routine.
Need help choosing some weights? Our guide to the best adjustable dumbbells can help
Get the Fit&Well Newsletter
Start your week with achievable workout ideas, health tips and wellbeing advice in your inbox.
Maddy Biddulph is a freelance journalist specializing in fitness, health and wellbeing content. With 25 years in consumer media, she has worked as a writer and editor for some of the bestselling newspapers, magazines and websites in the US and UK.
She is also a qualified L3 personal trainer and weight loss advisor, and helps women over 40 navigate menopause by improving their physical and mental strength. At Maddy Biddulph Personal Training, she runs one-to-one and small group training for menopausal women who want to get fit to ease symptoms and feel like themselves again.