Build strength all over and boost your metabolism with these five moves
You can build strength and boost your metabolism at home, whether you're new to training or an exercise veteran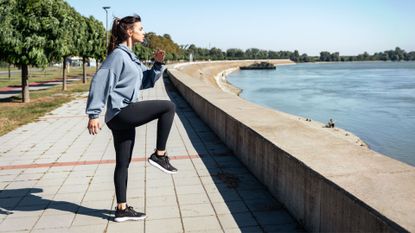 (Image credit: Getty)
Like Goldilocks hunting for the perfect porridge, it can be hard to find a home workout that's just right. Some feel too easy while others are far too hard, so it helps to have a session you can scale to suit your fitness needs.
That's where this five-move workout from trainer The London Fitness Guy (opens in new tab) (real name James Stirling) comes in. For each exercise, he provides beginner and advanced variations, so you can choose the one that's best for you.
None of the moves require any equipment either, so you can get active anytime, anywhere — whether that's a quick living room workout or an al fresco session at the park. Although we suggest using a mat, like one of the best yoga mats (opens in new tab), for under-foot support.
If you're ready to take on this workout, watch Stirling's demonstrations of the beginner and advanced exercises in the video below. Then, when you've decided which ones are best for you and perfected your form, you're ready to get started.
Perform all five exercises one after the other, working for 40 seconds, rest for 20 seconds, then move on to the next exercise. Rest for a full minute after each round of five moves before returning to the first movement and starting the circuit again.
Watch The London Fitness Guy's home workout
Stirling recommends finishing five rounds in total for a 30-minute workout, but you can lower this number for a shorter, more accessible session. As you get fitter, you can make it more difficult, by increasing the rounds or opting for the more advanced moves.
This is a great way to show how your fitness has improved, as well as being a perfect example of the progressive overload (opens in new tab) principle in action — making your workouts slightly more difficult as you become stronger so you always challenge your body.
This workout has plenty of benefits; raising your heart rate, boosting your metabolism, and improving your cardiovascular fitness (how well your body takes in and uses oxygen during exercise).
Exercises like lunges and push-ups can also build strength and muscle. However, if becoming stronger is your primary goal, you might want to try a dedicated strength training session like this beginner-friendly six-move workout (opens in new tab).
Or, if you're looking for a lower-intensity activity, our Pilates plan for beginners (opens in new tab) and selection of anti-aging yoga moves (opens in new tab) will fit the bill.
Harry Bullmore is a fitness writer covering everything from reviews to features for LiveScience, T3, TechRadar, Fit&Well and more. So, whether you're looking for a new fitness tracker or wondering how to shave seconds off your 5K PB, chances are he's written something to help you improve your training.
When not writing, he's most likely to be found experimenting with a wide variety of training methods in his home gym or trying to exhaust his ever-energetic puppy.
Prior to joining Future, Harry wrote health and fitness product reviews for publications including Men's Health, Women's Health and Runner's World. Before this, he spent three years as a news reporter with work in more than 70 national and regional newspapers.