Build strength and boost your flexibility with these eight mobility moves
This short routine encourages balance in your body, develops strength, and improves your mobility without equipment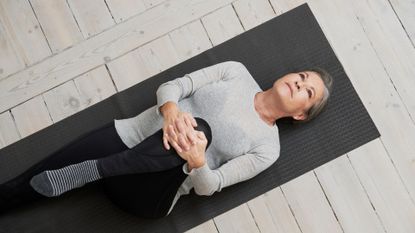 (Image credit: Getty)
When you think of activities to help you stay in shape, high-intensity workouts, a long run, or an extended gym session probably spring to mind. However, there are other less-intense types of movement that are just as important for your health.
It's easy to overlook mobility training exercises, but they form the foundation of most workout moves and can help your posture and make every day tasks like walking and lifting easier.
Fortunately, you can use this eight-move sequence from Sweat app trainer Britany Williams (opens in new tab) to add some mobility exercises into your routine or as a standalone session. You can do it anywhere too, from the gym to your home to a hotel room.
The only equipment you might need is a dumbbell to deepen the knees over toes stretch, and a yoga mat (opens in new tab) to make yourself more comfortable during lying exercises. To get the most from these activities, it's important to focus on your form.
Whether you're new to mobility sessions or could use a refresher, check out Williams' demonstrations for each of the eight movements to practice the technique before you start.
Watch Britany Williams' eight-move mobility session
The moves in Williams routine focus on a range of different joints to improve your all-round mobility. There are dedicated exercises to boost the range of motion around your ankles, hips, shoulders and spine, making for a comprehensive session.
Williams also says the routine can help reduce the risk of injury by allowing you to carry out day-to-day tasks more safely. For example, good mobility means your shoulder joint will be strong enough to support your arm as you reach for an item on the top shelf at a supermarket, so you're less likely to hurt yourself in the process.
Another way you can work on your mobility is by practicing yoga (something our writer found out when they did yoga every day for 30 days (opens in new tab)). To get started, why not try these beginner's yoga exercises (opens in new tab).
The common link between all these practices if your core — a section of mid-body muscle that connects your upper and lower body, promotes circulation, and improves balance. This core workout for beginners (opens in new tab) is a great way to start.
Harry Bullmore is a fitness writer covering everything from reviews to features for LiveScience, T3, TechRadar, Fit&Well and more. So, whether you're looking for a new fitness tracker or wondering how to shave seconds off your 5K PB, chances are he's written something to help you improve your training.
When not writing, he's most likely to be found experimenting with a wide variety of training methods in his home gym or trying to exhaust his ever-energetic puppy.
Prior to joining Future, Harry wrote health and fitness product reviews for publications including Men's Health, Women's Health and Runner's World. Before this, he spent three years as a news reporter with work in more than 70 national and regional newspapers.