Introducing the Fit&Well Awards 2021, celebrating the best of health and fitness
Our exciting inaugural event will see 30 winners across six categories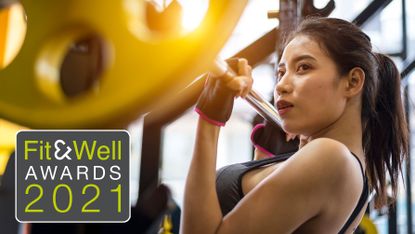 (Image credit: Getty Images)
We're thrilled to launch the first-ever Fit&Well Awards, celebrating the brands, products and people that have helped our readers realize our mission statement - happier, healthier living - during the most challenging of times.
The inaugural event will see awards handed out in five key categories - Home Workout Wonders, Hot Fit Kit, Top Fitness Tech, Healthy Home Heroes and our panel-judged Headline Awards - during a week-long event, starting April 12th.
Excitingly, the special 'Trainer of the Year' award will invite you, our wonderful readers, to nominate the professional who has been a driving fitness force over the last year.
The Fit&Well Awards 2021 comes at a time when staying fit and well has never been more important.
February 3rd marked one year since the US declared a Public Health Emergency in response to the spread of coronavirus. Meanwhile, in just a few short weeks it will be 12 months since the World Health Organization officially declared Covid-19 a pandemic.
In that time, the importance of each and every one of us keeping fit and healthy has been heavily underlined - whilst at the same time, gym closures and instructions to stay at home made actively doing so more challenging than ever.
Yet across the globe, people rose to the challenge.
Living rooms, backyards and garages were transformed into home gyms.
Healthy meal plans were made, despite a reliance on often limited supermarket supplies.
Positive routines and environments became essential, from sound sleep schedules to healthy home office set-ups.
And, more than ever, online communities became a lifeline for so many when it came to the motivation and support needed to strive for and achieve our goals.
In the wake of this collective fitness drive, the Fit&Well Awards will celebrate the brands, products and people that have played - and continue to play - a pivotal role in helping the world stay fit and well over the course of the last year.
More details - including the judging panel - will be announced over the coming weeks. In the meantime, take a look at all the categories and awards that we'll be dishing out below.
Headline Awards
Our panel-judged headline awards will celebrate the fitness brands, services and faces that have helped so many people achieve their goals. The awards in this category are:
Best Fitness Brand
Fitness Retailer of the Year
Fitness Launch of the Year
Influencer of the Year
Fit&Well Hero Award
Trainer of the Year (nominated by readers)
Fit&Well Awards: Home Workout Wonders
This category pays tribute to the essential equipment that have made working out at home as good - if not better - than hitting the gym. They include:
Best Elliptical Machine
Best Exercise Bike
Best Treadmill
Best Rowing Machine
Best Adjustable Dumbbells
Best Kettlebells
Top Fit Kit
We'll be toasting the best fitness apparel and accessories on the market - because the right kit only elevates your performance. The awards in this category are:
Best Running Shoes for Men
Best Running Shoes for Women
Best Shoes for Walking
Best Sports Bra
Best Yoga Mat
Best Foam Roller
Top Fitness Tech
Our pick of the top fitness tech that helps you go harder, faster, stronger. Awards in this category are:
Best Fitness Watch
Best Workout Earbuds
Best Heart Rate Monitor
Best Fitness Tracker
Best Running Watch
Best Running Headphones
Healthy Home Heroes
To coin a phrase, good health starts at home - and never was that more true than now. The awards in this category are:
Best Steamer
Best Air Fryer
Best Blender
Best Health Grill
Best Office Chair
Best Wake-Up Lamp
Stay tuned for more updates on the Fit&Well Awards 2021, here on fitandwell.com and across our social media channels - follow @wearefitandwell on Facebook, Twitter and Instagram.
Stephanie is Editor of GoodToKnow and was previously the Editor of Fit&Well. With 15 years experience, she has worked for titles including Woman&Home, MSN and Stylist, covering all aspects of women's lifestyle including health and fitness. Her preferred way of staying fit and well is sport: she regularly plays tennis and has been a keen netballer since her school days. She plays with her London-based team, Cool Runnings, and is also a qualified Level 2 Netball Coach. Stephanie recently started strength training, and can now regularly be seen hobbling around her local area as DOMS kicks in. Happily, she's since discovered the joy of recovery days. As a result, her top fitness tip is: invest in a foam roller!