Five moves and one kettlebell to build a stronger core and boost your metabolism
Develop core strength and improve your posture with just one weight and this short session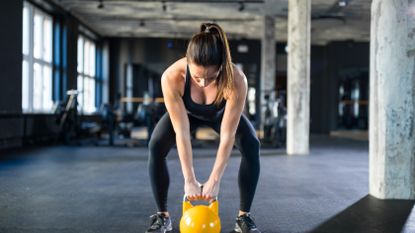 (Image credit: Getty Images/Smartbrief/Moz)
The kettlebell is a versatile piece of training equipment, helping you burn fat and build muscle. While a single kettlebell move can raise your heart rate, this short session is an effective way to develop strength and boost your metabolism.
The routine comes from Natalie Barnett (known by her social media handle, nataleebfitness), owner of gym The Girls Spot. As you might have guessed, if you want to do this routine at home, all you'll need is a kettlebell.
Kettlebells look straightforward (they are metal weights with handles) but that's why it's hard to tell the difference between them. If you're looking for an option for at-home training, check out our guide to the best kettlebells.
Correct form is vitally important in all exercises, but especially so when using weights. Before taking on this routine, carefully watch the instructor's movements to practice your technique.
Natalie gives in detail explanations on each movement and how you should replicate it, so if this is your first time doing a kettlebell routine, there is plenty of great technique advice.
Watch nataleebfitness' five-move kettlebell workout
These moves are all effective examples of compound exercises . This means that the movements work multiple muscles simultaneously for a time-efficient muscle-building routine.
And because more muscles are involved, you can generally lift a larger load than if you did a single-muscle isolation move like a biceps curl, which gives you a more effective muscle-building session.
Whether you want to use these five exercises back to back for a full kettlebell workout session, or if you want to integrate a few into your regular routine, we've listed all the moves you need below.
Nataleebfitness's kettlebell routine
Kettlebell Romanian deadlift
Single leg deadlift (both legs)
Goblet squat
Reverse lunge (both legs)
Barnett recommends the routine be followed in three sets of 10 reps, repeating this throughout and using each leg when required. Alternatively, you could put these into a high-intensity resistance training (HIRT) routine, performing each for 40 seconds, with a 20-second rest between exercises.
To help the muscles recover, many people take protein shakes after their workout. If you're after a new supplement to add to your post-workout drink, the best protein powders for weight loss are a great place to start.
Want to try more kettlebell workouts? Fit&Well has you covered—check out our guide to kettlebell exercises you can do at home or at the gym .
Lois Mackenzie is a fitness writer producing news, features, buying guides and reviews for Fit&Well and sister site Coach. She is an avid runner and hill walker, and can often be seen sporting her trusty waist lead as she trains for her first marathon with her two border collies in tow. Lois has a Master's in Digital Journalism from Strathclyde University and was previously a senior SEO reporter at Newsquest Media Group.