How to use an air fryer: Types of models, tips on cooking and common mistakes
Here's the skinny (quite literally) on air fryers, how they work, what to cook in them and how to get the most out of them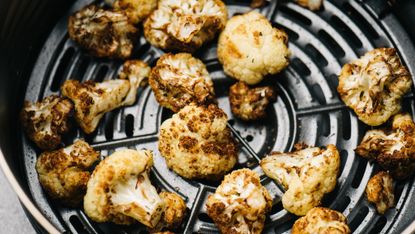 (Image credit: Getty Images)
It's just over a decade since air fryers first burst on to the market. Since then they have burgeoned in popularity, and it's easy to see why. An air fryer enables you to cook food with just a fraction of the oil used in a deep fat fryer but with a similar result, and it's endlessly versatile.
We look at how to use an air fryer and explain the best tips, tricks and common mistakes you should know about. If you're looking to try one, head on over to our best air fryer guide to check out where to find the top models on the market.
How air fryers work
Air fryers are An air fryer is a type of convection oven, using hot air to cook the food. The food sits in a basket or tray and hot air current circulate, reaching temperatures as hot as 240°C (460°F). The result is the same delicious, golden, crispy result that you get by deep frying your food but using a tiny proportion of the fat (usually just one tablespoon).
Health benefits of air fryers
Because so little oil is used, much less fat is absorbed into the food. Depending on what kind of oil you cook with, this could involve a significant reduction in your intake of saturated fats, which in turn could have a positive impact on your heart health, making it easier to eat healthily on a regular basis.
According to Harriet Smith, Registered Dietitian and founder of HRS Communications, "Heart disease is the biggest cause of premature death in the UK. The current mainstream view is that saturated fat increases risk of heart disease by raising harmful levels of 'bad' LDL cholesterol, which can build up inside the walls of the blood vessels causing narrowing of the arteries and ultimately increasing the risk of a heart attack or stroke. It also reduces 'good' HDL cholesterol, which protects against heart disease and strokes."
This doesn't mean that air-fried food is automatically healthy, however. Endless chicken nuggets and battered onion rings won't magically become healthy just because you're air frying them.
"It's important to highlight that cooking food in an air fryer still means that the food is classed as a fried food, which we should all aim to eat less of," says Smith. "However, using an air fryer as part of a healthy and balanced diet is one way to reduce the amount of saturated fat in your diet, and is a healthier alternative to deep fat frying."
Types of air fryers
Air fryers fall into two basic categories - basket or oven air fryers. Both are countertop additions to your kitchen like the best health grills, so you'll need a bit of surface-space. A basket air fryer is usually barrel-shaped and features a pull-out drawer containing a basket over a drip tray. An oven air fryer looks more like a microwave oven and contains racks on which baking trays and crispers can be placed. It is often multifunctional, incorporating a dehydrator, oven, rotisserie, roasting and baking oven, and may include a defrost function.
Beyond that there are several key features you should look out for (and not just price, which can vary considerably). There can be significant differences in size and shape, so make sure you choose the right dimensions for your cooking needs (for example if you want to cook a whole chicken) and for your kitchen.
Added extras include interior "paddles" to move the food around and integrated digital thermometers. It's worth checking the top temperature, too – hotter temperatures tend to result in crispier fries. Some have pre-set programmes for specific types of food, and if you hate washing up, look for one with dishwasher-proof components.
What to cook in an air fryer
One of the joys of the air fryer is its versatility. Anything you would usually deep-fry, shallow fry or roast in the oven, such as fries, vegetables like cauliflower, green beans, kale – anything you might shallow-fry – along with fish, tofu and chicken. It will all cook well in an air fryer, but even the most basic model has much wider potential.
Fans of the air fryer report excellent results baking brownies, cookies, churros and even pizza, doughnuts and grilled cheese – the possibilities are endless.
Common air fryer mistakes
Air fryers are pretty simple to use, but for the best results you'll want to avoid these mistakes.
The most common is to overload the basket or tray so the air can't circulate. You'll end up with soggy patches on your food, which somewhat defeats the object.
Another error is forgetting to turn or shake the food half-way through (unless it does this for you). Turning is essential to get an even texture.
Be sure to pre-heat the air fryer – if you don't, the food won't cook as well. Most models only take about three minutes to preheat. Because of the hot temperatures involved in air frying, avoid using oil with a low smoke point. When oil smokes it starts to break down, which can release both unpleasant-tasting chemicals and free radicals which are bad for your health.
Sunflower oil, avocado oil, extra light olive oil, peanut and sunflower oils all have high smoke points. Leave the extra virgin oil for dressing your salad.
Patricia Carswell is a freelance journalist, specialising in health and fitness. She has written for a huge variety of national newspapers and magazines, including Healthy, Top Santé and Women's Fitness, and writes a monthly column for British Rowing's content hub. She's the founder and host of rowing blog and podcast, Girl on the River, where guests have included Sir Matthew Pinsent and multiple Olympian Frances Houghton MBE.
She won Rowperfect's Rowing Blogger of the Year several years in a row, the Endurance Award in the MyProtein Blog Awards and was runner-up in the Sports & Fitness Category in the UK Blog Awards in 2017.
She keeps fit by rowing, walking and swimming, and is at her happiest when on or in the water.