Best air fryers: The healthier way to cook fries, chicken, vegetables and more
French fries are back on the menu, courtesy of the best air fryers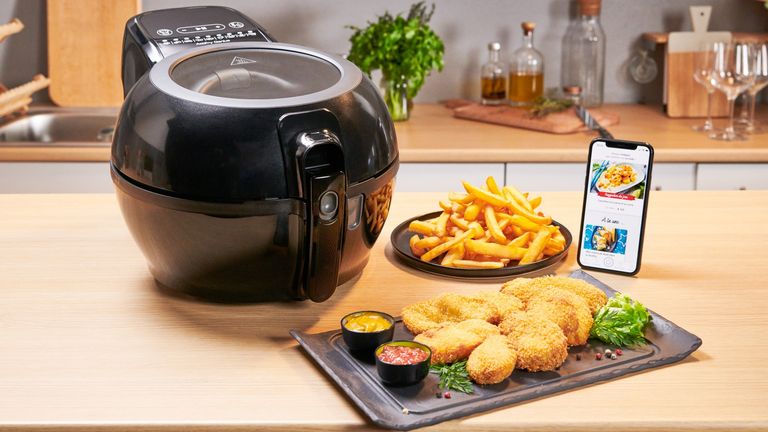 (Image credit: Tefal)
By Pete Dreyer
The best air fryers are here to help you enjoy your favorite fried foods without sacrificing your commitment to a healthy diet. A relatively new invention, air fryers are really changed the game when it comes to fried foods. Frying – particularly deep frying – food has long been the most delicious but least healthy way to cook. 
When food is fried it absorbs the oil in which it is fried, and that oil is calorific and can lead to all sorts of long term health complications – not just obesity but also heart disease, cancer and diabetes. 
However, when Philips introduced the first air fryer in 2010, the company created a compromise that allowed the health conscious among us to have our French fries and eat them too. 
Air fryers are in essence small, tabletop convection ovens. They coat the food in a tiny film of oil, then blast hot air around the inner chamber until the food is cooked. Air frying is the same as roasting more or less, but air fryers require far less oil - typically just a teaspoon's worth.
And it's not just fries they're good for, either. Air fryers can be used to fry a whole host of foods, including bacon, chicken wings, vegetables - and, in some cases, even a whole chicken.
A decade later Philips still makes excellent air fryers with a range to suit multiple budgets and family sizes, but other brands have gotten in on the game, too. Top spot in our test goes to Tefal's Actifry Genius+, which boasts some really smart automated cooking programs and enough space to cook for up to six people, at a reasonable price. 
The Genius+ is the best compromise between cost and performance, but if money is no object, the Philips Airfryer XXL is a wonderful bit of kit to have in the kitchen too.
How to choose the best air fryer for you
There's lots to bear in mind when you're picking the best air fryer for your needs. Air fryers come at a range of prices – anywhere from $30/£30 to $300/£300 – and there's a lot wrapped up in that price, including size, features, power, automatic cooking modes and more. Let's explore these more in detail below.
Capacity
The best starting point is capacity. The cheaper models usually have a smaller capacity, so you won't be able to cook as many portions at once. This isn't necessarily a bad thing – there are some good budget air fryers on the market that are cheaper because they only cater for one or two people. The more portions the appliance caters for, the larger it'll be so be wary of the dimensions if you have limited kitchen space.
Functions and features
Different air fryers work in quite different ways: the Philips Airfryer XXL cooks the food in a pull-out tray; T-Fal models use a large bowl instead, with a paddle attachment that moves the food around as it cooks; and some other brands use bowls that slowly rotate on an angle to keep the food tumbling. These methods are effective in different ways, which I'll go into below. 
Once you get into the top end of the market, appliances boast all sorts of things from smart Bluetooth controls and adjustable temperature controls to automatic cooking modes that handle everything for you. 
Cleaning and care instructions
Last but not least, cooking appliances are always a pain to clean if the parts are not dishwasher safe, and air fryers are no different. Cheaper air fryers may compromise on the quality of the parts and therefore not be dishwasher safe, which might mean you spend as long cleaning them as you do using them. So it's worth checking that the parts can be easily removed and cleaned before you buy.
The best air fryers you can buy right now
The best air fryer for most people
Specifications
Dimensions: 43.3 x 30.3 x 23.8 cm
Cooking capacity: 1.2kg (6 portions)
Dishwasher safe?: Yes
Power: 1400W
Reasons to buy
+Automatic cooking functionality+Dishwasher safe+Decent size
Reasons to avoid
-Quite chunky-A tad noisy
In terms of price, functionality, size and power, the T-Fal ActiFry Genius+ really hits the sweet spot - and takes the top spot in our tests as a result. 
The ActiFry Genius+ has clearly been designed to take the work of cooking out of your hands. Once you tip your food into the cooking bowl, the paddle moves it around gently whilst it's cooking to ensure an even cook, so you don't have to come back and jostle it around. You can manually set the time and temperature if you want to, but the Genius+ is built around nine automatic cooking modes that handle a huge variety of different things from fries and vegetables to meat and fish. 
What's more, the accompanying Tefal ActiFry app has a huge library of recipes designed specifically for use with the Genius+ – some of these recipes, like risottos for example, make very clever use of the paddle and adjustable temperature. Throw in dishwasher-safe parts and a reasonable price and I reckon this is the air fryer that ticks the most boxes. 
2. Philips Airfryer XXL
The best premium air fryer
Specifications
Dimensions: 17.3 x 13.3 x 14 in / 32.2 x 43.3 x 31.6 cm
Cooking capacity: 4qt / 1.4kg
Dishwasher safe?: Yes
Power: 2225w
Reasons to buy
+Fantastic interface and display+Efficient and powerful+Slick design
Reasons to avoid
-Very large-Pricey
Alongside Tefal, Philips is the other big name in the air fryer game and as the originator of the concept, you'd expect them to offer some good options. 
The Airfryer XXL is a health-frying behemoth – it's big and it's expensive but beyond that, it's an exceptional machine. The food tray is big enough to fit a whole chicken, and with a minimal amount of oil or fat, the convection oven renders away any extra fat whilst roasting your food, letting excess fat drain away into the drip tray underneath. 
There are preset modes for air frying, roasting, grilling, baking and dehydrating, but the manual mode gives you lots of control as well, all via a really slick digital display.
Once you're finished cooking, everything that needs cleaning comes apart easily to go in the dishwasher.
3. Tower T17005 Air Fryer
The best budget air fryer
Specifications
Dimensions: 11.2 x 10.1 x 11.5 in / 28.5 x 25.8 x 29.3 cm
Cooking capacity: 3.4qt / 3.2l
Dishwasher safe?: Yes
Power: 1350 Watts
Reasons to buy
+Fantastic value+Good capacity+Dishwasher safe
Reasons to avoid
-Manual only
Given the price, the Tower T17005 is an absolute bargain. The 3.2 liter capacity makes this a very acceptable choice if you're looking to feed the family on a budget, and it's solidly built too. 
Unsurprisingly, it's a bit lacking in the feature department – the temperature is fixed and you adjust a manual timer appropriately, and the front-loading tray mechanism means you have to shake your food around every now and again. But those are small sacrifices to make for something that does the basics so well at this price.
4. Ninja AF100UK Air Fryer
Best cheap alternative air fryer to Tefal Genius+
Specifications
Dimensions: 13.3 x 11 x 13.6 in / 34.5 x 27.9 x 33.8 cm
Cooking capacity: 4qt / 3.8l
Dishwasher safe?: Yes
Power: 1550 Watts
Reasons to buy
+Multifunctional+Affordable
Reasons to avoid
-Still quite bulky
The Ninja Air Fryer is remarkably versatile – it does a lot of what the Tefal Genius+ does, but for half the price. 
With 3.8 liters of capacity there's plenty of room in the non-stick basket to air fry, roast, grill and even dehydrate things - though you can't fit a whole chicken in it, as with the Philips Airfryer XXL. 
It supports customizable presets so you can cook your regular meals at the touch of a button, but the manual mode is very capable too and you can get the temperature all the way up to a whopping 400°F / 240ºC for extra crispy results. There's a more gentle reheat setting too, which is great for warming up leftovers. 
5. T-Fal ActiFry Genius XL 2in1
Best air fryer for cooking entire meals
Specifications
Dimensions: 19.2 x 15 x 11.6 in / 48.9 x 38 x 29.5 cms
Cooking capacity: 1.7kg
Dishwasher safe?: Yes
Power: 1700 watts
Reasons to buy
+Incredibly versatile+Feeds 8+ people
Reasons to avoid
-Huge footprint-Quite noisy
The ActiFry Genius XL 2in1 packs all of the superb functions and features of the T-Fal ActiFry Genius range, but it also doubles up as an instant cooker, letting you cook two things simultaneously. It's a phenomenal bit of kit – perhaps the most advanced on the market. 
The beauty of Tefal's ActiFry range is that you can see inside the glass cooking compartment, rather than having to open a cooking tray to check if your food is done. With access to the huge library of recipes in the ActiFry app and the versatility of two separate cooking zones, the Genius 2in1 packs a whole load of potential for easy meal preparation, but you'll need a spacious kitchen to find room for it.
Pete is a chef, recipe developer and journalist, with a healthy appetite for both food and fitness tech.