Best healthy air fryer 2022
These are the best healthy air fryers for making quick and easy lower fat meals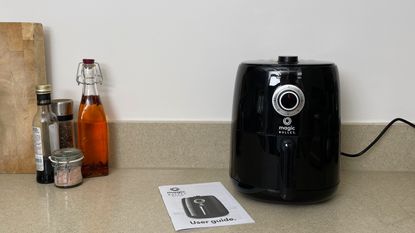 (Image credit: Helen McCue)
The best healthy air fryers might have only been around for just over 10 years, but they've proved their staying power, and have fast become one of the most popular countertop kitchen appliances.
Originally marketed as an alternative to a deep fat fryer, the best healthy air fryers can produce French fries using minimal fat. But that's not all they're good for, with recipes for everything from healthy roasted vegetables to chicken nuggets and more.
But, with so many kitchen appliances fighting for that coveted spot on your counter, it can leave you wondering if you really need another gadget and whether a healthy air fryer is worth it. If you're still on the fence, or if you just don't know how to choose between all the models available, we're here to help.
We've had hands-on experience reviewing some of the best healthy air fryers, cooking tasty chicken wings alongside hand-cut and frozen fries. We've considered ease of use and checked out how spacious they are and, importantly, how easy they are to clean.
Whether you're after a space-saving option like the Magic Bullet, the BBQ-replicating Ninja Foodi 5-in-1 Indoor Grill, or an extremely quiet model like the TaoTronics TT-AF001, we've tested them all to help you find the best healthy air fryer for your home kitchen.
The best healthy air fryers you can buy right now
1. Ninja Foodi 5-in-1 Indoor Grill
Best healthy air fryer and grill for most people
Specifications
Capacity: 6-quart / 5.7-liter
Size: 11 x 14 x 17 inches / 26 x 35.6 x 45cm
Reasons to buy
+
Doesn't take long to make food crispy
+
Smells stay inside the unit
+
Large cooking basket
Reasons to avoid
-
Large countertop footprint
-
Grill takes a while to pre-heat
Ninja is one of those brands that you can always count on for innovation, and this product is no different. Combining an air fryer with an indoor grill that can also be used to dehydrate, bake and roast, this is an impressive piece of equipment.
We must admit it's bulky, and the top opening lid requires clearance at the back to be able to open fully, so if you're short on space it's not ideal. But if you can get over this minor issue, you'll get a great air fryer. It's got an intuitive control panel and automatically preheats, plus everything can go in the dishwasher when you're done.
During testing, the air fryer produced crisp golden fries, no matter whether they were from the freezer or hand cut. The 6-quart capacity allowed enough space to fit seven chicken wings side by side and they came out moist and succulent with crisp skin. We grilled burgers in just six minutes, but it's worth noting it takes a lengthy eight minutes to preheat.
Nevertheless the results were great, with a slightly charred taste and minimal smoke in the kitchen. The configuration means it's not easy to shake fries mid cook, but you'll get used to stirring them instead. The addition of the bake, roast, and dehydrate options means this will quickly become your go-to countertop cooking appliance.
What the users say
This Ninja machine scores 4.8 on Amazon based on over 27,000 reviews, so it's pretty clear this air fryer is a hit. Users love the combination of air fryer with indoor grill and it's particularly popular for making tasty, chargrilled meats.
While most people acknowledge the bulky size, this is far outweighed by the functionality. For air frying as well as virtually smoke free indoor grilling, reviewers are very impressed with the results.
---
2. TaoTronics TT-AF001
Best quiet healthy air fryer
Specifications
Capacity: 6-quart / 5.7-liter
Size: 11.7 x 11.7 x 13.4 inches / 29.8 x 29.8 x 34cm
Reasons to buy
+
Quiet when in use
+
Large capacity
+
Even cooking
Reasons to avoid
-
No shake alarm
-
Bulky design
TaoTronics might be best known for gadgets like audio products and fans, but it's now making waves in the kitchen appliances market with a range of products. This family sized 6-quart capacity air fryer doesn't come cheap (though it is often on offer), but we were impressed with the results when we put it to the test.
It's got a whopping 11 presets to choose from, taking the guesswork out of selecting time and temperature settings for a variety of popular foods such as fries, bacon, and vegetables. This makes it a great option for those new to air frying and may feel uncertain about using one of these appliances.
During testing, we found the presets to be quite accurate and made use of the chicken preset to produce crispy, golden chicken wings. The fries preset was ideal for hand cut fries and it cooked crisp, golden fries with fluffy centers in the 25-minute preset time. You have to remember to shake the basket during cooking, though, as it doesn't have an alert to remind you.
Frozen fries worked well too and its non-stick basket means cleaning by hand is easy, or you can pop it in the dishwasher and go put your feet up. There are no other functions to make use of—it can only air fry—but it does it well and the whisper-quiet operation means you can use it anytime without disturbing the rest of the household.
What the users say
This air fryer has achieved an impressive 5 out of 5 stars on Walmart reviews. Users praise the spacious capacity that's big enough for a whole chicken. Although some note that the basket is tricky to reposition.
Reviewers are very happy with the fast and crispy results they can achieve in this appliance, demonstrated in comments like "everything tastes better than before." One reviewer said "it has become a kitchen essential" summing up just how easy it is to produce great results in this air fryer.
---
3. Cosori CP137-AF
Best budget healthy air fryer
Specifications
Capacity: 3.7-quart / 3.5-liter
Size: 10.7 x 13.3 x 12.2 inches / 27.2 x 33.8 x 31cm
Reasons to buy
+
Quiet during cooking
+
Budget-friendly price
+
11 presets
Reasons to avoid
-
Presets can slightly overcook your food
-
Small capacity
-
Doesn't crisp homemade fries very well
This small-to-medium size 3.7-quart capacity unit is perfect if you want a good value healthy air fryer and you don't need a large capacity. It might be a budget-friendly choice, but the sleek black exterior and touch control panel certainly don't feel cheap.
Helpfully, there are 11 presets, offering you the ideal time and temperature settings for a selection of common foods. We made use of the frozen fries preset, which gave us crisp and fluffy fries in 15 minutes, though we reckon they were probably done after 12 minutes. And we love that it beeps to remind you to shake the fries mid-way through cooking.
For hand cut fries we followed the recipe in the included recipe book, which suggests just 0.5fl oz of olive oil, they cooked in just 18 minutes but weren't as crisp as we'd like, so you'll need to experiment with the cook time. Chicken wings on the other hand came out beautifully crisped and tender, and cleaning the machine is easy with dishwasher-friendly parts.
The size is ideal for two person households and it's not too noisy. Overall, given the price, this air fryer has a lot to offer.
What the users say
The score of 4.7 out of 5 stars on Amazon is a good indication of how much users love this air fryer. One user states that it's "super easy to use and easier to clean."
While another says "I'd buy this exact air fryer again." Most reviews comment on how fast it cooks and praise the preset cooking options, plus the handy cookbook that offers plenty of inspiration.
---
4. Magic Bullet Air Fryer
Best compact healthy air fryer
Specifications
Capacity: 2.5-quart / 2.4-liter
Size: 10.75 x 8.5 x 9 inches / 27 x 22 x 25cm
Reasons to buy
+
Space-saving design
+
Easy to use
+
Automatic power off after timer ends
Reasons to avoid
-
Difficult to set dials accurately
-
Small capacity
-
Basket isn't dishwasher-friendly
The brand is best known for its blenders and smoothie makers, but Magic Bullet now makes an air fryer too. It's a small appliance with a modest 2.5-quart capacity that makes it ideal for one or two-person households. It's one of the most compact air fryers we've reviewed, so if you're short on counter space, it's definitely worth considering.
Not only is it small and budget-friendly, it's also very simple to use. With one dial for time and one for temperature, there's barely a need to glance at the instruction manual. However, we suspect the ticking timer will be annoying to some. Plus, the temperature dial doesn't have markings at regular intervals, so it's tricky to be precise.
When it came to cooking, we were pleasantly surprised that there's space in the small basket for five chicken wings without piling them on top of each other, and they crisped up nicely. Frozen fries were hot and crisped in around 20 minutes. Hand-cut fries were slow to cook, though, taking 30 minutes to cook through and crisp up. And despite shaking during cooking, they were a little uneven in color.
Unlike some other models, it's not multifunctional and we were disappointed that the basket can't go in the dishwasher. But all told, if you want a small and easy to use air fryer it's up to the job, and the simple settings make a great choice for air fryer newbies.
What the users say
With an average 4.5 out of 5 stars on Amazon, users rate this air fryer for producing healthy and tasty foods fast. Like us, they recommend it for one/two-person households or kitchens where space is at a premium.
One reviewer admits "I was sceptical about air fryers but this changed my mind completely." Whereas others dislike the timer dial which makes it hard to switch off, with one person noting they "wish there was a cancel button."
---
5. Ninja Foodi Max Dual Zone Air Fryer AF400UK
Best large capacity healthy air fryer
Specifications
Capacity: 10-quart / 9.5-liter
Size: 3.9 x 12.8 x 17.1 inches / 32.5 x 41.5 x 27cm
Reasons to buy
+
Can cook two foods at the same time
+
Food cooks evenly with crisp finish
+
Easy to clean
Reasons to avoid
-
Bulky design
-
Expensive
-
No shake alarm
Whether you have a large family or you love to entertain, this 10-quart capacity air fryer should be spacious enough to meet your needs. And like the other Ninja in this list, it's a multifunctional appliance with options to roast, bake, dehydrate, and reheat.
The two separate air frying baskets can be set independently, as each has its own time and temperature controls, allowing you to cook your fries in one basket while your meat cooks in the other. What's more, the two baskets can be synced which we found particularly useful. It means you can add all the food at once, but the air fryer will delay the side with the shorter cook time so that everything is ready at the same time.
We found it easy to use and it made crisp and succulent chicken wings. And although our fries didn't have a consistent color, they were crisp and fluffy and tasted great. On the downside, this bulky appliance demands a good chunk of counter space, and it's expensive. But both of these are to be expected if you want a large capacity air fryer that's packed with functions.
What the users say
With over 17,000 reviews and a rating of 4.8 out of 5 on Amazon, there's plenty of love for this healthy air fryer. One reviewer even commented that they had 'switched almost 100% to cooking in this air fryer'.
Users love that the dishwasher-friendly baskets are easy to clean and they praise the accurate temperature settings. But some dislike having two smaller cooking baskets rather than one larger one.
---
How to choose the best healthy air fryer
If you're looking for the best healthy air fryer for your home, there's a lot to consider before making a choice. Although you can find an air fryer to suit most budgets, you'll also need to decide on a model that's the right size for your kitchen, has the features you need, and any helpful extras like shake alarms, timers, and automatic shut-off.
Capacity
Generally, the price of a healthy air fryer increases along with the frying capacity. Smaller models are typically lower cost than larger fryers, which can be useful if you need to cook for yourself or two people.
On the other hand, you'll need a larger capacity machine if you want to prepare food for a large family or if you're hosting. However, as the capacity increase, so does the physical size of the unit.
Functions and features
You can find healthy air fryers with pull-out trays and some with large bowls accessible from above. Which you choose will come down to the types of food you want to make and the layout of your kitchen.
Several models come with mid-point shake alarms to remind you to shake your food for an even, crisp fry, while others offer presets for a variety of foods to simplify cooking your favorites.
Cleaning
Washing oily dishes can be a challenge, which is why many of the best healthy air fryers come with dishwasher-friendly parts to make clearing up a bit easier.
However, if you don't plan on using a dishwasher, you may find that you can save a bit of money on a model without machine-washable parts. It's also worth considering how to disassemble the machine when it comes time for a deep clean.
---
How we tested the best healthy air fryers
Before we recommend any healthy air fryer, we thoroughly test each kitchen appliance, considering the cooking performance, how simple it is to use, and whether the unit is easy to clean.
Cooking
We can't bring you a list of the best healthy air fryers without testing how well they cook up fries. Not only do we cook up a batch of frozen fries to see how they crisp up, but we also grab some potatoes and make hand-cut fries.
For the frozen fries, we want to know how fast and evenly they cook, so we look at the color as well as the texture. To make fresh hand-cut fries we follow any guidance in the manual for the amount of oil as well as the cooking time.
We also check to see if the machine delivers soft, fluffy centers and golden brown, crisp outsides. What's more, we cook chicken wings to see how well the fat drains away and whether the skin crisps up without the meat drying out.
Ease of use
In our experience, the best healthy air fryers are relatively uncomplicated, so there should be no need to reach for the instruction manual every time you want to use it. During testing, we check for an intuitive control panel with a good range of time and temperature settings that are easily adjustable.
If there are presets for popular foods like chicken and fries, we look to see if there are simple one-touch operations without having to scroll through fiddly or complicated menus.
Functions
While some air fryers can only air fry, many of the best healthy air fryers offer multiple cooking functions. We look at what options are on offer and whether they're a worthwhile addition or a bit of a gimmick.
A multi-purpose air fryer with a useful selection of functions means you get more bang for your buck. On the other hand, if it's packed full of functions you'll never use, it might not be worth the money.
Ease of cleaning
Washing a greasy pan is a necessary evil when you're cooking with oil. But thankfully, unlike frying on the stove, air fryers contain all the oil and splashes inside the appliance. But, we still want to know that the parts are easy to disassemble and clean.
We like dishwasher friendly parts, but not everyone has a dishwasher, so we also check if there are any tricky-to-clean areas or dirt traps that'll become caked in grease or muck over time.
---
FAQs
Are air fryers healthy?
This feels like a trick question, but here's the truth—air fryers are not guaranteed to produce healthy food.
In fact, coating potatoes in oil before cooking them is far less healthy than oil-free alternatives such as simply boiling them. Likewise, other popular air fryer foods such as chicken nuggets and burgers are not inherently healthy options.
However, as is always the case with food, there's plenty of nuance. And if you're choosing air fried French fries over deep fried French fries, then yes, the reduced level of oil does make them a healthier choice. Similarly, cooking a burger in your air fryer allows the fat to drain away, which is healthier than frying it in yet more oil.
Plunging foods into traditional deep fat fryers allows them to soak in lots of extra oil, whereas air fryers require very small quantities of oil, often as little as 0.6fl oz and some of this drips away during cooking. What's more, oil that's reheated several times in a deep fat fryer undergoes changes in its chemical nature, which poses other health risks, outlined in the journal Critical Reviews in Food Science and Nutrition (opens in new tab).
However, you don't reuse oil in an air fryer, so you don't have to worry about these particular harmful side effects. Using an air fryer to cook vegetables like broccoli, asparagus or peppers, gives them a really tasty roasted flavor. So, if this means you increase your consumption of vegetables, according to a study published in the British Medical Journal (opens in new tab), there's plenty of evidence suggesting that this will only have a positive impact on your overall health.
Helen is a freelance writer and kitchen appliance reviewer. She has written for TechRadar, Tom's Guide, and some of the largest home-related titles. Helen has over eight years experience reviewing small electrical appliances like blenders, juicers, air fryers, and multi-cookers. After training as a Home Economist, Helen started her career in the food industry but moved into product testing and reviews when she took a job at Good Housekeeping. Here, she developed her skills in testing and reviewing hundreds of kitchen and home appliances.
She is now a freelance writer specializing in home appliance reviews and draws on her home economics background as well as a love of cooking to write about and review products for several online publications, including Real Homes, Tech Radar, Homes & Gardens, and Fit&Well. Helen lives in a small village in the UK and, after moving house, spends her spare time planning new interiors and visiting antique stores to find one-off items to fill her home. She also loves to work out and attends a local bootcamp class, practices yoga at home, and enjoys regular rides on her Peloton. She's a novice gardener and hopes to start a veggie patch soon so she can enjoy delicious healthy home-grown veggies. When she's not testing the latest food gadgets, she's busy upholstering furniture.