It takes just 10-minutes to boost your flexibility with this mobility routine
This short session is designed to get your blood flowing and soothe aching muscles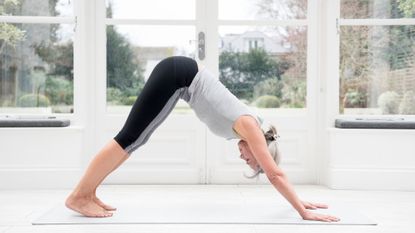 (Image credit: Future)
We love a sweaty workout session, but there's more to being fit than just training hard. It's also important to look after your body by making time for mobility work, which can help improve your flexibility and prevent injury.
This doesn't have to take long and it rarely requires any equipment either (though we like to use one of the best yoga mats (opens in new tab) to provide a grippy, cushioned platform for dynamic stretching).
A prime example of this is our featured mobility routine from NASM-certified trainer and corrective exercise specialist Jay Maryniak (also known as JTM_FIT). It takes just ten minutes, promising to help improve your joints' range of motion and boost blood flow to reduce aches and pains.
Watch Maryniak's video below and follow-along with his movements to give your body some well-deserved TLC.
Watch JTM_FIT's 10-minute mobility routine
This mobility routine uses a series of dynamic stretches to help your body recover from challenging exercise sessions. Unlike passive stretching exercises (opens in new tab), where you stay in the same position for a set amount of time, dynamic stretches (like down dog toe touches) require you to move to lengthen the muscles, resulting in several health benefits.
A 2019 study published in the Journal of Sports Science and Medicine (opens in new tab) concluded that dynamic stretching could increase flexibility and reduce stiffness in the muscles targeted. The results also suggested this style of stretching could help prevent injuries by reducing risk factors such as a limited range of motion in joints.
Pilates sessions and yoga flows are good practical examples of dynamic stretching, so if you liked this session why not try these anti-aging yoga moves or give our guide to Pilates for beginners (opens in new tab) a read.
As this mobility circuit is both low-intensity and low impact, you can slot it anywhere in your existing fitness routine, whether you want to warm-up ahead of a chest and back workout (opens in new tab) or recover after a session from our running plan for beginners (opens in new tab). And, given how short and accessible it is, there really is no reason not to give it a go!
Harry Bullmore is a fitness writer covering everything from reviews to features for LiveScience, T3, TechRadar, Fit&Well and more. So, whether you're looking for a new fitness tracker or wondering how to shave seconds off your 5K PB, chances are he's written something to help you improve your training.
When not writing, he's most likely to be found experimenting with a wide variety of training methods in his home gym or trying to exhaust his ever-energetic puppy.
Prior to joining Future, Harry wrote health and fitness product reviews for publications including Men's Health, Women's Health and Runner's World. Before this, he spent three years as a news reporter with work in more than 70 national and regional newspapers.