Jamie Foxx's diet and workout tips are essential for the over 50s
Jamie Foxx doesn't follow 'Hollywood diets' (or need a gym) to stay shredded at 53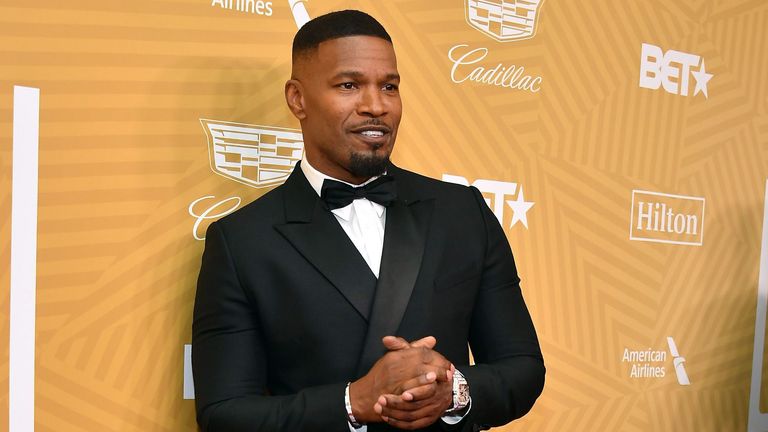 (Image credit: Getty)
By Jessica Downey published
Jamie Foxx does not look 53. The actor and singer, set to star in an upcoming Mike Tyson biopic, is getting into great shape to portray the famous boxer. But at 53, he's got to make sure he'll remain fit and healthy for years to come.
In a new video from Men's Health YouTube channel, he reveals his old-school workout and diet philosophy and why he avoids 'Hollywood diets where you eat a basket of air and drink a cup of wind'.
Watch: Jamie Foxx's diet and training routine revealed
Jamie Foxx's workout approach
In the video above, Foxx says he loves 'old school calisthenics' and doesn't use a trainer – at least, when he's not trying to get into Mike Tyson shape – instead relying on pull-up bars and other workout equipment for home use.
"Calisthenics presents an excellent exercise choice for the over 50's because no equipment is needed, making the barrier to entry very low," says celebrity PT Scott Laidler. "You're also not carrying more than your own body weight so this can immediately lower your risk of getting injured compared to other types of resistance work."
Want to give Foxx's calisthenics routine a go? Our how to do pull-ups and dips guide has all the info you need to get started. Pull-ups work your back, biceps, forearms and core, while dips work your chest, triceps and shoulders. Together, these exercises can be done with minimal kit and can hit almost every muscle group in your upper body.
Jamie Foxx's diet approach
Foxx makes it clear that the Hollywood diets associated with fasting or starving yourself are not for him, he asserts in the video, "You need food." And for him a typical day of eating sounds fairly yummy. The actor starts the day with egg whites, turkey sausage, a slice of toast and some orange juice.
"I have my biggest meal in the morning because that's what gets me going," notes Foxx. His no-faff approach to dieting and working out is refreshing to hear from a Hollywood star but more importantly can inspire those over 50 looking to get into shape.
Turkey sausage is often favoured by people as a healthier alternative to a typical pork sausage. According to LiveStrong, a 100g serving of turkey sausage contains around 196 calories while a 100g portion of pork sausage can contain about 339 calories. Half of these calories in the turkey sausage are believed to come from protein. Foxx doesn't follow restrictive diets, just uses a few healthier food swaps.
For lunch, it's brussel sprouts with either bacon or salmon and a little bit of rice and then his evening meals typically consist of a 'good steak' and lots of vegetables. Protein is important for muscle growth, and especially vital as we get older, when our muscle naturally begins to waste as a result of ageing-induced atrophy. A high-protein diet and regular resistance training can help turn the clock back.
However, this is an expensive daily diet to replicate, and impossible for people following vegetarian and vegan diets. To get more protein into your diet in an affordable, sustainable way, you can grab a protein shake in the morning (check out our best protein powder for weight loss guide) and use some of the best vegan cookbooks for healthy evening-meal inspo.
"My words of wisdom is this," says Foxx, "When you look good, you feel better. So when you eat right you feel right."
Jessica is Staff Writer at Fit&Well. Her career in journalism began in local news and she holds a Masters in journalism. Jessica has previously written for Runners World, penning news and features on fitness, sportswear and nutrition. She is a keen runner and is currently sweating her way through a 10k training plan. Jessica also enjoys building on her strength in the gym and is a believer in health and wellness beginning in the kitchen - which she loves sharing with others on her healthy living-inspired Instagram account, @jessrunshere. Despite her love for nutritious cooking, she stands by the saying 'everything in moderation' and is eagerly conquering the London food and drink scene!