Older women can reduce their chances of fractures by eating more healthy fats, plants, and wholegrains
Recent research reveals women eating low inflammatory diets have less risk of losing bone density as they age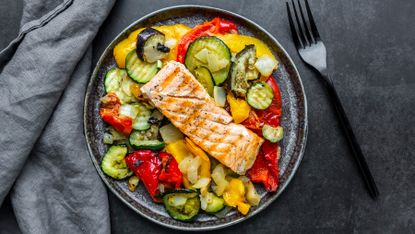 (Image credit: Getty)
Unfortunately, aging takes its toll on our bone health and older women are at an even greater risk after hormonal changes occur during menopause. While you may have been told as a child to drink plenty of milk (which is high in calcium) in order to strengthen your bones, you might now be wondering what steps you can take as an adult to protect your bones.
Taking one of the best vitamins for women over 50 is a handy way to increase your intake of important vitamins and minerals that your older self may be lacking in. On top of this, science has recently discovered what kind of diet is best for boosting bone health for older women, and it isn't unattainable.
Recently published in the Journal of Bone and Mineral Research, researchers at The Ohio State University conducted a study to find out more about the relationship between food and bone health amongst older women. After closely examining data collected by the Women's Health Initiative, they discovered that women with lower inflammatory diets lost less bone density over a six-year follow-up period than others with a higher inflammatory diet.
In addition to this finding, they also gathered from one subgroup of the study (a group of postmenopausal women below the age of 63) that those with diets containing low inflammatory potential seemed to have a lower risk of hip fractures.
According to the leader of the study, Tonya Orchard, who is an assistant professor of human nutrition at the university and part of Ohio State's Food Innovation Center, women's bone health could significantly benefit from eating a diet that promotes low inflammation in the body.
Now, you may be wondering what does a low inflammatory diet look like? It's a good question and not as complex as it may sound. Orchard pretty much summed the diet up as one including plenty of healthy fats, plants, and whole grains.
So your beneficial fats might look like fatty fish (salmon or tuna), avocados, olive oil, nuts, and seeds. You can source the plant element in plenty of fruit and vegetables. And wholegrain means you don't have to give up your favorite carbs, you should just aim to pick the wholegrain option of foods like pasta and bread instead.
With the significant loss in bone density being a real concern for women after they go through menopause it's important women try to combat things as early on as possible. Making a small lifestyle change could help prevent unwanted bone fractures further down the line.
The study above suggests that diet is an essential area to look after for older women. But exercise shouldn't be forgotten about. This can become harder when you're older as you might not feel as able as you once were but research has shown how exercise combats harmful conditions like chronic inflammation in the body.
Some light resistance training with a set of best adjustable dumbbells is a good way to build on your strength and you will be able to tweak the weight to whatever size you wish with a weight like this. Some of the best protein powders for women are also really beneficial for helping new and old muscle repair and grow at the same time.
Get the Fit&Well Newsletter
Start your week with achievable workout ideas, health tips and wellbeing advice in your inbox.
Jessica is an experienced fitness writer with a passion for running. Her career in journalism began in local news and she holds a Masters in journalism. Jessica has previously written for Runners World, penning news and features on fitness, sportswear and nutrition.
When she isn't writing up news and features for Fit&Well covering topics ranging from muscle building, to yoga, to female health and so on, she will be outdoors somewhere, testing out the latest fitness equipment and accessories to help others find top products for their own fitness journeys. Her testing pairs up nicely with her love for running. She recently branched out to running 10Ks and is trying to improve her time before moving on to larger races. Jessica also enjoys building on her strength in the gym and is a believer in health and wellness beginning in the kitchen. She shares all of this on her running Instagram account @jessrunshere which she uses for accountability and for connecting with like-minded fitness lovers.