Six moves and 24 minutes to build strength and boost your mood
You can improve your endurance and burn energy without equipment using this fast, effective session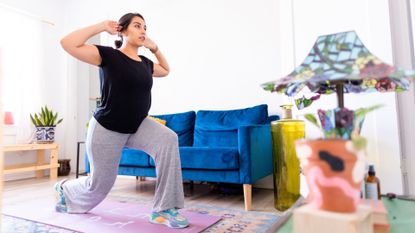 (Image credit: Getty)
Whether we're working from home or heading into the office, many of us spend hours each day sitting in the same spot. That's why we love this six-move workout.
It allows you to get out of your seat and on your feet without the need for much space or any equipment, minimising the barriers between you and a great workout. A mat (like those in our roundup of the best yoga mats (opens in new tab)) can be useful for providing extra grip and cushioning on hard floors, but it's not a necessity.
This workout was devised by yoga instructor and fitness trainer Rhiannon Bailey (opens in new tab) to get your blood pumping in well under an hour, meaning you can fit it into your lunch break and still leave leave plenty of time to enjoy a nutritious meal.
Sold? Then it's time to lace up your cross training shoes (opens in new tab) and get started. Perform the six exercises back to back for 40 seconds each, resting for 20 seconds between movements. This circuit should take you six minutes.
If you're short on time, Bailey recommends completing this four times through for a quick 24-minute session. Or, if you have a bit more wiggle room, try seven total rounds for a challenging 42-minute workout.
Watch Bailey's demonstrations of the six exercises in the video below to learn how to perform each one. Then, when you feel comfortable with the movements, hit start on your timer and away you go.
Watch Rhiannon Bailey's six-move workout
The purpose of this workout is to help you get moving, which in turn will burn calories, boost your metabolism (opens in new tab) and even improve your mood.
The sustained effort it requires has the added benefit of enhancing your cardiorespiratory endurance. This may sound like a mouthful, but in simpler terms it refers to the ability of your heart, lungs and muscles to exercise for extended periods.
This fitness-boosting effect will translate to improvements in other types of exercise like walking and running, as well as more strenuous everyday tasks such as gardening and cleaning. So, next time you need to run for the bus, you can breathe easy.
If you're looking for other ways to get your cardio fix, take a look at our running plan for beginners (opens in new tab). Or, if you would rather work your muscles, this full-body resistance band workout from Chris Hemsworth's trainer (opens in new tab) might be right up your alley.
Harry Bullmore is a fitness writer covering everything from reviews to features for LiveScience, T3, TechRadar, Fit&Well and more. So, whether you're looking for a new fitness tracker or wondering how to shave seconds off your 5K PB, chances are he's written something to help you improve your training.
When not writing, he's most likely to be found experimenting with a wide variety of training methods in his home gym or trying to exhaust his ever-energetic puppy.
Prior to joining Future, Harry wrote health and fitness product reviews for publications including Men's Health, Women's Health and Runner's World. Before this, he spent three years as a news reporter with work in more than 70 national and regional newspapers.