Try this five-move resistance band workout from Chris Hemsworth's trainer to build full-body muscle
Work your core and develop strength all over with this short, effective routine from Luke Zocchi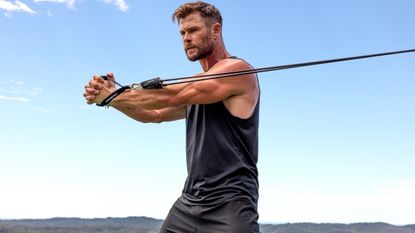 (Image credit: Centr)
If you've seen his recent Disney+ series, Limitless, you'll know that Chris Hemsworth works hard to stay on top of his health. But have you met the man responsible for the muscle?
Luke Zocchi (opens in new tab) has been Hemsworth's trainer (and friend) for years, and is responsible for preparing him to play Marvel's favorite hammer-wielding hero, Thor. He's also an expert instructor on the Australian actor's fitness app, Centr (opens in new tab).
If you want to sample some of his tried and tested training formula for yourself, you're in luck; Zocchi recently shared a minimalist workout he uses to build strength while on the go. All you'll need to give it a go is a long resistance band (opens in new tab) and somewhere secure to anchor it to (a tree or pillar will do the trick here).
The workout consists of just five moves, but still manages to work your biceps, triceps, chest, back, shoulders, quads, and hamstrings.
Zocchi suggests completing 10 repetitions of each exercise (or 10 repetitions on each leg for the jumping lunges) as a circuit for seven rounds, resting 60 seconds between rounds. This should take about 35 minutes in total.
Watch his demonstrations of each of the five exercises in the video below, then grab a hand towel and give this short yet effective session a try (you'll thank us for the heads up on the hand towel).
Watch Luke Zocchi's full-body resistance band workout
This workout is designed to be accessible; Zocchi managed to squeeze it in during in a quick mid-holiday break on the roof of his hotel. It's also been programmed for efficiency, targeting a total-body burn for maximum muscle-building and metabolism-boosting (opens in new tab) effects.
By training this way, you can work out three times each week and still hit every major muscle group multiple times. Whereas, if you were only working one or two body parts each day (such as with this chest and back workout (opens in new tab) or a selection of core exercises (opens in new tab)) you would have to exercise more often to match this frequency.
This is why full-body workouts are Zocchi's go-to way to stay in shape on vacation. His other top tip for a healthy holiday is to walk where possible when exploring, rather than taking cabs, to maximize your daily energy expenditure.
When we spoke to Zocchi (opens in new tab), he said the key is to use multi-muscle compound exercises to get the most from your training, even when you're short on time. That's the principle behind Chris Hemsworth's eight-move ab workout (opens in new tab) to build core strength.
There will be times when your body needs to recover, but that doesn't mean you have to stop exercising. Instead of physical strength, you can build mental strength in just 10 minutes with Hemsworth's guided meditation (opens in new tab).
Harry Bullmore is a fitness writer covering everything from reviews to features for LiveScience, T3, TechRadar, Fit&Well and more. So, whether you're looking for a new fitness tracker or wondering how to shave seconds off your 5K PB, chances are he's written something to help you improve your training.
When not writing, he's most likely to be found experimenting with a wide variety of training methods in his home gym or trying to exhaust his ever-energetic puppy.
Prior to joining Future, Harry wrote health and fitness product reviews for publications including Men's Health, Women's Health and Runner's World. Before this, he spent three years as a news reporter with work in more than 70 national and regional newspapers.