Regularly skip breakfast? You likely end up consuming MORE calories, study finds
Those who skip breakfast also consume fewer essential nutrients throughout the day, according to new research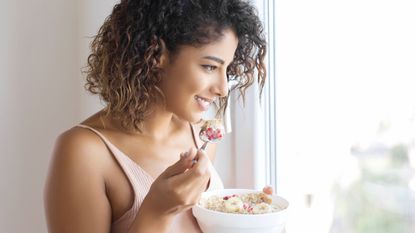 (Image credit: Getty/bymuratdeniz)
Some of us don't like eating breakfast, or purely don't have time for it - but skipping the first meal of the day could have a significant impact on your health and diet.
A recent study reveals that even if you have good intentions, not eating breakfast can actually result in you consuming more calories throughout the day than you would if you'd broken the fast - bad news for those looking to lose weight.
The study looked at 31,000 US adults who took part in the National Health and Nutrition Examination Survey (NHANES), of which just over 15% were found to forego eating breakfast. The study analyzed the participants' daily diet, using the MyPlate app to estimate their intake of nutrients. This was then cross-referenced against the Healthy Eating Index (HEI).
The results showed that not only did those who skipped breakfast (just over 15% of all participants) end up consuming more calories during the course of the day, their other meals (lunch, dinner and snacks) were also typically higher in carbohydrates, fats and sugars - leading to a poorer diet overall.
The research also highlighted that those who skipped breakfast ended up consuming fewer essential nutrients in their diet. The results showed that they did not meet the adequate daily intake requirements for calcium, iron and vitamins A, B1, B2, B3, C, and D - which are typically be found in traditional breakfast foods such as eggs, yoghurt, milk and fortified cereals.
So, what is the ideal way to start the day? If you can't face a large (or cooked) breakfast, smoothies are a great light option - whizz up some fresh fruit and some yoghurt in one of the best blenders and you'll be full of energy for the day ahead. Check out our healthy smoothie recipes for ideas to get you started.
Eggs are also a great option, especially for those looking to lose weight given their high protein content, which helps you feel sated for longer. One study published in the International Journal of Obesity, showed that participants who had eggs for breakfast lost more weight than non-egg eaters (when combined with an energy-deficit diet).
Ultimately, the perfect breakfast should be one that keeps your energy levels stable - and doesn't allow it to spike throughout the day. Sticking to protein, fiber or healthy fats will keep you feeling fuller for longer, and avoid items such as pastries and high sugar cereals, which will make your blood glucose levels spike then crash - leaving you feeling hungry before lunchtime.
Get the Fit&Well Newsletter
Start your week with achievable workout ideas, health tips and wellbeing advice in your inbox.
Sarah is a freelance journalist who writes about fitness and wellbeing for the BBC, Woman&Home and Tech Radar. During lockdown she found her love of running outside again and now attempts to run around 50 miles a month. When it comes to other fitness, she loves a sweaty cardio session – although since she's been working out from home she's sure her downstairs neighbors aren't too happy about it. She also loves to challenge herself - and has signed up to do hiking holidays, intense bootcamps and last year she went on her dream activity holiday: paddle boarding around deserted islands in Croatia. On her rest days, she loves to recover with a simple yoga flow session – the perfect antidote to her active fitness schedule.