Best blenders for protein shakes to make quick, smooth shakes
The best blenders for protein shakes make it easy to keep your protein topped up at home or on the go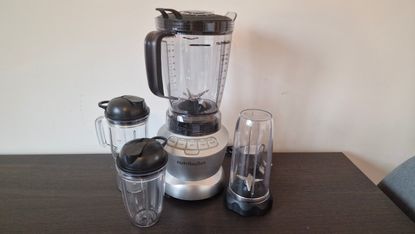 (Image credit: Future)
Making a drink with the best blenders for protein shakes is a great way to stay topped up on this essential nutrient. These countertop units create protein-heavy drinks in seconds, meaning you'll spend as little time preparing your post-workout shake, leaving you with more time to spend on those last few reps.
In this guide, we have ranked five of the best blenders for protein shakes based on their ability to make speedy, lump-free protein shakes. Using each model, we made a smoothie using protein powder and plant-based milk, but we also added oats and half a banana to see how they might handle trickier mixtures for those days when you want to add a few more ingredients to your shake.
We've featured cord-free blenders that can be used anywhere, so long as you charge them before you leave the house. This includes the compact BlendJet 2, which we were impressed is quiet enough to use in the office kitchen without interrupting your co-workers' video calls, and the Cuisinart RPB-100 EvolutionX, a blender backed by a surprising amount of power.
All of the best blenders for protein shakes come with portable cups, which means you can take your finished drink with you, especially those with a flip-top lid for drinking on your commute or while walking home from your workout. Many of these blenders are available for less than $100/$80, making them a budget-conscious way to top up your protein levels.
The best blenders for protein shakes
1. Ninja BN401 Pro Compact Personal Blender
The best blender for protein shakes for most people
Specifications
Capacity: 24oz / 700ml
Noise: 89dB
Motor: 1,100W
Reasons to buy
+
Pre-set blending options
+
Two blending cups
+
Can handle most smoothie ingredients
The Ninja BN401 Pro Compact Personal Blender impressed us with its powerful, hands-free blending. It's got two presets, one for crushed ice and another for smoothies. We used this smoothie setting in our protein shake testing, and the Ninja blender left us with impressively smooth drinks every time we used it.
We enjoyed that you can place all removable parts in the dishwasher and that it comes with two cups, meaning you can use this blender on back-to-back days even if yesterday's cup is still being washed. The base is sturdy and solid, and despite its pre-set pulsing, this blender did not jump around our kitchen counter.
For our relatively simple shake, this blender is plenty capable. If anything, the 1,100W motor is a little overpowered for protein shakes, and we're confident that you could add in a couple of ice cubes on warmer days and still be left with a perfectly smooth drink.
What the users say
The Ninja BN401 Pro Compact Personal Blender currently has an exceptional 4.8 out of five stars on Amazon from over 35,000 reviews. Many users praise the performance and motor power. Others note that it can handle kale and frozen berries with no difficulty, which is pretty impressive considering how tough these ingredients can be.
Although not a deal-breaker for most, the noise is a common complaint. This is in line with our experience, which found it was one of the noisiest options. Despite this, people are almost universally pleased with this blender's performance, especially for this price.
---
2. Magic Bullet Blender
The best budget blender for protein shakes
Specifications
Capacity: 12oz / 350ml
Noise: 83dB
Motor: 250W
Reasons to buy
+
An affordable choice
+
Comes with multiple cups
+
Compact design for small kitchens
Reasons to avoid
-
Lower power than some blenders
Our immediate impression of the Magic Bullet Blender was that it's a very reasonably priced choice, available for under $50 at the time of testing. It doesn't hold back on extras, with two included travel cups, including lids for drinking as you travel.
With a 250W motor, this blender is far from the most powerful on the market. If you only want to make protein shakes, though, it's plenty capable of handling some protein powder and milk, and it also did a decent job with our oats and bananas.
Our finished drink was not quite as smooth as the texture we experienced with the Ninja BN401, but given that this blender is half the price, we still think it delivered excellent results. We also liked that it comes with a range of cup sizes, meaning you could make drinks for multiple people or smaller servings that could be easily portable for your daily errands.
What the users say
With an average rating of 4.5 out of 5 stars on Amazon, users agree that this blender is pretty good, given the price. Some comment that it can't handle frozen fruit or ice, which isn't a surprise given its low wattage.
Although it might not be well-suited to harder ingredients, one protein shake drinker summed up the general feeling, noting that "getting the Magic Bullet was probably one of the best and easiest decisions I've made."
---
3. Cuisinart RPB-100 EvolutionX
The best cordless blender for protein shakes
Specifications
Capacity: 16oz / 500ml
Noise: 79dB
Motor: 200W equivalent
Reasons to buy
+
Can take with you on the go
+
20-minute battery life
+
Surprisingly powerful
Conceptually, there is a lot to like about the idea of a cordless blender. The Cuisinart RPB-100 EvolutionX even tells you when it needs to be charged, and its 20-minute battery life should see you through at least a few weeks of regular use.
Whether you want something that you can take to the office if you don't have the time to blend from home, or you're going on a trip and won't have access to a power socket for a few days, we think you could get a lot of use from this option.
Our one concern was that its battery would be insufficient for blending bananas and oats. Fortunately, the protein powder posed no difficulty. And while there was still a slight grittiness from our oats, we were also impressed that this blender powered through our ingredients in under a minute of blending.
What the users say
The Cuisinart RPB-100 EvolutionX holds an average of 4.4 out of five on Amazon, with most users generally pleased with the performance of the battery-powered blender.
Some users complained that the power button is tricky to use, and while we didn't have too much difficulty, we agree that holding down a button to unlock the blending before pressing the power button is a little fiddly.
The alternative could be pretty dangerous, though, and although you need to hold down the power button continuously, we didn't have to hold it down for long to get the texture we wanted from our shake.
---
4. NutriBullet Blender Combo
The best capacity blender for protein shakes
Specifications
Capacity: 64, 32, 24oz / 1,900, 950, 700ml
Noise: 84dB
Motor: 1,200W
Reasons to buy
+
Can be used to make batch shakes
+
Three speeds
+
Powerful base
Many of the best blenders for protein shakes are designed to make one or two servings at a time, but the NutriBullet Blender Combo is the perfect choice if you're hoping to make shakes in batches.
It's also a multi-functional choice, with different cup sizes for different drinks and three speed settings to choose from. When testing, we tried the 'extract' button. We're unconvinced that a blender setting can boost the extraction of nutrients, so take that setting with a pinch of salt.
It did a good job of blitzing our oats and banana into a finely finished drink, and we enjoyed the texture we got in both the travel cup and the 64-oz pitcher. Considering the size of the motor, this one also produced a reasonable amount of noise.
What the users say
The NutriBullet Blender Combo holds a 4.7 out of five on Amazon, with users commenting that this blender is a great everyday model, with noise lower than you'd expect for a large blender.
Some owners reported that the blender didn't deal well with frozen items like bananas or large ice cubes, meaning they had to stop blending to stir the ingredients repeatedly.
---
5. BlendJet 2
The best portable blender for protein shakes
Specifications
Capacity: 16oz / 500ml
Noise: 68dB
Motor: 200W
Reasons to buy
+
Very lightweight
+
Quiet
+
One-touch operation
Reasons to avoid
-
Lacks power
-
Capacity only ideal for single portions
The BlendJet 2 is an all-in-one portable blender without a removable blending cup. It's incredibly lightweight and quiet, meaning we found it was silent enough that you could use it in the office, on a campsite, or in a changing room without causing much of a disturbance.
It's designed to work with powder, and we were even sent some of BlendJet's ready-to-blend smoothies to test alongside it. Some were tastier, but each worked brilliantly with the blender's pre-set 20-second blending cycle. And when we tried using bananas and oats, it was simply a case of running two blending cycles to get everything fully integrated.
Our major gripe is that this blender has very short battery life. It runs for 15 cycles or just five minutes, and overall we preferred the Cuisinart for cordless operation. If you like to make protein shakes with just powder and milk, though, the BlendJet is perfectly designed to fit into your lifestyle.
What the users say
Assessments of the BlendJet 2 are glowing, with an average of five stars out of five on the BlendJet site from over 35,000 reviews. Many people comment that they find it easy to use and to clean.
Its compact size was also praised, particularly if you pick up the protective cover, it's perfectly portable. One user summed up the consensus: "Making protein and fruit shakes has been so quick and easy. And the clean-up is too!"
---
How to choose the best blender for protein shakes
Traditionally, when choosing a blender for protein shakes, smoothies, or soups, the advice has been to consider the capacity and power as the two most essential specifications.
Although these are important, there are several other considerations to keep in mind when deciding on a blender for your home to make sure you find one that is convenient, easy to use, and fits your lifestyle.
Types of blender
Although there are various styles of blenders, they are often bundled under a single category. They work similarly with a jug, blade, and motor but have minor differences that make them suited to a particular task.
Many do several of these things in one unit; some do all.
Speed settings
Most blenders have a minimum of two speeds, but this can vary significantly between brands and is usually (but not always) determined by the price.
Those with multiple speed options can be helpful as they can provide more control when blending, with different speed settings meeting the requirements of different types of food.
Programs
The more expensive blenders (usually in the $100/£100 or higher price range) are likely to have programs designed for specific tasks, such as soup or milkshake-making - and sometimes, ice-crushing.
The latter is essential because if there isn't a specific labeled option for ice, putting ice into the blender may reduce its lifespan or increase maintenance costs as it could blunt the blades.
Jug material
Generally, blenders for protein shakes come with a BPA-free plastic jug or cup to house the ingredients for blending. These are lightweight, relatively inexpensive to replace, and easy to clean.
Over time, they may become discolored (depending on the ingredients you use) or absorb odors from the food. You can find blenders with glass jugs, although these are often more expensive and heavier, so not well-suited for on-the-go use.
Power
The blender's power rating refers to how the motor performs and is usually written in Watts (W). Generally, the higher the wattage, the more powerful the blender, and the quicker it can blitz ingredients.
You can find blenders for protein shakes with ratings of around 200W on the lower end, reaching up to 2,000W for more advanced (and usually more expensive) models.
How we tested the best blenders for protein shakes
To review the best blenders for protein shakes, we used them in our home to make our morning drinks. Many blenders will work well when you use just protein powder and milk, but we find that many users will add extras such as bananas or oats to their protein shakes to add more flavor and dietary fiber.
Using these extras in our testing also allowed us to directly compare how well these blenders will handle a greater variety of ingredients and assess their overall power and performance. When testing, here's what we looked out for.
Pre-set functions
Many blenders these days come with pre-set functions designed to blitz and pulse your smoothie to reach the perfect even consistency. When testing these blenders, we tended to stick to a 40-second runtime, which is more than sufficient to tackle the ingredients we were trying.
The only exception we made was with the Ninja BN401 Pro Compact Personal Blender, which has a 45-second pre-set blend timer that will automatically shut off when finished, meaning you can set your drink to blend and continue to go about your daily routine. With the BlendJet 2, which has a 20-second setting, we ran two cycles to reach our 40-second target.
Cleaning
Not all blender cups can go in the dishwasher, but most can, and it makes life a whole lot easier when you don't have to worry about washing up immediately after you're finished drinking.
We also used these blenders to clean themselves, adding a drop of dish soap and a little hot water to our blender and pulsing to get remnants off our blades and the top corners of the blender cups.
None of these blenders were tricky to clean, but the NutriBullet Blender Combo came out above the rest as the easiest.
Consistency
Just because you're drinking it for nutritional value, that doesn't mean you should grimace when you sip at your protein shake. A great blender can make your protein drink taste like a milkshake, smooth and creamy, without any powdery residue or lumps. When taste-testing, we looked for differences in texture and consistency throughout.
Get the Fit&Well Newsletter
Start your week with achievable workout ideas, health tips and wellbeing advice in your inbox.
Millie Fender is head of Small Appliances on Future's Home Ecommerce team. She works on several homes sites to test everything from blenders to air fryers and has tried dozens of the market's leading brands. She lives in a small apartment in South London, UK, and when she's not testing out kitchenware, you can find her knitting or checking out one of the city's many food markets.