Best blenders: The top food processors from KitchenAid, Philips, Ninja and more
Whip up healthy smoothies, soups and juices with the best blenders you can buy right now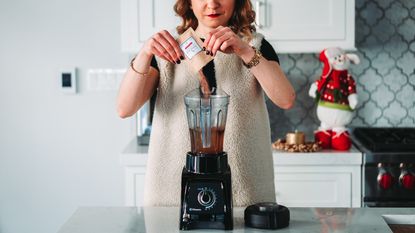 (Image credit: Vitamix)
Looking for the best blenders to whip up great (and healthy) smoothies and juices? Don't get your head in a spin, despite the fact that there are seemingly hundreds to choose from.
Whether you're a smoothie nut or you just love preparing homemade soups, jams or sauces, finding a blender that suits your needs can be a bit overwhelming, especially considering all the different functions and features they can have.
Thankfully, there's not that much to think about beyond how much easier they'll make your life in the kitchen. Below we'll reveal the features you'll find in the best blenders, along with our top picks.
How to choose the best blender for you
When selecting the best blender for you, take a moment to consider the following factors...
Types of blender
When looking to buy the best blender, be aware that often different designs are bundled under the same 'blender' category. These include:
Food processors: this type of blender helps with chopping, dicing and blending
Smoothie makers: these are usually taller and slimmer, but powerful enough to blend fruits and veg to a fine liquid
Vacuum blenders: these take the air out to keep the ingredients inside fresher for longer
Soup makers: blenders that heat their ingredients
Many do several of these things in one; some do all.
Speed settings
Most blenders have a minimum of two speeds, but this can vary greatly between brands and is usually (but not always) determined by price. Those with multiple speed options can be helpful as they can provide more control when blending, with different speed settings meeting the requirements of different types of food.
Programs
The more expensive blenders (usually in the $100 / £100-plus price range) are likely to have programs designed for specific tasks, such as soup or milkshake-making - and sometimes, ice crushing. The latter is important because if there isn't a specific labelled option for ice then it means you shouldn't be putting it in the blender as it could blunt the blades.
Jug
When it comes to the jug part of the blender, material is the most important. While the plastic varieties are lighter and (normally) cheaper, they can easily become scratched over time. Another issue is that they can absorb odours, and even stain.
Glass jugs, however, don't only look better, they're also sturdier and likely to stand the test of time - lthough they can be much heavier when full.
There are also BPA-free plastic options, such as Tritan, which offer the best of both worlds. They are light yet strong, and even look like glass.
It's also worth thinking about the capacity, too. Will you need a larger jug so you can blend drinks for several people at once? Anything over a litre should serve a minimum of two people.
Power
Power is another feature worth considering when blender shopping. This is determined in wattage, going up from around 200 watts for the stick or personal countertop versions, right up to more than 1,000 watts for those with more serious blending habits. The benefit of these powerful models is that they can usually whip up harder ingredients much faster, such as dairy-free milks and nut butters, for instance.
The best blenders you can buy right now
1. KitchenAid K400
The best overall blender
Specifications
Power: 1200W
Capacity: 56oz/1.4L
Jug: Glass
Dimensions: 19x23x40cm
Reasons to buy
+
Powerful
+
Good-sized
+
Keenly priced for a KitchenAid
Reasons to avoid
-
Glass jug is quite heavy
-
Design won't be to everyone's tastes
If there's one thing KitchenAid is known for, it's a host of stylish and high quality blenders. One of my favourites is the Artisan K400 because, while it's almost the priciest on our list of best blenders, it's still rather affordable, with an RRP of under $250/£300.
Dispute this, there are still all the things you'd expect from a quality blender. A nice, sturdy glass jar for starters, which shouldn't stain or discolour as much as a BPA one. It's also dishwasher proof.
At 1200W, it's not the most powerful blender out there, but it sure as hell will do the job for the average user, powering through and whipping the behind of most things you throw at it, with ease.
2. Philips Innergizer High-Speed Blender
The best premium blender
Specifications
Power: 2000W
Capacity: 64oz/1.9L
Jug: Tritan
Dimensions: 44 x 22 x 16 cm
Reasons to buy
+
Super powerful
+
Decent size
Reasons to avoid
-
Glass jug is heavy
-
Design won't be to everyone's tastes
If your main priority is not waking the entire household when blitzing your breakfast smoothie, Philips' Innergizer Avance high-speed blender might be your best bet. This model keeps noises to a minimum thanks to its 'noise comfort dome', which is essentially a plastic shield as you might have seen on more commercial blenders. This fits over the jug while blending to reduce the high-pitched whizz you'd usually hear from such appliances and does so even with a super powerful wattage of 2000W.
Silence and power, however, come at a price. Philip's Innergizer has an RRP of $600/£500, although this has come down a lot for most retailers, and you might be able to pick one up at half the price in some stores.
3. Breville Blend Active Colour Mix
The best budget blender
Specifications
Power: 300W
Capacity: 20oz/0.6L and 10oz/0.3L
Jug: Plastic
Dimensions: 37 x 13 x 13 cm
Reasons to avoid
-
Low capacity
-
Not as powerful as competitors
-
Feels and looks a bit cheap
At a super low price, you can't go wrong with Breville's Blend Active Colour Mix blender. It's relatively low 300W power supply means it won't be able to blitz your fruit and veg as fast and efficiently as its pricier counterparts, but if it's just a simple smoothie you're wanting, it can do that effortlessly.
What's more, this blender doesn't have one fixed jug. It comes with two 20oz/600ml and two 10oz/300ml BPA-free bottles which the blades attach to, so multiple people in a household can use it, without having to wash a jug first. Each also comes with a coloured sports lid to keep track of which drink belongs to who.
4. Ninja Foodi HB150UK Blender and Soup Maker
Whips up both hot and cold creations
Specifications
Power : 1000W
Capacity: 64oz/1.7L cold, 56oz/1.4L hot
Jug: Glass
Dimensions: 45 x 20 x 21.5 cm
Reasons to buy
+
Great quality for the price
+
Also heats ingredients for soup
Reasons to avoid
-
Heavy
-
Design is cumbersome
Ninja has made quite an impression on the market in recent years, offering a range of high-tech, good quality appliances at more accessible price points. The Foodi HB150UK is no exception.
For under $130/£150, this device does pretty much everything you'd need a blender to do, blending cold ingredients such as ice-cool smoothies, frozen drinks, milkshakes and desserts. However, there's an added bonus: it can heat fresh ingredients, too, making ready-to-eat soups in just 30 minutes. Just chop and sauté fresh ingredients in the jug, then blend to the desired texture and cook with the built-in heating element. The 10 Auto-iQ programmes make all this super easy to do, too, taking the effort out of it.
5. Nutribullet 1000 Series Blender
A great quality, powerful device at a decent price
Specifications
Power: 1000w
Capacity: 84oz/1.6L
Jug: Plastic
Dimensions: 42 x 17 x 17 cm
Reasons to buy
+
Great power for under £100
+
Sexy design
+
Easy to clean
Reasons to avoid
-
Only two speed settings
-
Plastic jug
Nutribullet is best known for it's well-priced smoothie making machines, but it's ventured out this time with the 1000 Series, which features a much larger-than-normal 84oz/1.6 litre capacity jug. The powerful 1000 W motor delivers a reliable blend, while the heating element can also aid the preparation of soups and sauces, blending and cooking at the same time.
Is washing up a pet peeve? After whizzing up your post-work out smoothie, you can shove everything (but the power base, of course) straight in the dishwasher. A great quality, well designed and multifunctional blender that won't cost the earth.
6. Cuisinart Easy Prep Pro Blender
A top blender-cum-food processor
Specifications
Power: 350W
Capacity: 8-cup/1.9L
Jug: Plastic
Dimensions: 19 x 24 x 37.5 cm
Reasons to buy
+
Large capacity
+
Food processor
+
Comes with two sized bowls
Reasons to avoid
-
Not that powerful
-
Only 900ml liquid capacity
Looking for a blender that doubles up as a food processor? Cuisinart will do the trick. With a large 8-cup/1.9L capacity work bowl in a space-saving form factor, this multi-talented appliance comes with a range of accessories for not just blending solids to liquids, but speeding through everyday tasks.
For instance, chopping vegetables for salads or casseroles, quickly blitzing your own cauliflower rice, breadcrumbs or nuts, grating cheese and mixing smooth dips, sauces and batters.
While not as powerful when compared to other blenders on the list, it is ideal for all kinds of food prep, and all for just $100/£125.
Lee Bell is a London-based journalist, copywriter, specializing in all things tech and lifestyle. He is also a qualified personal trainer. He started his journalism career a decade ago as a reporter covering the latest gadgets and innovations at tech tabloid The Inquirer. Lee went freelance in 2016 to broaden his expertise, moving into news, reviews and feature writing for a host of national print and online lifestyle titles such as GQ, Forbes, Esquire, Men's Health, Wired, The Metro, and The Mirror. He has an insatiable appetite for travel, Dharma yoga, and the odd outdoor challenge.