The music you should listen to during your workout, according to science
This playlist will help you stay motivated, even when you're tired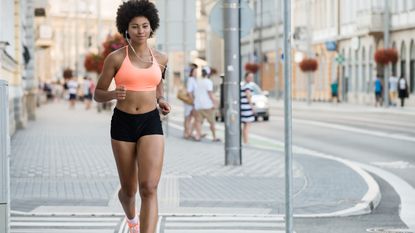 (Image credit: Getty / Martin Novak)
Choosing the right playlist for a workout or run can be motivating, especially when we've convinced ourselves that we're not mentally prepared for it.
Now, a new study backs up this claim - with researchers finding that when we self select a playlist and listen to it - perhaps via the best workout earbuds - even if we're mentally fatigued, the music can reverse how we feel and make us perform slightly better.
The study by researchers at the University of Edinburgh looked at how 18 runners performed when they did and didn't listen to music after completing a demanding task. Half of the runners took part in interval running, whilst the other halt took part in a 5km time-trial.
Interestingly, both sets of runners saw improvements in performance when they were listening to music - with researchers believing that music gives people an 'altered perception of effort'.
The runners were allowed to self-select the music they listened to, with popular choices including the hits Addicted To You by Avicii, Run This Town by Jay-Z), Power by Kanye West, No One Knows by Queens of the Stone Age and the ever-popular Eye of the Tiger by Survivor.
The study, published in the Journal of Human Sport and Exercise, found that those who took part in the interval training and were mentally fatigued before, performed slightly better when they had chosen their own music. Meanwhile, the same improvements were seen with the 5km timed runners.
Dr. Shaun Phillips, of the University of Edinburgh's Moray House School of Education and Sport said: "Mental fatigue is a common occurrence for many of us, and can negatively impact many of our day-to-day activities, including exercise. Finding safe and effective ways to reduce this negative impact is therefore useful.
"The findings indicate that listening to self-selected motivational music may be a useful strategy to help active people improve their endurance running capacity and performance when mentally fatigued.
"This positive impact of self-selected music could help people to better maintain the quality and beneficial impact of their exercise sessions."
If you're not sure what playlist works for your run or workout, take a look at our list of the best workout music. Also, a good rule of thumb is to try and stick to a tempo that has a range between 120 to 125 BPM for a jog and 140 to 145 BPM for a faster run. You can use a site such as songbpm.com to find suitable tunes.
Get the Fit&Well Newsletter
Start your week with achievable workout ideas, health tips and wellbeing advice in your inbox.
Sarah is a freelance journalist who writes about fitness and wellbeing for the BBC, Woman&Home and Tech Radar. During lockdown she found her love of running outside again and now attempts to run around 50 miles a month. When it comes to other fitness, she loves a sweaty cardio session – although since she's been working out from home she's sure her downstairs neighbors aren't too happy about it. She also loves to challenge herself - and has signed up to do hiking holidays, intense bootcamps and last year she went on her dream activity holiday: paddle boarding around deserted islands in Croatia. On her rest days, she loves to recover with a simple yoga flow session – the perfect antidote to her active fitness schedule.