This 20-minute high-intensity workout burns fat without equipment
You don't need any equipment for this fat-burning workout from personal trainer Marvin Ambrosius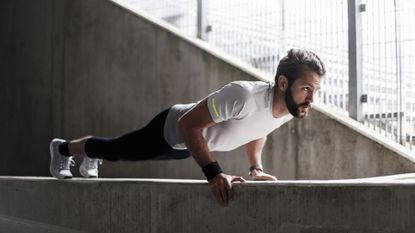 (Image credit: Getty Images)
While many of us have turned to at-home workouts over the past few years, heading outside to exercise is a great way to stay active and protect your mind, especially with this 20-minute equipment-free routine.
You'll only need a pair of the best cross training shoes to support you through the fast-paced movements. Enjoy listening to music during workouts? Then pick up a set of the best workout earbuds too.
Whether you prefer exercising at home or the gym, there are plenty of reasons to train outdoors occasionally. According to research published in the journal Extreme Physiology & Medicine, exercising outdoors increases our enjoyment of and motivation to exercise, making us more likely to keep doing it.
But what type of exercise should you do? According to fitness expert Marvin Ambrosius, high-intensity interval training (HIIT) is the most time-efficient way to exercise and see results. His recommendations are backed up by science, too.
A study published in the Journal of Strength and Conditioning Research found that HIIT workouts can burn more calories than other, more traditional, steady-state exercises. Meanwhile, research in the journal Applied Physiology, Nutrition, and Metabolism in 2017 also showed that interval training increases your resting metabolic rate.
To get you started, Ambrosius has put together a 20-minute, no-equipment HIIT routine that is designed for the outdoors. As he says, the workout will "help you become fitter, leaner and become the best version of yourself."
Watch Marvin Ambrosius' 20-minute HIIT workout
The workout can be followed anywhere—in your garden, the local park, or while traveling—and whether you have access to outdoor gym equipment or not.
The session lasts 20 minutes, has six bodyweight moves in total, and includes a warm-up and cool down to help your muscles prepare and recover, avoiding injury and getting the most from your workout.
To pack plenty of fat-burning, muscle-building exercise into 20 minutes, you'll do three sets of the six-move routine. And to keep the intensity high, you'll do each exercise for 20 seconds, then take a 10-second rest.
Warm-up (5 minutes)
20-minute HIIT workout
Jogging on the spot
Mountain climbers
Squats
High knee walks
Forward and back
High plank
Cooldown
Side pulse lunges
Quad stretches
Hip openers
Shoulder stretches
Tricep stretches
Neck stretches
Get the Fit&Well Newsletter
Start your week with achievable workout ideas, health tips and wellbeing advice in your inbox.
Claire is a freelance health, fitness and food journalist who has written for titles including Women's Health, Top Santé, Woman & Home, Feel Good You, the Telegraph and Independent. She has a passion for being outside in nature and you're more likely to find her walking in the woods or joining an exercise class in the park than pounding a treadmill in the gym. She also has a special interest in nutrition and healthy eating, having previously been Food Editor at Top Santé magazine. Her top fitness tip? Take your exercise outdoors wherever possible. It has been shown to boost the physical as well as mental health benefits of a workout and also to make you more likely to want to do it again!