This five-move glute-building workout takes just 30 minutes
Build leg strength without leaving the house with this five-move lower body workout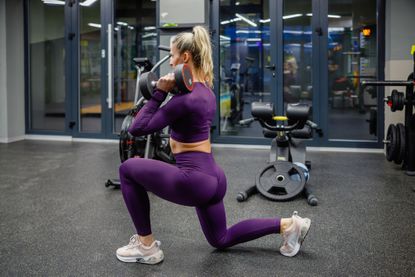 (Image credit: Future)
You don't need to go to the gym to grow your glutes, as these five moves can help you do it at home with just a pair of dumbbells.
A set of the best adjustable dumbbells are ideal for these exercises as you can change their weight to suit your fitness level. However, fixed dumbbells, kettlebells, or even some full water bottles will also do the trick — as long as you can hold one in each hand and they add resistance to the movement, you're good to go.
Gymnast and fitness trainer Morgan Rose Moroney (opens in new tab) has recommended five of her favorite dumbbell exercises for growing your glutes, and to help you get the most from them, we've arranged them into a 30-minute muscle-building workout.
We suggest performing three sets of each exercise before moving on to the next one, taking one minute of rest between sets. Complete between eight and 12 repetitions of each movement, using a weight that allows you to maintain perfect form but still feels challenging, particularly as you reach rep eight and above.
This will allow you to utilize the progressive overload (opens in new tab) principle for improved muscle and strength gains. Watch Moroney's video below to find out which five exercises she recommends, and mirror her technique to ensure you perform each one with perfect form.
Watch Morgan Rose Moroney's five-move dumbbell glute workout
Moroney has compiled these five exercises to help you grow your glutes, but that's not their only advantage. They will also help you build overall leg muscle and lower body strength.
For example, dumbbell RDLs (or Romanian Deadlifts; you can find out how to deadlift properly here) will hit your hamstrings too, while sumo squats engage almost every leg muscle you have.
Although squats may seem simple, there's more to these leg day staples than meets the eye, so we recommend checking out our guide on how to do squats (opens in new tab) before adding weight to the movement.
This workout is an example of a resistance training session, with the intention of helping you build muscle and increase your strength in the targeted body parts.
A study published in Current Sports Medicine Reports (opens in new tab) found this style of training holds a host of health benefits, including improving physical performance, boosting cardiovascular health, reducing blood pressure and increasing bone density, among others.
If you want to add this workout into your fitness routine, we recommend using it as a full day of training. We also advise you give your legs at least 24 hours to recover from these taxing movements, so why not opt for an upper body session or some cardio the following day?
If you're short on ideas, try our rowing for weight loss program or this cycling fitness plan for some inspiration.
Harry Bullmore is a fitness writer covering everything from reviews to features for LiveScience, T3, TechRadar, Fit&Well and more. So, whether you're looking for a new fitness tracker or wondering how to shave seconds off your 5K PB, chances are he's written something to help you improve your training.
When not writing, he's most likely to be found experimenting with a wide variety of training methods in his home gym or trying to exhaust his ever-energetic puppy.
Prior to joining Future, Harry wrote health and fitness product reviews for publications including Men's Health, Women's Health and Runner's World. Before this, he spent three years as a news reporter with work in more than 70 national and regional newspapers.