How to deadlift properly with barbells: Your guide to the best muscle-building move
Want to learn how to deadlift properly? This is your guide to getting started with the popular barbell workout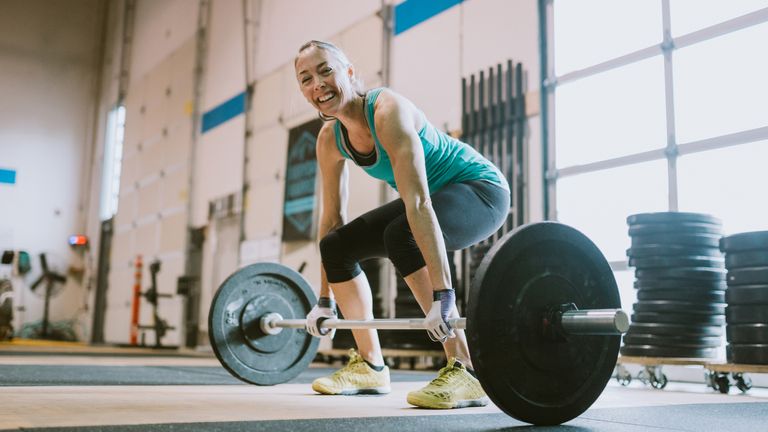 (Image credit: Getty Images)
By Matt Evans , Lucy Gornall
Back to the gym after lockdown? Learning how to deadlift properly is essential, as it's an amazing move and one of the most comprehensive compound lifts. However, it can also harm your back if performed incorrectly.
As we stand, sit, and walk in everyday life, we're using our legs, bums, core and back. Deadlifting properly is one of the best way to ensure those muscle groups stay stronger for longer. 
As well as reducing the risk of osteoporosis, deadlifts can prevent back problems as you age: a study in the Journal of Strength and Conditioning Research found deadlifting reduced pain, and increased activity, in patients suffering from lower-back pain.
With many of us sitting in an office every day, deadlifts can improve our posture and undo the damage of a sedentary lifestyle. It does this by focusing on our glutes and legs, which are often neglected as we're sitting down all day, and our backs, which can become damaged if we're leaning over a laptop for long periods.
For athletes, it's also a really time-efficient way to hit all these muscle groups effectively. If you're getting into running, deadlifting will make your lower body stronger. If you're looking to build strength, deadlifts teach you to lift heavy objects off the ground safely. 
You can deadlift with dumbbells, kettlebells and even resistance bands, but using a barbell allows you to lift more weight, helping you to develop strength and power. Whatever your fitness journey looks like, learning to deadlift properly with barbells can help you along the way.
Follow our step-by-step guide below, which will show you how to deadlift properly and safely.  
How to deadlift properly with a barbell
Start with your feet shoulder-width apart and a barbell on the floor in front of you. The bar ideally will have plates on either end to raise it from the ground and the bar should sit over your feet. Bend at the knees and push your bum back to lower your hands down to grasp the bar. 
When you're at the bar, place your hands so they are just wider than your legs with an overhand grip.
Squeezing the bar tightly, push through your feet and legs to stand. When the bar is at your knees, straighten legs and come up to standing. Throughout, maintain a flat back and keep your neck in line with your back.
Then slowly lower the barbell by bending at the hips and knees to lower the bar back down. As you lower the bar, it should almost glide down your thighs until you reach your knees, at which point your knees bend, allowing you to place the bar down. Then go straight into the second rep.
Remember, that back needs to stay flat, core needs to stay engaged and neck stays in line with back.
Aim for 8-10 reps to start.
How to deadlift properly with a barbell: Common deadlift mistakes
Deadlifts can be a tricky business. If you lift a heavy barbell with improper form, you risk damaging your back and legs: it's one reason why professional environments involving heavy lifting usually require training, or the signing of a waiver. Although the benefits of deadlifts are great, it's important to learn how to deadlift properly to avoid these potential pitfalls.
"To start with, I won't even let my clients touch the bar," says PT and strength coach Hendrick Famatumi. He advocates warming up with hamstring and back stretches, and practising the movement with empty hands or just using the bar before attempting to add any weight.
Key deadlift mistakes to avoid include: 
Not keeping a neutral spine
"Imagine a tennis ball is between your chin and chest, which will help you keep a neutral spine throughout the movement," advises Hendrick.
Lifting your heels off the ground 
It's easily done as a heavy bar can pull you forward slightly. But if you want to know how to deadlift properly with barbells,  it's essential you keep feet glued to the ground. You'll need to push through your feet and legs to rise up from the deadlift and get the bar off the ground. Struggling? Drop the weight. It's always quality over quantity when it comes to barbell work.
Wearing running trainers when you deadlift
If you're lifting substantial weight and don't have any flat workout shoes, then take your shoes off. You don't want any heel in your trainer forcing you forward; you need a nice stable base to work from. Take a look at our pick of the best cross training shoes if you're in need of a pair.
Letting the bar stray too far forward
Go slowly and allow the bar to glide up your shins. It needs to be close to ensure you work to intended muscles. "The further away the bar is, the more your lower back works instead of your hamstrings, glutes and core,' says Hendrick.
In fact, it might even touch, so bare legs could get a little battered. To deadlift properly with barbells can mean a few bruises here and there!
Lifting your head as you lower down and rise up
Now is not the time to look in the mirror! Keep your neck in line with your spine throughout. It will feel awkward, but it could prevent injury. 
If you can't brace your core and back and ensure it stays flat, drop the weight and perfect the form until you can. You will only end up injured otherwise.! And remember, it is your legs taking the brunt of the weight so make sure they stay braced, and push through the legs - not your back - to rise up.
Variation: Deadlift and row
This exercise, which can be performed with either dumbbells or a barbell, offers a good workout for the hamstrings, shoulders, and the muscles in your back. Speaking of your back, try to keep it neutral throughout the exercise, using Famatumi's tips above, to help prevent injury.
Pick up a barbell with an overhand grip and hold it in front of you. Stand with your knees slightly bent, and your feet placed shoulder-width apart.
Bend at the hips and knees, lowering your torso until it's almost parallel with the floor. Allow your arms to hang down in front of your knees and shins. 
Pull back the barbell back to your chest in a rowing movement. 
Reverse the movement to return to the deadlift position, before standing up straight to complete one repetition. 
Variation: Sumo deadlift
If you want to target your glutes and hamstrings predominantly, this is the deadlift for you. 
Feet should be wider apart to start - beyond shoulder width, but not so far so it's a strain.
For this deadlift, the hands grasp the bar within the legs, slightly closer together than when doing a conventional deadlift. 
Push through the feet and legs to lift the bar off the ground, lowering into a squat as you do so. 
The same rules apply; push your bum back, bend your knees, keep your back flat and your neck in line with back.
Slowly return back to the starting position.
Variation: Romanian deadlift
Here, we're placing a little more emphasis on the backs of your thighs AKA your hamstrings.
Start with the bar in your hands in an overhand grip, hands just wider than legs on the bar.
Stand straight with feet shoulder width apart. Knees should be soft but unlike a conventional deadlift, you won't be fully bending your knees. 
Pushing your bum back, bend forward, keeping the back flat and neck in line with back. 
Lower the bar down your quads and shins - at this point you should feel a real stretch in your hamstrings. Stop when the bar is midway at the shins.
Pushing up through your feet and legs, rise up to the start.
Variation: Stiff leg deadlift 
Hamstrings and calf muscles will both feel the burn with this deadlift variation. As the name suggests, legs stay 'stiff' or straight throughout.
Start standing with bar infant, hands just wider than legs, grasping the bar. 
Again, push hips back and lower the bar down slowly, maintaining a neutral spine and keeping your legs straight.
Lower the bar down to the floor, then push up to standing again.
Variation: Trap bar deadlift 
Ideal for beginners, this involves using the barbell that's shaped like a hexagon. It looks awkward, but it's far simpler than a straight bar, owing to the fact that there are actual handles indicating where your hands go! 
Using this bar also means there is less pressure on your lower back as you're less likely to be forced forwards by the bar. 
Maintain that flat back and neck throughout and ensure you brace your core and power up from the deadlift through your legs.