This woman was feeling 'bored', so she broke a rowing machine world record
Claire Burley's record-setting performance is remarkable in more ways than one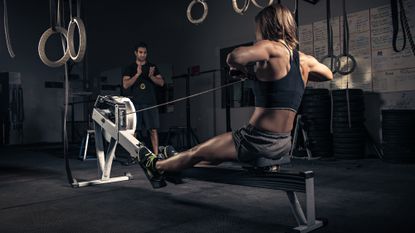 (Image credit: Getty Images)
What do you do when you get bored? Many of us reach for the TV remote and switch on a movie or TV show. Maybe you catch up on the news, and your social media feeds on your phone, perhaps even venture out for a walk.
What's less common, though, is to invest in one of the best rowing machines, use your downtime to train, and then casually break a world record. But that's exactly what one woman did earlier this year.
According to the South China Morning Post, Claire Burley was given two weeks off from training with the Hong Kong rowing team, so she filled her free time working out on the Concept2 Indoor Rower.
She told the paper, "I was just a bit bored. I was looking at the numbers and thought I could probably beat [the current record]. So just one afternoon, I just got some slides out and rowed for fun."
Despite seeming pretty laid back about the attempt, Burley went on to row 10,000m in 41 minutes and 40 seconds to set a new record in the Concept2 Lightweight Women 19-29 category.
This is an impressive accomplishment, but it's made even more extraordinary when considering the events leading up to the record-setting performance. When the pandemic shut venues worldwide, Burley, a professional actor living in England, was suddenly out of work.
She moved to Hong Kong and started rowing, a sport she had enjoyed over the past five years, for the Royal Hong Kong Yacht Club. This led to her joining the Hong Kong rowing team and, ultimately, the record-breaking Concept2 session.
Speaking to the South China Morning Post about her rowing career, she said, "It's important just to set goals. It doesn't have to be huge life goals, but it can be just taking your time down a little. It can be going for a walk, just a 10-minute walk and just keep building up from those small goals."
This is a valuable insight, as we often see news reports of incredible sporting achievements, and they seem disconnected from most people's lives. However, the key is to start small and dedicate time to work at your goals.
Very few people achieve overnight success (even if the internet makes us think otherwise), it's almost always the result of plenty of hard work. But you don't have to jump straight into high-intensity workouts, either.
Walking is an excellent, low-impact way to work towards your fitness goals. You don't have to set targets or build up a sweat, but it is worth investing in a set of the best shoes for walking so that you feel comfortable while out and about exploring the world.
James is a London-based journalist and Fitness Editor at Fit&Well. He has over five years experience in fitness tech, including time spent as the Buyer's Guide Editor and Staff Writer at technology publication MakeUseOf. In 2014 he was diagnosed with a chronic health condition, which spurred his interest in health, fitness, and lifestyle management.
In the years since, he has become a devoted meditator, experimented with workout styles and exercises, and used various gadgets to monitor his health. In recent times, James has been absorbed by the intersection between mental health, fitness, sustainability, and environmentalism. When not concerning himself with health and technology, James can be found excitedly checking out each week's New Music Friday releases.