Best rowing machines 2023 for full-body home workouts
The best rowing machines are a great way to build muscle, burn fat, and boost your metabolism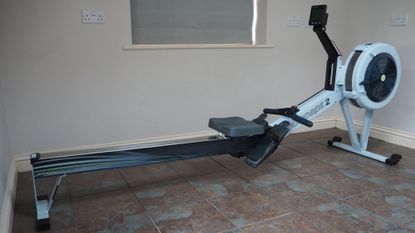 (Image credit: Patricia Carswell)
The best rowing machines are a great way to get a full-body, muscle-building, fat-burning workout without leaving the house. Rowing requires many different muscle areas, increases your heart rate, and boosts your metabolism.
We tried many of the top rowing machines like the Concept2 RowErg which helps you track professional-grade workout stats, or the internet-connected Hydrow which offers virtual on-demand and live classes to find which are worth the money and a place in your home.
Rowers might be some of the best exercise machines to lose weight, but they do take up a lot of space. Fortunately, we found the foldable designs on the Echelon Smart Rower and NordicTrack RW900 easy to use, which allowed us to tuck the machines away after a workout.
There are also several styles of rowing machine with water, air-based, and magnetic models. We were impressed with the Hydrow's near-quiet magnetic system, but the machine will set you back $2,500/£2,000 and there's a recurring $38/£38 monthly membership fee.
Helpfully, you can find some rowers for $1,000/$800 or less, which is why we've tested several rowers across a range of budgets, in a variety of styles and resistance types, to help you find the best rowing machine to help you hit your fitness goals.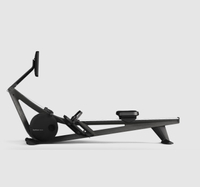 The best rowing machines you can buy right now
Best rowing machine overall
Specifications
Resistance: Air
Digital display: Yes
Foldable: Yes
Heart rate monitor support: Yes
Reasons to buy
+
No subscription required
+
Industry-standard rowing metrics
+
Supports heart rate monitors
Reasons to avoid
-
Air-based resistance system can be noisy
-
No virtual workout classes
The Concept2 RowErg is one of the most popular rowing machines found worldwide in gyms and fitness centers. There's a lot to like about the rower; it's one of the most affordable options, captures industry-quality workout metrics, and can be split apart for easy storage. The visual design and 10-level air-based resistance mechanism may seem from an earlier age, but we found some modern tech inside too.
It's a Bluetooth-enabled machine, so you can connect the rower to the ErgData smartphone app to track your workouts over time. If you wear a heart rate monitor, you can also use these with a Bluetooth or ANT+ connection. After exercising on the RowErg, we could see why it's become a gym-favorite as it has a study build, though it can move around a bit during vigorous workouts.
Although we noticed that the RowErg is quite functional looking, it is designed with ergonomics in mind. So, it's comfortable to use even for extended periods. There's no getting around that the air resistance mechanism is loud, so you'll need a dedicated space to exercise in, but after testing it out, we felt that it easily deserves its place as one of the top rowing machines.
What the users say
The Concept2 RowErg scores very highly in reviews (achieving 4.9 out of 5 on Amazon), with reviewers keen on the ease of assembly and solid construction.
Although it's not as silent as a magnetic rower, and there are a few complaints about the noise of the flywheel, most users don't find this a problem. Some complain that the seat is uncomfortable—it's pretty hard, though you can buy a pad for it. On the whole, it's a fan favorite.
---
Best rowing machine for beginners
Specifications
Resistance: Magnetic
Foldable: No
Digital display: Yes
Heart rate monitor support: Yes
Reasons to buy
+
Engaging and immersive follow-along workouts
+
Accessible with great video tutorials to teach you technique
+
Low impact and comfortable to use
Reasons to avoid
-
Monthly subscription required
-
Not foldable
In our eyes, the original Hydrow Rower was almost perfect (it's even still in our roundup), but it was let down only by its considerable size and eyebrow-raising price tag. You can imagine our excitement, then, when we were able to get our hands on the Hydrow Wave — the brand's new, smaller, more affordable alternative. And we weren't disappointed.
It has the same clean-cut design and clever electromagnetic resistance system as its predecessor, providing a realistic rowing experience similar to its water and air-based rivals. We found the responsive 16-inch HD touchscreen (though six inches smaller than before) provides a crystal clear display for an immersive on-water experience, and the shortened rail was still long enough for our 6ft 2in tester to fully extend their legs at the top of each stroke.
Yet, despite its almost indistinguishable performance, the Hydrow Wave is $1,000 cheaper than the original rower. At $38/month, the Hydrow app membership remains quite pricey, but we think you get a lot for your money. There are more than 4,000 instructor-led video workouts to sink your oars into, and while the first-person rowing sessions were undeniably our favorites, we also loved the yoga, Pilates and strength sessions off the machine.
What the users say
The Hydrow Wave currently holds an average rating of 4.7 out of five stars on Trustpilot from almost 10,000 reviews. Most owners were extremely pleased with the quality of the machine, noting the durable design and near-silent magnetic resistance system.
The most common complaint is the monthly app subscription required for almost all basic features. This isn't unique to the Wave, though, as it was a criticism often levelled at the original Hydrow Rower, too.
---
Best rowing machine for workout variety
Specifications
Resistance: Combined air and magnetic system
Foldable: Yes
Digital display: Yes
Heart rate monitor support: Yes
Reasons to buy
+
Large and immersive display
+
Foldable
+
Auto-adjusting resistance mechanism
Reasons to avoid
-
iFit requires a monthly subscription
-
Lacks a power button
-
Difficult to fold without support
NordicTrack has made a name for itself with fitness center-quality machines for home workouts. The NordicTrack RW900 continues that tradition, blending studio-style classes with a comfortable, easy-to-use machine. The company's equipment can be on the large side, but we were relieved when we tried folding it into a neat, easily storable machine.
It also integrates with the iFit virtual workout platform, which works with various fitness equipment, including treadmills, ellipticals, and even some adjustable dumbbells. We tried—and enjoyed—a variety of classes, from advanced high-intensity sessions to beginner-friendly introductory programs and virtual outdoor journeys filmed at various locations worldwide.
But the digital platform would be nothing without high-quality hardware to back it up. We liked that the thick, ergonomic handle was easy to grip during our workouts, the dual air and magnetic resistance system was relatively quiet, and even auto-adjusts during streamed workouts. There's no power switch, but that doesn't stop the NordicTrack RW900 from being one of the best home rowing machines right now.
What the users say
The NordicTrack RW900 has an average of 4.2 out of 5 stars on Amazon. Reviewers note that the best features of this machine are the immersive large screen, the solidity of the machine, and the variety of workouts (though some are disappointed to discover there are no live rowing classes).
Most find it easy enough to move around, though some note that it's heavy, so you can't easily move it up or downstairs. A few users complain, too, that you can't use this machine with Bluetooth headphones, which seems like a significant omission.
---
Best rowing machine for apartments
Specifications
Resistance: Magnetic
Foldable: Yes
Digital display: Yes
Heart rate monitor support: Yes
Reasons to buy
+
Quiet resistance system
+
Foldable design
+
iFit virtual workouts
Reasons to avoid
-
iFit requires a monthly subscription
-
No live rowing classes
-
Metrics are unreliable
If you're after a reliable rowing machine with magnetic resistance, it's worth considering the ProForm 750R. It doesn't have a large display or live workouts, but it does have a foldable design for easy storage and integrates with the iFit exercise platform for on-demand classes. Although we didn't think the overall design was anything special, the small digital console was easy to use.
The console tracks basic workout metrics like strokes per minute, distance, and calories burned. This is useful, but you can upgrade the experience using the built-in tablet holder to take virtual workouts with the iFit app. The 750R connects to the app, allowing you to see your metrics as you take a class. We thought that the automatic resistance adjustments helped us focus on our exercise and form.
We liked how easy this mechanism was—just lift the handle in front of the seat, and it begins to fold. Along with the foldable design, the magnetic resistance system is extremely quiet, making the ProForm 750R an ideal choice for working out without disturbing others in your home.
What the users say
Although the ProForm 750R isn't the top-rated machine (with just 3.5 stars on Amazon), many reviewers like the fact that it folds up. Others praise its sturdy build and say it's 'straightforward' to use.
There are some complaints about the ongoing membership cost, with some finding issues with the app itself. Others also add that they find the ProForm 750R has a "basic display and slack in the resistance band at high stroke rates."
---
Best rowing machine for live virtual classes
Specifications
Resistance: Magnetic
Foldable: Yes
Digital display: No
Heart rate monitor support: Yes
Reasons to buy
+
Easy to fold for storage
+
Quiet magnetic resistance system
+
Convenient handlebar controls
Reasons to avoid
-
Echelon app requires ongoing subscription
-
No integrated display
-
Feature-limited without the Echelon app
The Echelon Smart Rower is an impressive, high-quality foldable rowing machine. It comes with 32 levels of magnetic resistance (which allows you more customization than air-based rowers which typically have around 10 pre-set levels) and we found the handlebar-based resistance controls allowed you to change the resistance mid-workout quickly.
Unlike the Hydrow or NordicTrack machines, the Echelon Smart Rower doesn't come with a display, so you'll need to use your tablet or smartphone to see your workout stats via the Echelon app instead. There's a wide variety of activities available through the Echelon app, including an extensive library of on-demand sessions and plenty of live workouts for you to join.
We found that this was generally a pretty good experience, but other machines have much larger displays, so the workouts are more immersive. Similarly, the app was difficult to navigate on a smartphone-sized screen. If you ever decided to cancel your subscription to the Echelon app, you can still use the Smart Rower to exercise, but without a display, you can't track your metrics or tell what resistance level you're on.
This is a problem to some degree, but the machine itself is so comfortable and easy to use that even without the digital experience, it's still one of the best rowing machines you can buy right now.
What the users say
The Echelon Smart Rower averages 4.5 out of 5 stars on Amazon. Reviewers are enthusiastic about the sturdiness of the machine and its silent auction, and most enjoy the variety offered by the app.
Downsides to this rower, according to users, are that you have to use the app to see the resistance level you're using. Some users also found the accompanying app to be 'buggy.'
---
Best rowing machine for realistic water workouts
Specifications
Resistance: Water
Foldable: No
Digital display: Yes
Heart rate monitor support: No
Reasons to buy
+
Stylish wooden body
+
Water resistance for a more realistic workout
+
Can be stored upright
Reasons to avoid
-
Monitor only tracks basic stats
-
No virtual workouts or live classes
Rowing is a water-based activity outside of home gyms and fitness centers. If you enjoy the experience of on-water workouts, we felt that the WaterRower Natural is as close to the real thing you can get without leaving the house. Instead of an air-based or magnetic resistance system, you top up the integrated tank with water and start rowing; the harder you row, the more resistance the water will offer.
Aside from its simplicity, we found that the sound of the water moving around created a more soothing, mindful rowing experience. Set-up is easy, too, as the WaterRower Natural comes pre-assembled, so you just need to add the water, power on the display, and start your workout. The overall experience is excellent, but this machine isn't ideal for people who enjoy tracking their performance.
Given the quality of the machine itself, we were disappointed with the integrated S4 monitor, which only tracks basic metrics. However, you can buy an add-on to the S4 that allows you to connect the monitor to your smartphone via Bluetooth and keep tabs on your progress using one of several compatible apps. You can store the WaterRower Natural upright against a wall when you're done exercising.
What the users say
WaterRower fans give this model an average of 4.9 stars out of 5 and praise this 'absolutely beautiful' machine for its durability, looks, and customer service from the brand.
The main niggles relate to the S4 monitor; as one owner says, "why bother putting such a cheap monitor on such a beautiful machine?"
---
Best premium rowing machine
Specifications
Resistance: Magnetic
Foldable: No
Digital display: Yes
Heart rate monitor support: Yes
Reasons to buy
+
Quiet magnetic resistance
+
Easy to use
+
Immersive workout experience
Reasons to avoid
-
High monthly subscription cost
-
Not foldable
-
Upright storage kit costs extra
The Hydrow rower is a visually-impressive machine with a unibody design that hides all the mechanical parts. We liked the look of the machine, but this design does mean that you can't fold the Hydrow. However, you can purchase an upright storage kit to regain some floor space. But there's more to this machine than an attractive design.
The 22-inch display connects to your Wi-Fi network, allowing you to steam Hydrow's expansive collection of on-demand rowing workouts and live classes. We explored the selection and tried out a varied range of sessions, including one-minute challenges, beginner-friendly options, and high-intensity rows. The machine is enjoyable to use as well, with the handles easily accessible, a firm but comfortable seat, and well-angled display that you never need to strain to see.
Premium pricing aside, the Hydrow makes an ideal option for anyone just getting into rowing. We were really impressed with the instructor's beginner-friendly approach, which worked well for newcomers and as a reminder of the basics for more experienced rowers. When you're away from your machine, we like that you can use the Hydrow smartphone app to take yoga classes and strength training workouts.
What the users say
Reviewers are mostly thrilled with their Hydrow (it scores an average of 4.7 out of 5 stars on Hydrow's website), but there are a few regular niggles. Not everybody loves the workout program, and some complain that the ongoing monthly cost is not justified.
Some users don't like that they can't sync apps such as Strava, and the music receives some criticism. One competitive rower notes that it lacks some of the metrics advanced rowers will be looking for.
---
8. Ergatta Rower
Best rowing machine for varied workouts
Specifications
Resistance: Water
Foldable: No
Digital display: Yes
Heart rate monitor support: Yes
Reasons to buy
+
Enjoyable, game-based workouts
+
Community and competitive elements act as motivation to exercise
+
Stylish, classic wood design
Reasons to avoid
-
Expensive, especially with monthly membership fees
-
Narrow foot plate and low seat may not suit those with limited mobility
Firstly, we should address the elephant in the room: the Ergatta Rower looks fantastic. Handcrafted from American cherrywood, it has a classic design that would slip seamlessly into most households or home gyms, but its aesthetic is the only traditional thing about it.
When we fired this machine up, we were pleased to find a platform of modern workouts awaited us on the 17.3-inch touchscreen. Rather than the usual options of rowing for a set time or distance, Ergatta gamifies your exercise sessions using the underlying concepts behind mobile gaming, creating a moreish experience.
The best example of this is the race mode, which we found was an effective way to make us step back up to the machine for regular workouts. You're pitted against several other similarly-able members of the Ergatta community in a straight race to the finish line, displayed via bright, engaging graphics.
This focus on competition, community, and point-scoring (which is the motivation behind most features of the Ergatta) is incredibly addictive. It motivated us to switch on the rower much more often than we might have if it only offered standard sessions.
The narrow foot plate and low seat might not be suitable for those with mobility issues, and this rower is costly, but if you're a competitive person looking to add a new dimension to your home workout, this might be the machine for you.
What the users say
The Ergatta Rower has an average five-star rating from over 600 reviews on the brand's website, with buyers praising its design and ability for making fitness fun.
They also compliment the overall look and its practical, low-impact workouts but say it is expensive and the footrest can be slightly fiddly to adjust.
---
9. Aviron Impact Series Rower
Best rowing machine for non-rowers
Specifications
Resistance: Combined air and magnetic system
Foldable: No
Digital display: Yes
Heart rate monitor support: Yes
Reasons to buy
+
Fun games don't even feel like exercise
+
Sleek, premium finish
+
High, ergonomic seat provides a comfortable rowing position
Reasons to avoid
-
Large footprint
-
Not foldable
-
Smaller workout library on the Aviron platform than rivals
The Aviron Impact Series Rower is a rowing machine for people who don't really like rowing. Let us explain. The brand recognized that rowing has many health benefits — from building stronger bones to burning calories to boosting your cardiovascular fitness — but realized it wasn't many people's first choice when it came to exercising.
So, it set out to make it fun, replacing traditional steady-state slogs and interval sessions with fun games. And, having given it a go, we can confidently say that the brand has succeeded in its goal.
From firing a laser at oncoming aliens with every stroke to flying through an icy tundra on a winged rowing machine, this abstract approach to fitness distracted us from our sweaty brows. As a result, in our pursuit of a high score, we found ourselves racking up thousands of meters without really registering it.
The machine feels well-built, too, with a sleek gray and black finish. The hybrid resistance system works smoothly and quietly, while the comfortable elevated seat makes it an excellent option for those with limited hip or knee mobility.
The app is less expansive than the likes of the Hydrow or Echelon platforms, and the non-foldable machine takes up a fair bit of room. Still, if you're after a new, exciting way to work out, then we definitely recommend considering this Aviron rower.
What the users say
While user reviews for this machine are hard to find, testers from other titles say they were impressed by its original approach to programming and presenting rowing workouts.
The sturdy design, smooth performance, and comfortable ride are all widely complimented, with the lack of trainer-led classes being one of the few downsides users could find.
---
How to choose the best rowing machine for you
Resistance type, price, storage options, and connectivity are among the factors to consider when buying a rowing machine. The price points vary hugely from the most basic air-based resistance to luxurious water-based rowers that can run into the thousands. Some of the best indoor rowing machines offer heart rate tracking and connectivity with smartphone applications too. If you're in a tight space, you'll be seeking a machine that folds without dominating floor space when not in use.
Here are some of those considerations in more detail.
Resistance
Resistance refers to the force you'll be pulling against when performing strokes. Generally, there are three types on offer. The most common machines offer air-based resistance, which can be on the noisier side. Magnetic-based resistance is quieter, while hybrid machines commonly offer access to a wider range of workouts. For the most realistic workout, some machines use actual drums of water, replicating the feeling of dragging oars through the water.
The WaterRower Natural is our current pick for the best rowing machine, which is also one of our top picks for the best exercise machines to lose weight. It's the only machine you could use as a design feature in your living room, thanks to the premium wooden construction and beautiful design. It also offers the advantage of a truly natural feel thanks to the built-in water drum.
Price
We're not boxing you in here, folks. You can spend as little as $250 / £200 on an effective barebones indoor rowing machine that'll provide a tremendous workout for beginners, but would provide an unsatisfying experience for those with Redgrave and Pinsent-level rowing goals. There's a sweet spot in between, depending on the build quality and, integrated smart tech and resistance types, but you can drop up to $4,000 / £3,000 on the TechnoGym Skillrow, designed by Olympic-level athletes.
Storage
From what we've observed previously in gyms, many rowing machine injuries arise from people tripping over the machine (although we can't say that's a statistically-proved fact!). So be on the lookout for a machine that folds, or can at least be stood up effectively. If you're in an apartment setting this can save vital floor space, too.
Smart tech
When working towards goals, it helps to have quantifiable data. The time, the speed, the number of strokes, the power exerted in those strokes, the number of strokes per minute, and your top heart rate can all help you focus on your progress.
Some of the higher-end indoor rowing machines enable a heart-rate monitor to be connected for interval training, while others enable virtual racing against real people to stoke those competitive fires through smartphone connectivity.
Rowing machine benefits
There's no denying that rowing machines are good exercise. They provide a fantastic full-body workout that uses more than 85% of your muscles each time you get on the rowing machine.
One of the main benefits is that it is a low-impact form of exercise, so it's great if you want to avoid impact sports such as running, and it's suitable for all levels - even beginners will benefit from a rowing workout.
Rowing is endlessly versatile as a form of exercise, which is particularly useful if you want to lose weight. You can do long, endurance rowing sessions or get your heart rate up with HIIT workouts. If you're unsure where to start, try these three top rowing machine workouts.
Rowing is a brilliant cardio workout, but if you want to build muscle rowing is a great choice of exercise, too. You'll target all the major muscle groups when you row, including your quads, glutes, and hamstrings in addition to your back, arms, and core.
As rowing is performed at submaximal effort you won't be able to achieve the same strength gains as you would with a weight-lifting program with say the best adjustable dumbbells, but your muscles will certainly benefit from rowing and it's a great accompaniment to strength training.
Types of rowing machine
There are many styles of the best home rowing machines, allowing for a range of budgets, uses, and storage spaces. However, there are three main types of rowing machine based on the resistance mechanism; water, magnetic, and air.
Water-based machines are often some of the most expensive, but the experience is as close to real-life rowing as you'll find without getting into a boat. Magnetic machines are quiet and require little maintenance, while air-based models are the most customizable.
There are pros and cons to each style, so it's worth looking over our comparison of water rowing machines vs magnetic vs air-based models before deciding on a particular machine.
How we tested the best rowing machines
Before we recommend any rowing machine, we thoroughly test the equipment so that you can make an informed choice for your home. To help you compare between models, we use a standardized testing process to cover some of the most critical features, design considerations, and everyday practicalities like storage.
Delivery and assembly
When we start testing a rower to see if it makes the cut as one of the top rowing machines, we begin with how easy it is to move around and assemble. How the machine is packaged is also important.
For example, if you live in an apartment without a large elevator, it will be challenging to deliver a unibody machine like the Hydrow to your home. Although this is only a one-time process, we look at whether you can put it together on your own or if it's a two-person job.
Similarly, we consider how time-consuming or technical the setup process is, including registering connected devices, logging onto a Wi-Fi network, and setting up an account or profile on the app.
Workout performance and ease of use
Although you can find machines packed full of features, the best rowing machines all need to be easy, enjoyable, and comfortable to use for exercise. So, we test out the seat, investigate how often you need to clean or maintain the machine and use it for workouts.
It's also crucial that we report on the comfort of the handlebars, as before buying a rowing machine, you'll want to know if it's likely to cause soreness or blisters on your hands. Likewise, we listen out for how much noise the resistance system makes and whether you can connect Bluetooth headphones to listen to the virtual workouts.
Most importantly, we check to see if you can have an enjoyable, effective workout on the machine. We consider if the placement of the footplates causes any issues, if the handles are easy to reach, and if the resistance mechanism is easy to adjust.
Smart features
While some of the best home rowing machines don't have integrated displays or internet-enabled features, many rowers do. This is often integral to the machine and comes at an additional cost, so we evaluate these platforms to see if they are good value for money.
We consider the range of on-demand classes, whether there's a good mix of beginner and advanced options, and if the company offers live classes. The instructor's style is also noted, as not everyone feels motivated by the same style.
Some rowers come with virtual workout platforms that work across several machines or include alternative forms of exercise, like yoga classes or strength training routines. If these are included, we evaluate them in the same way.