Best rowing machine: The best indoor rowers, from value picks to premium kit
The best rowing machine offers both cardio and a full body workout, all in one machine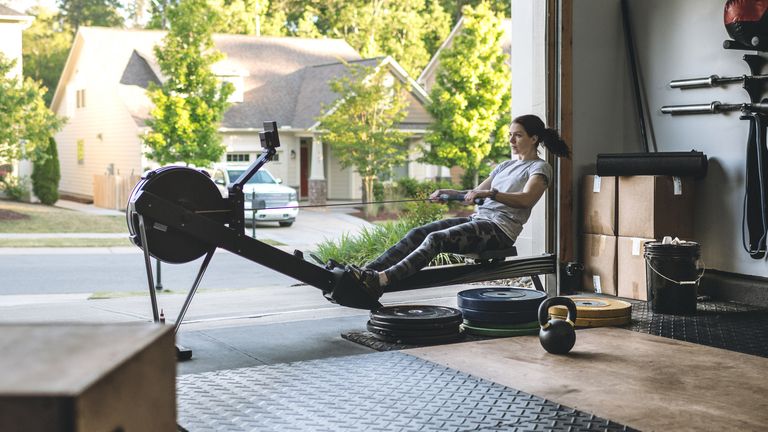 (Image credit: Getty Images)
By Chris Smith
The best rowing machines have been in extraordinarily high demand over the past year. As a result of many gyms closing due to the global health crisis, everyone with a bit of space in their garage, front room or any other area of their house or flat have been snapping up rowers like nobody's business. And with good reason: thanks to their ability to tone muscle and provide a simultaneous cardiovascular workout, rowing machines are some of the best exercise machines you can buy. 
They're low impact, meaning people with weak joints or muscles can use them without harming their knees and hips, and they're also adaptable. You can do a slow, steady workout on low-resistance, a high-resistance muscle-building routine, or a fast-and-furious HIIT cardio blitz.  Most don't even require space: with many rowers now folding up or wheeling away for easier storage, they've hit the top of the list as  some of the the best home workout equipment around. 
Few single pieces of fitness kit can replicate the full-body workout and serious cardio fix provided by a rowing machine. If you can get your hands on one, the best rowing machines can be easy to set up and offer a range of different workouts, depending on your fitness goals.
The different kinds of best rowing machines available
When it comes to rowing machines, there are three kinds of resistance on offer:  magnetic, water or air-based. Magnetic resistance uses increasing levels of magnetism to make the cable pull more difficult. Water rowers provide the most "natural" feel of being on the river in an actual rowboat, as they contain a tank of water with paddles you must turn via the cable. Air-based fan rowers follow a similar principle – just with air instead of water. 
The WaterRower Natural is our current pick for the best rowing machine - which is also one of our top picks for the best exercise machines to lose weight. It's the only machine you could use as a design feature in your living room, thanks to the premium wooden construction and beautiful design. It also offers the advantage of a truly natural feel thanks to the built-in water drum. However if you're going all out for elite performance, you can't do better than the Technogym Skillrow.
The best rowing machines available to buy right now
There is one thing we should draw your attention to. With demand for rowing machines and other home cardio equipment (including the best treadmills and best elliptical machines) soaring during the pandemic, many of the models on our list of the best rowing machines below may currently be out of stock.
Manufacturers are working around the clock to replenish stock, and our handy shopping widgets refresh every 15 minutes, meaning you'll always see the best prices as and when they go live.
In the meantime, we've also included below all rowing machines that are in stock and available to order right now, if you just can't wait to get your row on. happy shopping!
How to choose the best rowing machine for you
Resistance type, price, storage options and connectivity are among the factors to consider when buying a rowing machine. The price points vary hugely from the most basic air-based resistance to luxurious water-based rowers that can run into the thousands. Some of the best indoor rowing machines offer heart rate tracking and connectivity with smartphone applications too. If you're in a tight space, you'll be seeking a machine that folds without dominating floor space when not in use. 
Here are some of those considerations in more detail.
Resistance
Resistance refers to the force you'll be pulling against when performing strokes. Generally, there are three types on offer. The most common machines offer air-based resistance, which can be on the noisier side. Magnetic-based resistance is quieter, while hybrid machines commonly offer access to a wider range of workouts. For the most realistic workout, some machines use actual drums of water, replicating the feeling of dragging oars through the water.
Price
We're not boxing you in here, folks. You can spend as little as $250 / £200 on an effective barebones indoor rowing machine that'll provide a tremendous workout for beginners, but would provide an unsatisfying experience for those with Redgrave and Pinsent-level rowing goals. There's a sweet spot in between, depending on the build quality and, integrated smart tech and resistance types, but you can drop up to $4,000 / £3,000 on the TechnoGym Skillrow, designed by Olympic-level athletes. 
Folding
From what we've observed previously in gyms, many rowing machine injuries arise from people tripping over the machine (although we can't say that's a statistically-proved fact!). So be on the lookout for a machine that folds, or can at least be stood-up effectively. If you're in an apartment setting this can save vital floor space, too.
Smart tech
When working towards goals, it helps to have quantifiable data. The time, the speed, the number of strokes, the power exerted in those strokes, the number of strokes per minute, your top heart-rate… need we go on? The quality of options provided by the built in rowing computer should play a big role in your eventual purchase decision. Some of the higher-end indoor rowing machines enable a heart-rate monitor to be connected for interval training, while others enable virtual racing against real people to stoke those competitive fires through smartphone connectivity.
The best rowing machines you can buy right now
1. WaterRower Natural Rowing Machine
The best rowing machine for most people
Specifications
Resistance: Water
Folding: No
Digital display: S4 power monitor
Heart rate: No
Reasons to buy
+Stunning design +Natural feel+Easy storage
Reasons to avoid
-Basic computer
Rowing machines are generally ugly beasts, so it's little wonder these space hogs are hidden away in the garage or space room. Contrarily, the WaterRower would have pride of place in most modern living rooms. This gorgeous fitness machine cum piece of art is available in sustainably-sourced ash and honey oak and gets its resistance from a transparent drum full of water nestled neatly beneath the footrests. The sound and feel are so authentic you could close your eyes and envision being out on the water. 
Beyond the sloshing, the WaterRower Natural runs extremely quietly, so score one more for that wooden construction. The minimalistic package does sacrifice some performance data for those looking to deep dive into stats. The S4 performance computer is one of the more limited options out there, though it will give you stroke rate, speed, distance and time in units of your choosing. 
Another plus point with the WaterRower is that it can be stored fairly unobtrusively by hanging on the wall, although you may prefer to leave its sustainable ash form on display anyway. 
2. Technogym Skillrow
The best premium rowing machine
Specifications
Resistance: MultiDrive air
Folding: Yes
Digital display: 7-inch LCD display plus smartphone grip for Skillrow app
Heart rate: Yes
Reasons to buy
+Unrivalled connectivity and data +Easily-adjustable resistance+Gives a really full-on workout
Reasons to avoid
-Could be considered overkill for some
TechnoGym, as its name would suggest, has pioneered a pro athlete-level approach to quantified training and data connectivity, which has made its way to mainstream gyms and now into homes. 
The Skillrow machine features a highly capable rowing computer for real-time data, but the addition of the Skillrow app enables you to compete against fellow rowers and benefit from split times at key distance markers, with a virtual cox driving you onward. The app also features virtual training sessions to strength different areas (like power, speed and tone), performance tracking and heart-rate monitoring (with a connected device). 
Beyond the connected tech, it's an incredible machine developed by Olympians over six years. Key selling points are the twist-dial mechanism that enables an easy switch between power and cardio training, and the advanced MultiDrive resistance tech, which lets you really take things to the next level. If you're looking for a gentle splash along – or a cheap option – this might not be for you, but serious oar jockeys will love it
3. JLL R200
The best budget rowing machine
Specifications
Resistance: Magnetic
Folding: Yes
Digital display: LCD monitor
Heart rate: No
Reasons to buy
+Great value +Quiet operation
Reasons to avoid
-Basic functionality
Some cheaper rowing machines can be decidedly iffy, but we love the JLL R200's approach to no-frills rowing experience. This belt-driven machine offers a quiet workout, a smooth ride and provides ten levels of adjustable magnetic resistance. Offering a reliable, study construction despite its low price-point, a basic LCD display bringing key stats (total strokes, calories, distance, time, etc.) into your eyeline and a foldable design that simplifies upright storage. 
There's nothing in the way of heart-rate tracking or clever hybrid resistance systems here, and it's definitely not an aesthetically pleasing design. However, if you're looking to just plonk down and burn some calories 3-4 times a week, you could do a lot worse than the R200. It offers solid and versatile performance without laying down a mortgage-size payment.
The best foldable rowing machine - great if floorspace is limited
Specifications
Resistance: Air and magnetic hybrid system
Folding: Yes
Digital display: 22-inch HD touchscreen monitor
Heart rate: No
Reasons to buy
+Fold up and wheel away +Varied pre-set workouts and live classes 
Reasons to avoid
-Quite expensive, but cheaper variants available
Rowing machines can require a lot of floorspace, so one that folds to 1/3 of the length and is easily rolled into storage in the shed will be an attractive option for many indoor rowers. The technological cleverness doesn't end there, as the NordicTrack RW900 uses a hybrid resistance system utilising both air and magnetic, with 26 resistance levels in total. This means both power and cardio-based workouts are catered for and difficulty levels are easy to adjust mid-session, with the added bonus of a quieter ride. 
The performance computer includes over 20 built-in workout programs and has a large 22-inch touchscreen monitor for Peloton-style workout classes from iFit, while tackling real-world locations like the River Thames. Stats-wise, it'll track your 500m split time, calories burned, total strokes/per minute, distance and time, power, and plenty more. 
There's also speakers and an input for your phone also, so you can get you power playlist on when rowing 'gently down the stream' isn't on the agenda. If you want a more affordable option, the RM200 is around half the price, but has a simpler (yet still awesome) rowing computer.
5. JTX Freedom Air Rowing Machine
An excellent mid-price rowing machine
Specifications
Resistance: Air and electro-magnetic
Folding: Yes
Digital display: 3-inch LCD display
Heart rate: Yes
Reasons to buy
+Heart-rate training programmes +Solid construction +Great value
Reasons to avoid
-Advanced rowers may need more resistance
Renowned for its solid construction, this machine aims to bring the durability of a hard-wearing, weight-bearing gym machine used dozens of times a day into the home setting – and at a really agreeable price point. 
The JTX Freedom Air uses a combination of air and electromagnetic resistance with 16 easily-configured levels for a range of cardio and strength workouts. There's also bundled-in heart-rate chest strap from Polar – the industry gold standard – which syncs wirelessly to the Freedom Air for interval and target heart-rate training. Programs are selected from the excellent built-in rowing computer, which has a bright, if rather small, backlit display and access to all of the key stats like pace, distance, stroke rate, heart-rate and power, as well as the peaks and valleys of your interval workout. 
Adding to the array of selling points is padded seat and folding mechanism that enables easy storage.