Try this five move workout with five easier modifications to suit all comers
Whatever your fitness level, this workout can help you build fitness and improve the way you move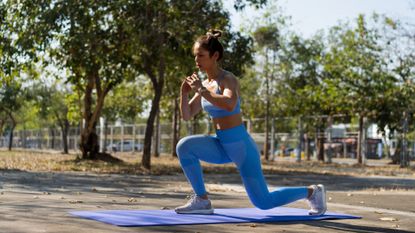 (Image credit: Getty)
There are many things we like about exercise. We like the challenge, we like to feel our heart pumping and we like the resulting health benefits.
But we also like exercise to be accessible and enjoyable, just like this featured five-move circuit workout from The London Fitness Guy (opens in new tab) (real name James Stirling) and Maddy Jupp (opens in new tab). It's a great example of an accessible session with something to offer everyone, regardless of their fitness level.
It only takes 15 minutes and doesn't need any equipment, so you can try it at home. Using a yoga mat (opens in new tab) can be handy for providing extra grip on slippery floors, but it's not a necessity.
There are also two options for each of the exercises programmed—one slightly more challenging option and one low-impact alternative—so you can pick the best one for you.
Watch Stirling's video below to see the exercise options. Choose the ones that suit your fitness level, then you're ready to launch into the workout.
Watch Maddy Jupp and The London Fitness Guy's five-move bodyweight workout
To try the session, perform each exercise for 40 seconds, rest for 20 seconds, then move on to the next exercise. Complete three rounds in total of the five-move circuit to finish the workout in 15 minutes.
The workout includes old favourites such as burpees (opens in new tab) and high knees, but there are also some fun movements like jump lunges and gorilla burpees to provide a new challenge when working out at home.
These new exercises don't just keep things interesting either; by challenging your body to learn new movements, you can improve your coordination. Gorilla burpees also require core strength to keep your spine straight throughout, while jumping lunges are an example of a plyometric exercise capable of boosting leg power.
Lastly, the short rest times and testing exercises in this workout are sure to raise your heart rate and boost your metabolism (opens in new tab).
If you want to add this workout into your weekly routine, you can use it as a quick way to get moving. Or, if you want a longer session, you could try pairing its metabolism-boosting benefits with a strength session like this six-move muscle-building workout (opens in new tab).
Alternatively, if your body is in need of something less intense to allow it to recover from other workouts, our Pilates plan for beginners (opens in new tab) or these two flexibility-bolstering stretches (opens in new tab) are top options.
Harry Bullmore is a fitness writer covering everything from reviews to features for LiveScience, T3, TechRadar, Fit&Well and more. So, whether you're looking for a new fitness tracker or wondering how to shave seconds off your 5K PB, chances are he's written something to help you improve your training.
When not writing, he's most likely to be found experimenting with a wide variety of training methods in his home gym or trying to exhaust his ever-energetic puppy.
Prior to joining Future, Harry wrote health and fitness product reviews for publications including Men's Health, Women's Health and Runner's World. Before this, he spent three years as a news reporter with work in more than 70 national and regional newspapers.