Use Carly Rowena's five-move leg workout to build a stronger lower body in eight minutes
This high-intensity lower-body workout builds strengthens your core and boosts your metabolism in less than 10 minutes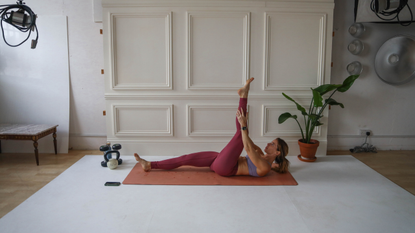 (Image credit: Carly Rowena/Moodment)
If you're short on time, this eight-minute leg session is the perfect workout for you.
All you need to try it for yourself is a bit of floor space and a single dumbbell. We always recommend using the best adjustable dumbbells (opens in new tab) as they allow you to change the weight to suit your strength level, but if you don't have one handy then a moderate weight dumbbell or kettlebell will also work.
This session has been designed by Carly Rowena (opens in new tab), a certified personal trainer and founder of wellness app Moodment (opens in new tab). It includes an eight-minute, high-intensity leg workout (20 seconds of work followed by 10 seconds of rest) sandwiched between a dynamic warm-up and a stretching-based cool-down.
So, with all this considered, you can enjoy a comprehensive lower-body session in less than 15 minutes. Rowena told Fit&Well she likes this workout because it's "quick but effective, which makes it feel doable for both the mind and the body."
If you want to give this workout a go, you can follow along with Rowena via the video below. Try to mimic her form to make sure you're performing each exercise correctly and getting the most out of each movement.
We suggest giving each exercise a quick go before you start the session to perfect your technique,. Then, when you feel comfortable with the five exercises, it's time to press play for an effective lower-body routine.
Watch Carly Rowena's Tabata leg workout
A Tabata workout, named after its creator Dr Izumi Tabata, is a type of high-intensity interval training (or HIIT) that combines short bursts of exercise with even shorter rest periods.
"Not all of us have (or want) to spend an hour in the gym or in a class," Rowena explains. "This is a perfect workout for anyone who is short on time (perhaps a new mum or mum in general) as they can be done anywhere and will get you closer to your goals."
Not only does this make for a time-efficient workout, but it also holds the key to plenty of health benefits too. Among these are "improved fitness, self-belief, mood boosting, increased stamina, strength and (improved) body composition," says Rowena.
And science agrees. A review conducted by Dr Tabata himself, published in The Journal of Physiological Sciences (opens in new tab), concluded that regular Tabata sessions can boost aerobic capacity and improve sporting performance.
If you enjoy this style of session, why not try our four-week Tabata workout (opens in new tab) plan? Or, if you still want to train your lower-body but have a bit more time to allocate to exercise, our feature on the best leg workout (opens in new tab) might have just what you're looking for.
Harry Bullmore is a fitness writer covering everything from reviews to features for LiveScience, T3, TechRadar, Fit&Well and more. So, whether you're looking for a new fitness tracker or wondering how to shave seconds off your 5K PB, chances are he's written something to help you improve your training.
When not writing, he's most likely to be found experimenting with a wide variety of training methods in his home gym or trying to exhaust his ever-energetic puppy.
Prior to joining Future, Harry wrote health and fitness product reviews for publications including Men's Health, Women's Health and Runner's World. Before this, he spent three years as a news reporter with work in more than 70 national and regional newspapers.