Want to burn fat fast? This dance workout can burn up to 500 calories in 30 minutes
If you've never combined HIIT and dance together you should try out this up beat fat burning routine for your next workout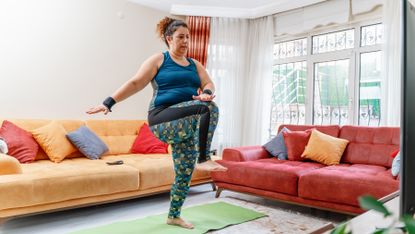 (Image credit: Getty)
HIIT workouts are such an efficient way to burn fat fast, but if you use them often, you might be looking for some fresh new exercises. This is where a dance-based HIIT workout may work, to liven up your fitness regime and make this high-intensity style training feel more fun.
Not every effective HIIT workout has to include high-impact moves like burpees. Despite being one of the best exercises for weight loss, burpees and their ilk aren't the be-all and end-all of interval training: as long as you are working hard during the active segments of a HIIT workout and taking those short rests, then you are guaranteed to get results.
As long as you have a pair of suitable footwear for this high-intensity training (we recommend a pair of the best cross training shoes) then you won't require any additional equipment such as weights or bands to complete this workout shared by personal trainer, Eleni Fit.
HIIT workouts are a staple to Eleni's YouTube channel, where she regularly shares home-friendly workouts. This 30-minute routine is ideal for anyone who hates repeats in a workout, as each move is unique. While working to the beat with some dance-based exercises you can burn up to 500 calories in just one session.
It targets your whole body as you work for 40 seconds and rest for 10. It's alright if rhythm isn't a strength for you, the aim is to keep moving. Follow Eleni as she guides you through the routine in full below.
Watch Eleni Fit's 30 Minute Dance HIIT Workout
The great thing about this routine is that you don't have to travel to the gym to get your workout in. From the comfort of your bedroom, living room, or garage, you can complete this calorie-burning session in just half an hour. Plus, studies show that HIIT-style workouts mean you can burn fat faster than if you were to complete a longer workout at a moderate or low intensity.
You can always throw in a couple of light dumbbells to the mix if you fancy increasing the intensity and building stronger, more defined muscles during your HIIT sessions. Some of the best adjustable dumbbells will be more suitable for this as you can adjust the size of the weight rather than require a whole rack of varying sizes.
However, if you suffer from weaker joints or just hate jumping-based exercise, you can still reap the benefits of HIIT-style workouts. For example, this low-impact HIIT workout burns fat, builds strength, and is easy on your joints.
Exercise is all about finding what works for you individually. The same can be said about diet, which by default will compliment any fitness regime if a good balance is maintained. Everyone can benefit from getting plenty of protein from the likes of the best protein powder for weight loss. Protein is what helps our bodies to rest and repair and supports muscle growth.
Jessica is an experienced fitness writer with a passion for running. Her career in journalism began in local news and she holds a Masters in journalism. Jessica has previously written for Runners World, penning news and features on fitness, sportswear and nutrition.
When she isn't writing up news and features for Fit&Well covering topics ranging from muscle building, to yoga, to female health and so on, she will be outdoors somewhere, testing out the latest fitness equipment and accessories to help others find top products for their own fitness journeys. Her testing pairs up nicely with her love for running. She recently branched out to running 10Ks and is trying to improve her time before moving on to larger races. Jessica also enjoys building on her strength in the gym and is a believer in health and wellness beginning in the kitchen. She shares all of this on her running Instagram account @jessrunshere which she uses for accountability and for connecting with like-minded fitness lovers.