Want to burn more fat in your workouts? Try out this sprint interval session
Increase the intensity of your workouts and boost your results by adding in some sprint intervals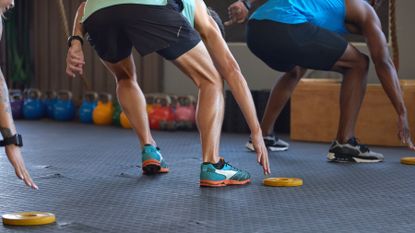 (Image credit: Getty)
People tend to either love or hate running and for the latter group, the thought of adding running sprints to your workout won't sound overly fun. Nonetheless, the benefits of sprint interval training are pretty great including things like improvements to your overall power, speed, and endurance.
You can try this using one of Kayla Itsines's latest workouts, which she calls her 'sprint interval training session'.
This routine incorporates a little bit of everything including one of the best workouts for abs exercises – lunges (which you can learn how to do lunges via our guide), along with push-ups squats and a bunch of sprint intervals thrown into the mix. Therefore, you are going to need a pair of trainers suitable for completing each exercise such as the best cross training shoes.
The great news is that you don't need to be a runner to add this form of training to your usual fitness regime. Despite her openly saying she doesn't run, personal trainer Kayla Itsines, who has over 14 million followers on Instagram and is co-founder of the Sweat (opens in new tab) app, recently shared her go-to sprint interval session.
She says on Instagram that she loves using this training method in her workouts because: "Sprints reeeeaally get the heart rate going and they definitely ramp up the intensity of the workout." And there is research to back this up. According to one study (opens in new tab) conducted by RunRepeat, sprint interval training led to a 39.95% higher drop in body fat percentage compared to a normal HIIT workout.
So if you're ready to give this a go, grab a set of best adjustable dumbbells and prepare to get sweaty following the workout below.
Kayla Itsines's Sprint Interval Training Session
You don't need to follow Itsines's workout to a tee, but this routine is good to use as a rough guide. Below is the outline of her session including number of reps per exercise and how long to sprint for during the intervals. She runs her intervals at 18km/h but again this can be adjusted to your own fitness abilities.
Sprint Interval Training Workout Steps
Weighted Lunges (20 reps, 10 per side)
Sprints (20 seconds on with 20 seconds rest)
Push Up and Row (20 reps, 10 per side)
Sprints (20 seconds on with 20 seconds rest)
Squat Thruster (15 reps)
Sprints (20 seconds on with 20 seconds rest)
Ab Bikes (30 reps)
Sprints (20 seconds on with 20 seconds rest)
Weighted Burpees (15 reps)
Sprints (20 seconds on with 20 seconds rest)
Sprint intervals require hardly any time at all, even less than a conventional HIIT workout, which is good news for anyone looking to reduce bodyweight fast.
Fortunately, you don't need a running track to complete a sprint interval workout on. If you want to train like this outdoors then you just need a long stretch of a fairly flat surface (unless you are brave enough to include hills) and a pair of suitable trainers such as some of the best running shoes. Or, if you are including exercises like the ones used in Itsines's workout, you can complete your sprints on one of the best treadmills and jump on and off as you transition through the full workout.
Jessica is an experienced fitness writer with a passion for running. Her career in journalism began in local news and she holds a Masters in journalism. Jessica has previously written for Runners World, penning news and features on fitness, sportswear and nutrition.
When she isn't writing up news and features for Fit&Well covering topics ranging from muscle building, to yoga, to female health and so on, she will be outdoors somewhere, testing out the latest fitness equipment and accessories to help others find top products for their own fitness journeys. Her testing pairs up nicely with her love for running. She recently branched out to running 10Ks and is trying to improve her time before moving on to larger races. Jessica also enjoys building on her strength in the gym and is a believer in health and wellness beginning in the kitchen. She shares all of this on her running Instagram account @jessrunshere which she uses for accountability and for connecting with like-minded fitness lovers.