Best running shoes for women for comfort, speed, and durability
We tested the best running shoes for women based on comfort, performance, style, and value for money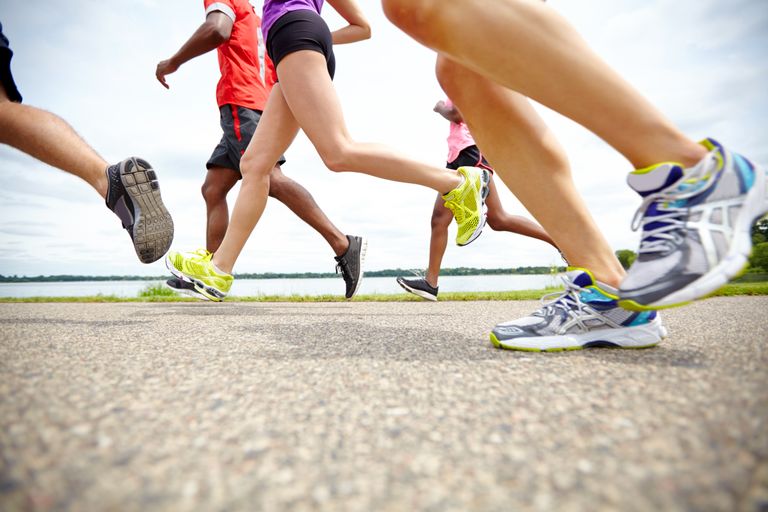 (Image credit: Getty)
Contributions from
The best running shoes for women are essential if you're looking to progress your running and most importantly, to keep your feet and joints well protected as you put one foot in front of the other. Whether you just enjoy jogging for fun, run to stay in shape, or regularly take part in races, this guide is here to help you find the right women's running shoes.
Every runner will have different running styles and therefore have different requirements when it comes to finding a pair of suitable sneakers. The best running shoes for men aren't the same as the best women's running shoes as women typically have narrower heels and therefore, designs for women are made with this in mind.
Moreover, your running gait, which is the way your feet land while walking and running, will be individual to you and may help you decide which are the best running shoes for you. For example, if you're an overpronator (when your foot lands on the outer side of your heel, then rolls inward more than necessary transferring weight to the inner edge of your foot instead of the ball of your foot) you'll want a running shoe that provides plenty of support whereas if you have a neutral gait you will be able to wear a variety of shoes.
Thankfully, the best running shoes for women are designed specifically to cater to gait and comfort. We've tested these shoes to include a selection that serves different types of running. Some are made to thrive on the road, others are better suited to trail running, speed shoes, long and short distance options, and there are also some all-rounders. Keep reading to find which of the following best running shoes suits your training requirements.
The best running shoes for women you can buy right now
The best running shoes for women if you need a daily training shoe
Specifications
Sizes available: 5-13 (half sizes available)
Weight: 8.7 oz
Drop: 13 mm
Colors: 8
Reasons to buy
+
Comfortable and supportive fit
+
Stable ride
Reasons to avoid
-
Very thin tongue
-
On the more expensive side
Runners who have been in the game for a while will be no stranger to the Asics Gel Nimbus series; these women's running shoes have been around since the 90s. For years, Asics customers have loved their comfort and stability - the new Nimbus 24 continues this legacy.
Available in sizes 5-13, the Gel Nimbus 24 is 0.02lb/10g lighter than its predecessor, emphasizing a lighter configuration and a responsive ride. Features such as the FF BLAST PLUS, Rearfoot, and Forefoot GEL, and Ortholite X-55 sockliner work to ensure that your feet remain comfortable in each step on your daily run.
In addition, Asics makes use of Trusstic System Technology and LITE rubber to reduce the overall weight of these women's running shoes while maintaining their structural integrity. All of these features alongside the improved durability of the outsole and the recycled engineered mesh upper make these the best women's running shoes for increased cushioning and responsiveness during long road runs.
What the users say
Asics' Gel Nimbus 24 have received praise for comfort and support. On the brand's website, these women's running shoes received an average of 3.9 out of 5 stars from over 80 different customer reviews. Some users said:
'I love these shoes. This makes the third pair that I have purchased. Best shoes for my plantar fascitis!'
Negative reviews include comments noting that the 13 mm heel-to-toe drop was too much for them or that the price was more than they would typically pay.

---
The best women's running shoes for hard training and speedwork
Specifications
Sizes available: 5 to 13
Weight: 6.7 oz
Drop: 8mm
Colors: 7
Reasons to buy
+
Lightweight and responsive
+
Gender-neutral design
Reasons to avoid
-
Not the best in wet conditions
-
Not for high mileage
During testing, the Brooks Hyperion Tempo running shoes were excellent for tempo running and preparing for race day. In fact, we smashed our personal best park run and half marathon times in them.
Brooks' Hyperion Tempo running shoes are ultralight and incredibly breathable thanks to the mesh upper. We found these shoes to be super springy thanks to the highly responsive DNA FLASH nitrogen-infused foam, which gave us efficient energy returns and high cadence (where your foot lands underneath you rather than out in front) in training.
We loved the freedom and soft cushioning in the Tempo shoes as well as their sleek, gender-neutral design. An 8mm drop is slightly lower than average but is perfect for low deviators in need of additional ankle support. One thing we wish we could change would be to increase the outsole's tread, which left us feeling unsteady in wet conditions.
What the users say
The Hyperion Tempos received an average of 4.7 out of 5 stars on Brooks' website. Customers praised the comfort and speed that this model helped them achieve along with their lightness. Some negative reviews found that these shoes were not best suited for more than half-marathon distances and a small percentage disliked the design and 'narrow' width.
One user said; "Super lightweight, great running shoe. Also wore them all over in AZ and my feet were comfortable and did not get hot."
'Great running shoe for running around NYC. Only took away 1 star because the color choices are a bit odd and the upper could be a bit more substantial, but overall very happy, I've already put about 300 miles on these and they are still great.'
---
The best women's running shoes for all-round training
Specifications
Sizes available: 5-11 (half sizes available)
Weight: 10 oz
Drop: 10mm
Colors: 13
Reasons to buy
+
Lighter than the UltraBoost 21
+
Excellent durability and stability
Reasons to avoid
-
A little clunky
-
On the expensive side
We put the Adidas Ultraboost 22 through thorough testing to see if the shoe's impressive track record was going to continue in the latest drop.
One thing we loved about the Adidas Ultraboost 22 is how supportive they are; the Primeknit upper, made from 50% Parley Ocean Plastic for extra sustainability points, is really soft yet fits like a glove, and they provide your feet with great protection.
During testing, we used these shoes for a 5k, 10k, and a longer half marathon, and each run was comfortable. Adidas state that these trainers are for the everyday runs as well as the long runs, which we think is spot on. The tech in these shoes is pretty fancy; the Boost midsole (a classic Ultraboost element), offers a 4% greater energy return than the Adidas Ultraboost 21, however, we didn't feel the 'bounce' as much as in previous Ultraboosts.
Needless to say, running was still light. These also have a Linear Energy Push for even greater power.
It is worth noting, however, that the shoe's snug fit might not always be ideal for those with wider feet. Getting the Adidas Ultraboost 22 on does require a bit of work as they are tight. They're also pretty expensive so not ideal if you're looking for a budget objection.
Overall, the Adidas Ultraboost 22 fared very well during our tests. They feel great during runs, offer absolute support and comfort, and they actually look gorgeous too.
What the users say
According to its website, Adidas' UltraBoost 22 women's running shoes have been rated 4.6 out of 5 of over 90 reviews. Adidas customers generally considered the size and width of this model to be perfect and rated the comfort 4.5 and overall quality of the shoes 4.7. One customer said: 'Love the trainers !!! They are super comfy and perfect for my high-intensity interval training.'
While a majority of the reviews are positive, several customers do not feel the heel design is up to scratch; they report rubbing and discomfort, even after breaking them in.
---
The best running shoes for short runs and gym workouts
Specifications
Sizes available: 5-11 (includes half sizes)
Weight: 8.4 oz
Drop: 5 mm
Colors: 3
Reasons to buy
+
Good stability
+
Firm and bouncy
Reasons to avoid
-
Can feel stiff
-
Limited response during training
We put the Hoka Kawana women's running shoes through their paces to discover if they live up to the hype. During our testing, we found that these running shoes are durable and offer a lot of support and versatility that will be valuable for those who frequently move from the gym to road running.
We loved the recycled jacquard mesh upper design as well as the padded tongue. The firm CMEVA foam sole added a gentle bounce to our step but didn't wow us with its response rate. Some runners may enjoy the reduced stack height of 30mm, which makes a refreshing change from HOKA's signature high ones, but some may find it simply does the job. A suitable degree of cushioning, reliable laces, and firm feel make the Hoka Kawana pair an excellent choice for 5K and 10K training.
The HOKA Kawanas helped us be confident in our training while wearing them but we found that they're not as forgiving as they could be. If you're looking for a firm ride and stable entry that suits a gym and track training style, the HOKA Kawana running shoes could be right for you.
What the users say
The HOKA Kawana women's running shoes have received an average of five stars on HOKA's website. Reviewers love how supportive and comfortable the shoes are, with others praising the lower stack height and versatility for gym-goers. Some customers felt that it was better to go up a half-size but negative reviews are few and far between.
'These shoes are very comfortable and look awesome! There's not as much cushion as Hoka's normal shoes…they feel sturdy under the foot and the upper is very flexible.'
---
5. Nike Air Zoom Pegasus 37 women's
The best running shoes for all abilities
Specifications
Sizes available: 5.5-10
Weight: 11.5 oz
Drop: 10 mm
Colors: 3
Reasons to buy
+
Bouncy and cushioned ride with plenty of traction
+
Affordable price point
Reasons to avoid
-
Runs warm
-
Not as stable as other entries
For over four decades the Nike Air Zoom Pegasus range has been around. The newer 37 model has increased its perforation and cushioning to give an improved ride and springy response with every step. In addition, the Air Zoom unit is twice as large as previously and has been moved to be closer to your foot for increased responsiveness.
Flywire cables are designed to lock your feet down without being uncomfortable to keep you flying along the trail. A translucent upper has even more perforations to keep you cool and comfortable, but this is not quite as effective as it could be.
Overall, we love the Nike Air Zoom Pegasus 37 model's durable and grippy outsole as well as the cushioned ride. If you prefer having a responsive forefoot, sleeved midfoot, and high outsole traction, these could be the best women's running shoes for you.
What the users say
The Air Pegasus range has been a staple for many runners, with customers loving the stylish lightweight design and affordable price tag.
One user said; "Comfortable, lightweight running trainers. Very happy with them."
Nike's Air Pegasus 37s are not for everyone, with some users preferring older designs. Others find that these shoes run warm during training and do not provide the stability they would prefer.
Yes, these shoes look a little different, but it's a difference that translates into a performance boost as the women's Cloudflow shoes are packed full of tech. Those truncated tube-like structures that make up the sole are the 'clouds' from which the shoe gets its name. Each one acts like a finely tuned spring, offering a combination of shock absorption and speed-boosting rebound. A stiffer 'Speedboard' through the length of the sole ties their performance together so they work together to support the foot through the stride from heel-strike to push-off. To boost durability and grip in wet conditions, the outer sole has sturdy abrasion pads that resist wear so you can keep on running when the weather gets rough.
---
Understanding running shoes
The best running shoes for women consist of seven carefully designed and tested parts that support and improve your training while keeping your feet safe. These seven parts all have specific functions and can be broken down once you know what to look for.
Upper
The upper, or the portion that encloses the foot and is held together by laces, provides your feet with protection from the elements and stability during longer runs.
Tongue
The tongue is the padded cushion under the laces to protect your foot from lace pressure and friction.
Midsole
The midsole, typically made of rubber or ethylene-vinyl acetate (EVA) foam, is located between the underside of your foot and the grip of the outsole. Midsoles are designed to provide cushioning and shock absorption.
Outsole
A shoe's outsole is the textured layer of rubber at the bottom that provides traction and flexibility. Some are made of carbon, which is durable and stiff, while others are made from flexible blown rubber.
Heel counter
On the back of the shoe lies the heel counter, or the exoskeleton of inflexible material around the heel. This part reduces Achilles tendon irritation, while increasing cushioning and rotation control.
Toe box
The toe box is the inner front of the shoe where your toes sit. When wearing any women's running shoes, you should be able to wiggle your toes and fit the width of your thumb between your big toe and the front.
Last
Finally, the last is the foot model that the shoe is constructed over. Lasts can be curved, semi-curved, or straight to suit different gaits and step styles. They work to provide pronation control and comfort during your runs.
One final key component to remember when looking for women's running shoes is the drop. The heel-to-toe drop is the difference in height between your heel and your toe. The standard drop for most running shoes is 0.39 inches/10 mm but it can vary between 0 to 0.4 inches/11+ mm. Drops influence your kinetic and kinematic patterns as you run, but this is mostly a concern for long-distance runners. Everyone prefers a different drop but we recommend starting with a standard 0.39 inches/10 mm.
The best running shoes harness and engineer these various parts to provide maximum comfort, flexibility, and control for your feet. With the proper foot support, you could see yourself smashing your best times and going the distance for months to come.
How to choose the best running shoes for women
There are several things to consider when finding the best running shoe for you; your budget, your level of experience, whether or not you've had leg, ankle or foot injuries, and most importantly of all, your running gait.
Specialist running shops offer gait analysis, and they will work out whether you are a neutral runner or whether you pronate. Pronation is where your foot either rolls inwards as your weight moves over it and your arches flatten out (overpronation) or outwards (underpronation).
If you're prone to overpronation, you'll benefit from extra support in the instep to help counteract this, whilst underpronation - also called supination - will require neutral or cushioned shoes.
Women's shoes are usually lighter and ergonomically designed to fit the female foot, which is typically narrower and smaller than the average male foot. That said, women who have wide feet or take larger sizes may find unisex shoes offer more comfort.
To get the right fit, ensure you have a finger's width of space at the top of your toes which gives your foot room to expand which they'll do when hot from running. Feel for any tight areas which might rub and cause blisters, such as around the ball of your foot, over the little toe, or around the ankle.
One final note - if you're heading off-road, a trail shoe might be more suitable. These feature a deep tread to give greater traction on the rocks, grass, and dirt you'll encounter on your run. Head to our best trail running shoes guide for more on this.
Why are good running shoes so important?
Whether you're just starting a Couch to 5K journey, or you're looking to replace your old marathon-worn favorites, getting a good-quality running shoe is crucial. For starters, you need to be protecting your ankles, knees and hips from the repeated impact as your feet hit the road hundreds and maybe thousands of time over the shoe's life cycle.
Research published in the Journal of Sports Science and Medicine way back in 2005 showed "the hardness and geometry of shoe-soles can be modified to reduce impact forces and pronation" as your foot strikes the pavement. Running shoe technology has come a long way since then, with even more advanced ways to protect and safeguard your joints. No matter what kind of runner you are, your body deserves the best protection – after all, if you're not going to look after your body, what an earth are you putting in the miles for?
In addition, running shoes can also increase speed, helping you to hit a new PB. Nike's Air Zoom technology, for example, helps position your foot in such a way that as you spring from the previous step, it offers an additional lift, and the other shoes listed here all have their own versions of this technology.
The compression and release of the midsole can act like a spring, propelling you to greater speeds and giving you the edge in races. Ever-lighter uppers also reduce the weight of the shoe, preventing you from being slowed down by a chunky piece of plastic and nylon.
Finally, this last one is a little vulgar, but the addition of a new set of wheels to your workout routine might encourage you to get back on the horse. Research from Exercise Bike polled over 1,000 gymgoers and found spending money on new workout gear kept them engaged in their workouts. It's always a pleasure having the right tools for the job, and if your regular running schedule is starting to slack, changing things up might be just the kick you need to make your runs fun again.
Jessica is Staff Writer at Fit&Well. Her career in journalism began in local news and she holds a Masters in journalism. Jessica has previously written for Runners World, penning news and features on fitness, sportswear and nutrition.
When she isn't writing up news and features for Fit&Well covering topics ranging from muscle building, to yoga, to female health and so on, she will be outdoors somewhere, testing out the latest fitness equipment and accessories to help others find top products for their own fitness journeys. Her testing pairs up nicely with her love for running. She recently branched out to running 10Ks and is trying to improve her time before moving on to larger races. Jessica also enjoys building on her strength in the gym and is a believer in health and wellness beginning in the kitchen. She shares all of this on her running Instagram account @jessrunshere which she uses for accountability and for connecting with like-minded fitness lovers.