Best running shoes for women: The best cheap sneakers and trainers
A pair of the best running shoes for women will ensure you achieve your goals with next-level foot support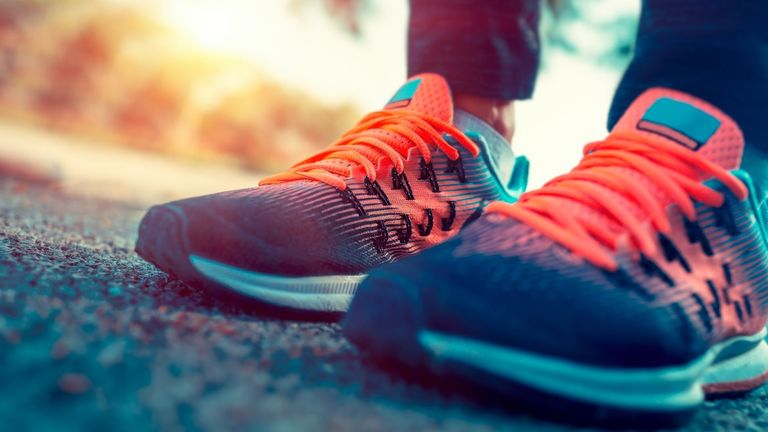 (Image credit: Canva Photos)
By Aoife Glass
On a mission to find the best running shoes for women, to start your 2021 fitness journey? We're here to help.
Whether you're an experienced runner or just starting out on your Couch to 5K journey, running for general fitness or looking to lose weight, your runnings shoes are one of - if not the - most important pieces of kit you need to get right. The best running shoes will provide support, help you avoid injury, and make your run smoother and more comfortable. 
Coming out on top of our list of the best running shoes for women are the Nike Zoom Pegasus Turbo 2, combining a secure fit and a great energy return. You don't need to spend a fortune though, and the best cheap running shoes for women in our opinion are the Reebok Floatride, which represent excellent value for money.
Don't forget to keep your eyes open for deals, as there are plenty of bargains to be had and running shoe sales are perfect for bagging the best women's running shoes at a cheaper price. Plus if you're thinking about Christmas, a pair of runners is one of the best fitness gifts to give this festive season.
How to choose the best running shoes for women
There are several things to consider when finding the best running shoe for you; your budget, your level of experience, whether or not you've had leg, ankle or foot injuries and most importantly of all, your running gait. 
Specialist running shops offer gait analysis, and they will work out whether you are a neutral runner or whether you pronate. Pronation is where your foot either rolls inwards as your weight moves over it and your arches flatten out (overpronation) or outwards (underpronation). 
If you're prone to overpronation, you'll benefit from extra support in the instep to help counteract this, whilst underpronation - also called supination - will require neutral or cushioned shoes.
Overpronation is far more common than underpronation, and we've suggested some of the best shoes for overpronation, such as the Asics GT-2000 8. 
Women's shoes are usually lighter and ergonomically designed to fit the female foot, which is typically narrower and smaller than the average male foot. That said, women who have wide feet or take larger sizes may find unisex shoes offer more comfort. 
To get the right fit, ensure you have a finger's width of space at the top of your toes which gives your foot room to expand which they'll do when hot from running. Feel for any tight areas which might rub and cause blisters, such as around the ball of your foot, over the little toe, or around the ankle.
One final note - if you're heading off road, a trail shoe might be more suitable. These feature a deep tread to give greater traction on the rocks, grass and dirt you'll encounter on your run. Head to our best trail running shoes guide for more on this.
The best running shoes for women you can buy right now
1. Brooks Ghost 12 women's running shoes
The best running shoes for women overall
Specifications
Support type: Neutral, cushioned
Best for: All types and abilities
Sizes: UK 3-10
Reasons to buy
+Cushioned sole provides exceptional comfort+Shock absorbing features dissipate hard hits from striking pavement+Different width options available
Reasons to avoid
-Runs slightly small, you may need to go up a half-size
When it comes to neutral cushioned running shoes, the Brooks Ghost 12 women's running shoes are hard to beat. Immensely popular with runners from beginner to advanced level, they're just right for getting started or training up for longer runs. The sole combines two of Brooks' proprietary technologies; BioMoGo DNA and DNA Loft. These offer a blend of cushioning, particularly in the heel area, and full foot support. The result is a shoe that feels immensely comfortable. A mesh upper with laces allows a close, supportive fit around the whole foot so the shoes move with you. Users with plantar fasciitis and high insteps have commented on how this shoe has felt particularly supportive and comfortable. 
2. Asics Gel Nimbus 22 women's running shoe
The best premium running shoe for women
Specifications
Support type: Neutral, cushioned
Best for: Long-distance or regular road running
Sizes:
Reasons to buy
+Packed full of performance-enhancing tech+Great comfort for long-distance and duration+Stylish colour options available
Reasons to avoid
-Doesn't have the springiness of other shoes on test-Not ideal for sprinting or high-paced racing
Designed for runners who cover big distances or run regularly, the Gel Nimbus 22 women's running shoes from Asics are highly regarded. Comfort comes by way of gel and foam cushioning at key spots in the sole; in the heel to absorb the force of stride strikes, and through the midsole for more shock-absorbing comfort. The outer sole is designed to reduce wear and tear so despite being a pricy investment, these should work out as great value for money in the long run (excuse the pun). Longevity is also aided by TRUSSTIC™ technology under the arch, which is a thermoplastic structural support that improves stability and keeps the shoe sturdy and steady for longer.  While looks aren't everything, the Gel Nimbus 22 has style and is available in a range of colours including on-trend rose/rose gold. 
3. dhb Women's Victory Run Shoes
The best budget running shoes for women
Specifications
Support type: Neutral, cushioned
Best for: Beginner to intermediate runners
Sizes: UK 4 - 8
Reasons to buy
+Pocket-friendly price+Has everything you need from a basic shoe
Reasons to avoid
-Sizes up small-Not as supportive as others on the market
If you've got limited funds and/or want to give running a go but don't want to break the bank, the Women's Victory Run shoes from dhb are the ideal choice. Dhb is the in-house brand of online sports retailer Wiggle, and is known for producing great quality kit at very reasonable prices, with these shoes being no different. Users report these as being comfortable for walking, running and the gym, and they've been used for everything from couch-to-5k to 100mile runs! The downside is that many users report the sizing comes up small, and the fact that the support offered isn't as great as on pricier shoes. However, the mesh upper is breathable in hot conditions, the tread pattern on the sole is designed to support the natural movement of the foot when running, and they're available from a UK4.5 to 8. 
4. Nike Air Zoom Pegasus 37 women's running shoe
A quality running shoe for everyday style and performance
Specifications
Support type: Neutral, cushioned
Best for: Everyday running, gym, treadmills
Sizes: UK 2.5 - 9.5
Reasons to buy
+Sole is tuned for female runners+Tried, tested and popular+Cushioned, comfortable shoe for everyday running+Stylish looks
Reasons to avoid
-Unsure grip on wet pavements
The super popular Air Zoom Pegasus delivers style and performance so they're a great multipurpose choice for everyday wear and everyday exercise. Updated for 2020, they now feature a new forefoot cushioning unit and foam making them lighter and more comfortable than before. The upper is constructed from light, breathable mesh that fits snugly and supportively around the foot, aided by a size specific midfoot band. Cushioning is an important part of the comfort equation, but specific types can also increase the springiness of the shoe and boost running performance. Nike's Air Zoom unit does just this. In the new Air Zoom this is twice as large as previous versions, and sits towards the front of the foot to give you an extra spring in your stride. 
5. ON Running Women's Cloudflow shoes
An unusual design that delivers impressive comfort and support
Specifications
Support type: Neutral, moderate cushioning
Best for: Dedicated runners, 10k, marathons, training and racing
Sizes: UK 3-9
Reasons to buy
+Cutting-edge technical features to aid performance+Stylish looks
Reasons to avoid
-Slightly narrow toe box-Looks too good to get muddy
Yes, these shoes look a little different, but it's a difference that translates into a performance boost as the women's Cloudflow shoes are packed full of tech. Those truncated tube-like structures that make up the sole are the 'clouds' from which the shoe gets its name. Each one acts like a finely tuned spring, offering a combination of shock absorption and speed-boosting rebound. A stiffer 'Speedboard' through the length of the sole ties their performance together so they work together to support the foot through the stride from heel-strike to push-off. To boost durability and grip in wet conditions, the outer sole has sturdy abrasion pads that resist wear so you can keep on running when the weather gets rough.