Best treadmill 2022: Top-rated treadmills for home workouts
Discover the best treadmill for your running style and space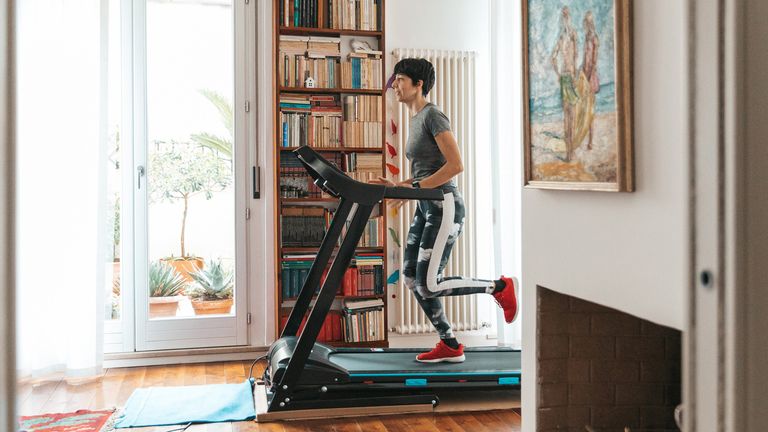 (Image credit: Getty Images)
Contributions from
The best treadmills can make all the difference between a good run and a great run. Especially if exercising from home suits your lifestyle. So, if you're wondering what's the best treadmill for your lifestyle and budget, but you're not quite sure where to start – look this way. We've pulled together a list of the top-rated options that are worth every dollar.
There is a range of factors to consider when it comes to finding the best treadmill. Perhaps you like to walk while you work? If that's the case, consider investing in a reliable treadmill for walking. While if you plan to use your treadmill to solely run, make sure you do your research on the maximum speed settings and incline options available.
The high spec treadmills don't come cheap, especially if you opt for something with an interactive screen and built-in workouts. For these types of machines, you can expect to part with around $1,000/£1,000. While if you can forgo the fancy features, you can pick up a much cheaper model which can still get your endorphins pumping.
And, if you're short on space – don't worry. Many of the best treadmills for home can fold away without encroaching on your square footage. So, no matter what size or style of running machine you are looking for, discover the right option below. Or, if you need another cardio fix, discover the best rowing machines.
The best treadmills you can buy right now
1. ProForm Pro 2000
Best treadmill for most people
Specifications
Dimensions: 77.3 x 35.3 x 59.6 inches
Speed range: 0-12mph
Incline range: -3% - 12%
Motor: 3.25HP, continuous
Reasons to buy
+
Integrates with iFit virtual workouts
+
12mph top speed
+
Auto-adjusts during classes
Reasons to avoid
-
iFit monthly subscription required
-
Still large when folded
-
Display is on the small side
The ProForm Pro 2000 is an excellent all-around treadmill for your home. The machine integrates with the iFit virtual workout platform, has a foldable design for storage, and can reach a top speed of 12mph. It also comes with an impressive 10-year frame warranty.
It has an extensive incline range, adjustable between -3% and 12%, and comes with built-in fans to keep you cool during intense training. Fortunately, you don't have to mess with the controls as the trainers remotely adjust your machine throughout the class.
It's powered by a continuous 3.5HP motor which stays cool during use and doesn't create a lot of noise. This is important, as the Pro 2000 treadmill has two built-in speakers for you to listen to music and hear your live or on-demand workout program.
Running on sidewalks can be rough on your knees. While most treadmills offer a gentler experience for your joints, the Pro 2000 comes with the company's ReBound Pro cushioning and shock absorbers for a comfortable workout.
The 10-inch interactive display lets you stream iFit classes and access your workout stats, like speed, distance, and calories burned. Your purchase comes with a 30-day iFit Family Membership, but to maintain access, you'll need to take out a $39/£29 monthly subscription.
2. NordicTrack Commercial 2450
Best premium treadmill
Specifications
Dimensions: 59.25 x 39.25 x 81.25 inches
Speed range: 0-12mph
Incline range: -3% - 15%
Motor: 4HP, continuous
Reasons to buy
+
17,000 on-demand classes and live workouts
+
Foldable design
+
Automatic speed and incline adjustments
Reasons to avoid
-
Expensive
-
Large footprint
-
iFit requires an ongoing subscription
If you're after a Peloton-style experience with a treadmill and virtual workouts, then the NordicTrack Commercial 2450 is just what you need. This model is the best treadmill for runners, with a continuous 4HP motor and a top speed of 12mph.
You can switch the running surface between low-impact cushioning or a harder sidewalk-like experience. The running area even folds to save space between classes. There are integrated fans to help you stay cool, and even the motor has a self-cooling mechanism.
The company, known for its range of connected workout equipment, also includes a 30-day iFit Family membership worth $39/£29. You don't need your own device to access the live and on-demand classes, as the Commercial 2450 comes with a 14-inch smart display.
You can tap on the touchscreen to select workouts, adjust the speed, change the incline, and switch between user profiles. Most importantly, the LIVE Interactions feature means the trainer can automatically adjust your machine during live workouts, so you can focus on your exercise.
3. UREVO Foldi 1 Treadmill
Best foldable treadmill
Specifications
Dimensions: 55.2" x 27.8" x 5.1" (folded: 59" x 28" x 5.5")
Speed range: 0.5 - 7.5mph
Incline range: None
Motor: 2.5 HP, peak
Reasons to buy
+
Space-saving design
+
Easy to move around
+
Budget-friendly price
Reasons to avoid
-
No incline adjustment
-
Maximum speed of 7.5mph
The Urevo Foldi 1 Folding Treadmill is a compact machine with a powerful 2.5 HP motor that can reach speeds of up to 7.5mph/12kph. It comes with an LCD display that shows distance, time, calories, and speed, and there are also 12 preset programs to try.
The treadmill is foldable and we found it super easy to move and store under a bed or couch (you just need six inches clearance) during testing.
It doesn't have an incline function or an app with virtual classes, but you can easily store your tablet or phone in the device holder and use the Peloton or iFit app for a more immersive workout.
The folding treadmill isn't as heavy as some models, coming in at around 84lbs despite coming with a durable steel frame. However, there are also built-in wheels to help you move it around when not in use.
Don't expect the sturdiest experience at this price, but it's ideal if you're after a space-saving way to stay active throughout the day. Since the pandemic, our homes have doubled as offices, so the foldable treadmill helps you switch between the two without getting in the way.
Most workout equipment is only available in black, but with the Foldi 1, you get a choice between black or white. This means you can match it to the rest of your home, an important consideration when folding it to store in a corner or between other furniture.
4. Life Fitness T3 Treadmill
Best treadmill for gym-goers
Specifications
Dimensions: 79.5 x 34.6 x 57.9 inches
Speed range: 0-11.8mph
Incline range : 0-15%
Motor : 3HP, continuous
Reasons to buy
+
Super high quality
+
FlexDeck running surface absorbs shock for extra comfort
Reasons to avoid
-
Requires plenty of space
If you're a regular gym goer, you'll be familiar with Life Fitness - an equipment manufacturer renowned for excellent quality machines made for the commercial environment but with home options. Obviously this means it's going to cost you more.
On the flipside, you're going to be investing in a machine guaranteed to last many years. It's a pretty hefty machine though, so make sure you've got enough space for it at home, and a few friends to help move it into position, before splashing the cash.
The T3 is pretty special as it sports a Track console, which links up to smartphones and tablets in a flash to take advantage of the Life Fitness app, which is bursting with preset workouts. There's also a FlexDeck shock absorption system on the belt which reduces impact on joints making your runs much more comfortable.
5. JTX Sprint-7
The best treadmill for running
Specifications
Dimensions: 77.2 x 36.6 x 60.2 inches
Speed range: 0-12.4mph
Incline range : 0-15%
Motor : 3HP, continuous
Reasons to buy
+
Gym-quality machine at a great price
+
Great max incline level for the price
+
Perfect for runners of all levels
Reasons to avoid
-
Pretty large even when folded
-
Not ideal for runners over 1.8m/6ft
With gym-quality specs such as a 12.4mph top speed, a 15% max incline, 24 preset workouts and Polar wearable connectivity for automated workouts and heart rate tracking, the JTX Sprint-7 is a treadmill that's hard to knock.
Although with only a 145cm long belt, it's best to opt for the next model up, the JTX Sprint-9, if you're taller than 180cm/6ft, as that has a longer belt.
Although you couldn't call the Sprint-7 cheap, it is exceptional value for money, especially given that it comes with three years of in-home servicing and a ten-year motor warranty.
Whatever your level of running ability and stamina, you won't be disappointed with this robust and reliable treadmill, making it the best all-rounder.
6. Kettler Sport Arena Treadmill
The best treadmill for home cardio
Specifications
Dimensions: 75.2 x 31.1 x 55.1 inches
Speed range: 0.19-11.18mph
Incline range : 0-16%
Motor : 2.75HP
Reasons to buy
+
Good value
+
Folds up for storage
+
Decent incline levels
Despite a relatively small running deck, the Kettler Arena treadmill has just about everything you could wish for for a treadmill at this price point. With an RRP of £999 for those in the UK, it's one of the best treadmills under £1,000.
For that price, you're getting a max speed of 11.18mph and up to a 12% climb as well as some vertical grab handles for some steep incline power walking, if you want to push yourself.
On the smart side, you'll find some nifty built-in speakers, numerous HIIT preset workouts and heart rate monitoring, all crammed into a pretty compact design that should suit those who are more limited on space. A great, all-round machine with some added bonus features that you wouldn't expect at the price.
How to choose the best treadmill for you
There are a number of factors worth considering when you're trying to choose the best treadmill to suit your needs. Here's a list of things to think about:
Top speed
One important thing you should look out for when scouring the internet for the best treadmill for home use is the top speed it's capable of running. A general rule of thumb is that most gym-quality, expensive running machines will go up to around 19-22.5km/h, but cheaper, home-use machines will often max out about 12-16km/h. It really depends on how much you're willing to spend, and how fast you're expecting to go. It's worth checking this before you invest to ensure your trusty treadmill is future-proof enough to cover all your training needs.
Belt length
Another key feature is the treadmill belt length, which should not only be long enough to accommodate your running stride but also your height and weight. Each treadmill will have height and weight guidelines listed on the product information page, and this second bit is especially important as it will void the warranty if an accident occurs and it's because you didn't follow the weight guidelines.
Incline setting
If you're looking to make your workouts more challenging, you can set the treadmill to an incline, usually capping out at around 10-15%. This will prove good enough to increase the difficulty of your run without necessarily needing to run faster. It may not sound like much, but one study (opens in new tab) suggests a 1% treadmill incline most effective replicates the feel of running outdoor, so 15% is all the challenge you should need. The motor and its horsepower (HP) is another element worth making a note of here. While runners should look for a minimum of 2.5HP, walkers should opt for a treadmill HP of 1.5 or more.
In-built programs
Other useful features to note are the number of preset workouts available, the screen size of the monitor that's been built in and whether it's a high resolution or not, and any built-in internet connectivity and heart rate sensors. As you'd expect, these things will vary greatly depending on the price range.
Cost

Of course, price is one of the most important factors when it comes to any home workout equipment. Treadmills come in a range of styles, with options to suit most budgets.
So that you don't have to go hunting for the lowest prices, our on-page technology automatically shows the cheapest deals across several retailers, so you can find the best treadmill without breaking the bank.
Lee Bell is a London-based journalist, copywriter, specializing in all things tech and lifestyle. He is also a qualified personal trainer. He started his journalism career a decade ago as a reporter covering the latest gadgets and innovations at tech tabloid The Inquirer. Lee went freelance in 2016 to broaden his expertise, moving into news, reviews and feature writing for a host of national print and online lifestyle titles such as GQ, Forbes, Esquire, Men's Health, Wired, The Metro, and The Mirror. He has an insatiable appetite for travel, Dharma yoga, and the odd outdoor challenge.

With contributions from