Best treadmill 2023: top running machines for at-home workouts
Finding the best treadmill for your needs is a great way exercise at home and hit your fitness goals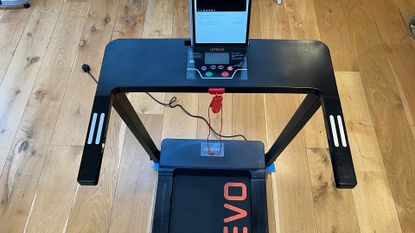 (Image credit: Maddy Bidulph)
The best treadmills can be used for walking and running and offer a great cardiovascular (heart-healthy) workout. Whether you're looking to get fitter, build endurance, lose weight, or just get in your daily steps, this home gym equipment can help you achieve your goals.
What makes one of the best treadmills? Ideally, it's easy to use, quiet, and foldable. You might also want to consider the maximum user weight, belt size, horsepower (motor size), shock absorption, whether it has an incline/decline, and any extra features like a TV screen and accompanying app with online classes.
Before we recommend the best treadmills for your home, we put them to the test, assessing the ease of set up, the overall design, the quality and comfort of the running experience, and whether water bottle enclosures and tablet holders are convenient to use. Plus, we try the machine's virtual on-demand and live workouts to see if they're worth the money.
If you're looking for a treadmill that is packed with features, comes with on-demand and live classes, and has a an impressive incline/decline range, then our top pick is the NordicTrack X22i. But it comes at a cost—the machine generally retails for $3,000/£2,500.
But that's not your only option if you're after the best treadmill for your home. We tested premium alternatives and lower-cost options like the Urevo Foldi 1, a compact treadmill with a foldable design which won't break the bank. Read on to learn more about five of the best treadmills we're giving the Fit&Well seal of approval.
Best treadmill for your home
The best treadmill for most people
Specifications
Dimensions: 76 x 40.6 x 34.3 inches
Incline range: -6% to 40%
Top speed: 13.6mph (22kph)
Display: Yes, 22-inch
Reasons to buy
+
Impressive incline/decline range
+
Easy to use touchscreen display
+
Over 16,000 virtual iFit workouts
Reasons to avoid
-
Not foldable
-
Virtual workouts require monthly subscription
-
Expensive
If you've got the space and the budget, we think this is one of the most sophisticated treadmills on the market, and you are spoilt for choice with features and workouts.
That's what we really loved about the NordicTrack x22i—the excellent iFit app's virtual content (available as a subscription for $39/£28 a month), which turns the treadmill into your own personal fitness studio.
You don't need to worry about running out of workouts either, as there are 40 preset programs and 16,000+ on-demand classes, and daily live classes, all easily viewed on the crisp 22-inch touchscreen.
You get a 30-day free iFit membership with your purchase or use the treadmill without a subscription, but you'll miss the tracking tools and scenic runs (the guided hiking one in Ecuador is beautiful!).
Well made, with a vast incline and decline range (-5 to +40%), and impressively quiet thanks to its 4.0 CHP motor, it's a fantastic investment for newbies to pros. When we tried the 40% incline, it made a walk or run feel like climbing a flight of stairs so that you can use it a bit like an elliptical trainer. The only downside is that it is a big machine, so you need a lot of space for it.
What the users say
Testimonials are scarce for this machine—NordicTrack hides most user reviews on its website, instead displaying the reviews for iFit, the company's virtual workout app.
The machine got 4.5 out of 5 stars in Google reviews; the fast delivery and setup influenced some, but many reviewers praised the incline, top speed, and variety of built-in workouts.
---
The best treadmill for virtual classes
Specifications
Dimensions: 68.11 x 61.81 x 33.07 inches
Incline range: 0 to 12.5 %
Top speed: 12.43mph (20kmh)
Display: Yes, 23.8-inch
Reasons to buy
+
Peloton's motivating virtual classes
+
Immersive touchscreen display
+
Compact design
Reasons to avoid
-
Not foldable
-
No built-in fan
-
Peloton brand commands premium price
The Peloton Tread isn't cheap, but it's incredibly well made and easy on the eye with its slick, minimalist design making it simple to use and enjoy. It's also very compact and slimline, so it is a great choice for people short on space.
What we love most about this treadmill—apart from the large and intuitive touchscreen—is the (quite simply overwhelming) range of live and on-demand classes. Peloton has built a reputation for its high-energy, world-class instructors, and, as we found, they are really motivating.
Unlike most treadmills, the Tread doesn't have a front base, so you can run the whole belt and get into your natural stride. We appreciated the red centerline on the belt, which helps you run in a straight line.
The main drawback of the Peloton is the expensive app membership you need to take out for access for streaming the workouts, which costs $44/£39 per month. Yes, you can use the treadmill without it and just use free YouTube classes, but it does take the machine up a notch. It doesn't have a decline or a fan either, which we found disappointing for something in this price bracket.
What the users say
The Tread gets an impressive 4.5 out of 5 stars on the Peloton website (from 266 reviews), with many enthusiastic owners proclaiming how much they love it.
One user said the classes "motivated me more than a normal treadmill and pushed me a little harder." Negative reviews mentioned that the Peloton instructors talk too much, and their training style takes some getting used to.
---
The best budget treadmill
Specifications
Dimensions: 55.2 x 38.2 x 27.8 inches
Incline range: n/a
Top speed: 8.7mph (14kph)
Display: Yes, LCD monitor
Reasons to buy
+
Foldable design
+
Compact when in use
+
Good value for money
Reasons to avoid
-
No incline/decline
-
Short running belt
-
Basic LCD workout monitor
If you're looking for a basic budget treadmill that does that job, then the Urevo Foldi 1 is for you. The beauty of this slimline machine is you can fold it away when you're not using it, making it convenient for people short on space or living in an apartment or shared space.
We also love that it can reach up to 7.5mph/12kph, despite having a relatively small 2.5 HP motor. You can get a decent run on it, but bear in mind anyone relatively tall (six-foot or over) might struggle with the belt size, as it's just 16.5 x 45 inches.
While using the treadmill, we found that if we lost concentration, we could feel the backs of our soles creeping off the tread (even for someone 5ft 7"). It doesn't have an incline, decline, or touchscreen, but that's standard for this price bracket.
The basic LCD gives enough core metrics—time, distance, speed, calories burned—and you can always use a third-party app for online classes or find a free YouTube workout to try. Watch out for the device holder, though, as it tends to shake a lot during a run, and we wouldn't trust it to hold a tablet without the risk of it bouncing out and smashing.
Overall, the Urevo Foldi 1 is great value at a friendly price, and we think it's a good starter treadmill for people new to indoor running. And the foldable design is relatively rare for a treadmill that can reach these speeds.
What the users say
Amazon reviewers give the Urevo Foldi 1 4.4 out of 5 stars, with 68% giving it the full five stars. Fans of the treadmill love how easy it is to set up (around five minutes).
Plus owners liked how compact it is, and the fact that it's foldable. Negative reviews complained the dashboard was basic and there wasn't an incline option.
---
The best treadmill for hill runners
Specifications
Dimensions: 77.17 x 59.45 x 35.04 inches
Incline range: -3 to 12%
Top speed: 13.6mph (22kph)
Display: Yes, 22-inch
Reasons to buy
+
Foldable design
+
Large incline/decline range
+
Built-in display for virtual workouts
Reasons to avoid
-
iFit app requires ongoing membership
-
Short running belt
-
No USB charging port
This retro-looking mid-range treadmill is a sturdy and well-built machine with a vast library of live and on-demand iFit workouts to help you build endurance and cardiovascular fitness. If you're someone who likes a group exercise setting, these energetic Peloton-style classes (subscription required, $39/£29 per month) will be right up your street.
However, if you decide not to take out an iFit subscription, you can use the machine without the app and find a free workout online or exercise at your own pace. The ProForm Pro 9000 has all the design features you'd expect at this price range—a responsive 22-inch color touchscreen, ample space for drinks and devices, and a powerful two-speed fan.
We appreciated the usability of the quick speed and incline controls, making it easy to change the intensity of your walk or run. The two-inch speakers and MP3/iPod compatible port will please people who love working out without their favorite tunes, and when you're finished, you can fold the treadmill away with a bit of help from the shock-assisted lift mechanism.
However, we found it odd that it lacks a USB charging point since you have to steam your music via Bluetooth, and the handrails are a bit short. But the handles have inbuilt EKG touch sensors for heart rate monitoring that works with Bluetooth wireless chest straps (not included in the price)—useful for checking you're in the proper heart rate range for effective training.
What the users say
The ProForm 9000 has 4.2 out of five stars on Best Buy, with users praising the big screen, meaty motor, and iFit classes. One review sums things up: "Best treadmill I have ever had, smooth walking surface and LOVE the screen and the iFit program."
Negative reviews cited issues with the speakers and said the fans weren't powerful enough, but the reviews were positive overall.
---
5. ProForm City L6
Best treadmill for small spaces
Specifications
Dimensions: 29 x 70.2 x 44.5 inches
Incline range: n/a
Top speed: 8mph (12.9kph)
Display: No
Reasons to buy
+
Foldable design
+
Underfoot cushioning
+
Bluetooth-enabled
Reasons to avoid
-
No built-in display
-
Short running belt
-
No integrated fan
The ProForm City L6 treadmill might not be the most powerful on the block with just a 1.6 HP motor, but that does make it pretty quiet. And, rather than just folding down, it collapses into the deck, so it folds totally flat. This makes it a savvy choice for college students or anyone in a small apartment.
There's no incline, and its small 45 x 17.5-inch deck best suits walking or light jogging. It's not sturdy enough for larger users (it has a 250lbs weight capacity) and has a max speed of 8mph/14kph.
You can get more out of this entry-level treadmill by subscribing to the iFit app to access its awesome virtual classes. Sadly, there's no screen, so you'll need a smartphone or tablet. It's also lacking a fan or drinks holder.
However, this simple design makes the ProForm City L6 an ideal affordable starter treadmill for anyone new to home workouts. ProForm's signature ProShox cushioning system gives it a nice springy feel or more premium treadmills.
We will be doing a full review of the ProForm City L6 soon, so stay tuned for more about what we thought.
What the users say
User reviews gave the ProForm City L6 3.9 out of 5 stars on Amazon, with 36% giving the full five stars.
One user said: "This machine's build quality is sturdy, and the belt motor is solid. I was pleasantly surprised that the tablet holder fits my 12.9-inch iPad Pro!"
Negative reviews cited issues with noise and that the machine is weighty despite its compact status.
---
FAQs
How we tested the best treadmills
Before we recommend any treadmill, we thoroughly test the equipment so that you can make an informed decision when you make your purchase. To help you compare models, we use a standardized testing process to cover some of the most critical features, including setup, design, performance, features, and everyday practicalities like storage.
Setup and assembly
When we start testing a treadmill, we assess how long it takes to set up, whether it needs two people to assemble and how easy it is to put together. How the machine is packaged is also important. We also consider the time required to connect the machine to any devices and set up the companion apps.
Design and performance
Next, we take into account design; is this treadmill well made? Ergonomic? Intuitive to use? We test how easy it is to navigate any controls, the quality of the screen or display, belt, fan, and the performance of any built-in speakers. Connectivity is important, too, since so many of us use our smartphones and tablets to access online content for our training.
Smart features
While not all treadmills have integrated displays or internet-enabled features, many do, which often adds to the price tag. We test these extra features and determine if they're worth paying for and represent good value. We look at the range of live and on-demand classes, any preset programs, and if the treadmill has an incline and decline option.
How to choose the best treadmill
When it comes time to decide on the best treadmill for your home, there are several factors you need to consider. These are large and often expensive machines, so you want to look at the following areas to find one that'll suit your needs.
Speeds
If you're after the best treadmill for home, there's a lot of variety in the range of speeds and overall maximum speed. It's worth considering what you want to use the treadmill for; lower speeds are generally acceptable for walking, whereas sprinters will be after a high maximum speed.
Lower-cost machines typically have lower speeds and a more limited range, while premium options are ideal for sprinters or those who like varied or high-intensity workouts.
Belt length
The belt length is an essential feature of any treadmill, but it's especially crucial for those with a longer stride. Compact machines designed to fit into tight spaces are ideal for apartments or shared homes, but the reduced belt length means taller runners may find themselves slipping off the back edge.
The trade-off is that machines with longer belts are generally larger, so they take up more space. You can find foldable options or devices with wheels and handles to move it into a storage space, but these features also tend to add to the cost.
Incline and decline settings
If you want to replicate a light jog or walk along flat routes, you won't need to worry about finding a machine with incline and decline settings. As this feature adds mechanical parts to the treadmill, it also increases the price.
However, if you want to make your workouts more challenging with some uphill and downhill stretches, you'll need a treadmill with incline settings. Usually, you'll find that there's a range between 10-15%. Not every machine with an incline has a decline, too, so be sure to check if you're into downhill runs.
This may not sound like much of an adjustment, but a study published in the Journal of Sports Science found that a 1% treadmill incline effectively replicates most outdoor runs, so 15% is more like an extremely steep hill.
Built-in programs and virtual workouts
Traditionally, some of the best treadmills came with built-in programs, which automatically adjust the incline, decline, and speed to help you hit a specific goal. To help you keep track of your progress, there's often a built-in display showing your session metrics.
This is still quite a standard feature, but many mid-to-high-end machines also offer virtual on-demand and live classes streamed over the internet. Some, like the Peloton Tread, have a sizeable built-in display to access the routines, while you'll need your smartphone or tablet for treadmills like the ProForm City L6.
Generally, you need to pay an additional monthly fee to access these classes. This varies by model, so check with the manufacturer if you don't plan to use the app. Still, you can use most machines without the virtual activities or work out with a free YouTube alternative.
Cost
Finding a balance between features and price is crucial, especially if you're working on a budget. Although there's a widespread perception that treadmills are expensive, and some can be, it's possible to find lower-cost models.
If you're looking for a way to stay active without leaving the house, you can find treadmills for around $200. However, for a well-built, durable model with decent top speeds and some convenience features (like a water bottle and tablet holder), these machines retail for $400 or more.
On the other end of the scale, top-of-the-range equipment that you might find in fitness centers and gyms can set you back $1,500-$2,000 (between £1,250 and £1,700). These treadmills come with a high-quality, durable design, higher top speeds, and smart features like an integrated display and access to virtual workout classes.
So that you don't have to go hunting for the lowest prices, our on-page technology automatically shows the cheapest deals across several retailers, so you can find the best treadmill for your home without breaking the bank.
Get the Fit&Well Newsletter
Start your week with achievable workout ideas, health tips and wellbeing advice in your inbox.
Maddy Biddulph is a freelance journalist specializing in fitness, health and wellbeing content. With 25 years in consumer media, she has worked as a writer and editor for some of the bestselling newspapers, magazines and websites in the US and UK.
She is also a qualified L3 personal trainer and weight loss advisor, and helps women over 40 navigate menopause by improving their physical and mental strength. At Maddy Biddulph Personal Training, she runs one-to-one and small group training for menopausal women who want to get fit to ease symptoms and feel like themselves again.