You can build muscle from your chair with this seated weights workout
This low-impact routine develops upper body strength in just 14 minutes without standing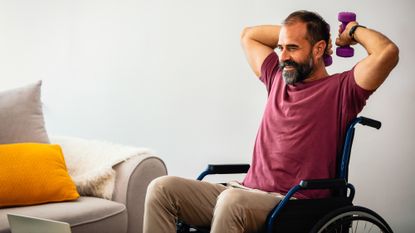 (Image credit: Getty Images)
Most workout routines assume you can stand for long periods and that your joints can deal with high-impact exercises. But if you struggle with sore joints or can't leave your chair, you can use this seated dumbbell workout to build upper body strength.
All you need is a set of the best adjustable dumbbells. These combine several dumbbells into one, offering a customizable but space-saving way to build muscle at home. They're adaptable, too, since you can increase the weight as you get stronger.
If you don't have weights handy or you're after a lower-cost way to start exercising, Amy Kiser Schemper, the trainer behind this accessible chair workout, suggests using water bottles, soup cans, or other weighty household items you can easily grip.
Although the routine makes good use of dumbbells, there are also several stretches and core training moves like seated crunches without weights, allowing you some downtime between loaded exercises.
Likewise, it's a great introduction to strength training at just 14 minutes long, and Amy guides you through the entire workout too. This means you can follow along and perfect your form to get the most from the routine and avoid injury.
Watch BodyFit by Amy's seated dumbbell workout
While other workouts have their place, it's important that you do what feels right for your body. That can be tough, especially as many of us have a mental image of what we think exercise 'should' look like.
But when you find a workout that suits your needs, you'll feel good, stay motivated, and start to see results. That's why one YouTube user commented, "Your channel is brilliant, I found you today. I have a walking disability, so this is good for me. Thank you."
Our bodies also change as we age, making staying active a challenge. But routines like this 10-minute chair workout are ideal for building upper body strength, improving our health, and staying well in our later years.
If this is your first time using dumbbells, it's worth learning how to lift weights to prevent long-term injuries and make each repetition as efficient as possible. Helpfully, there are alternatives if you don't have space for a set of dumbbells.
You can switch weights for a set of the best resistance bands for a more affordable, portable, but no less effective option. These sets come with multiple bands of differing strengths, so you can use them to build muscle, stretch, and in yoga or Pilates classes.
James is a London-based journalist and Fitness Editor at Fit&Well. He has over five years experience in fitness tech, including time spent as the Buyer's Guide Editor and Staff Writer at technology publication MakeUseOf. In 2014 he was diagnosed with a chronic health condition, which spurred his interest in health, fitness, and lifestyle management.
In the years since, he has become a devoted meditator, experimented with workout styles and exercises, and used various gadgets to monitor his health. In recent times, James has been absorbed by the intersection between mental health, fitness, sustainability, and environmentalism. When not concerning himself with health and technology, James can be found excitedly checking out each week's New Music Friday releases.