You can target the entire body in just 9 minutes with this simple 3-move workout
This short workout is the perfect way to get moving when you don't have time for a full session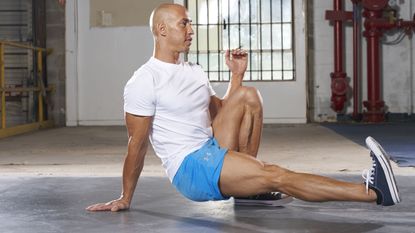 (Image credit: Mark Lauren)
If there's one excuse we're all guilty of using when it comes to skipping the gym, it's that there isn't enough time in the day to workout. With busy social lives and lots of us returning to the office, finding an hour or two to fit in a session can be difficult.
Fortunately, you don't need a lot of time for a seriously effective workout. In fact, a 2022 study (opens in new tab) by Edith Cowan University found that exercising for just ten minutes on a regular basis is better for your health than doing long workouts less frequently, especially when it comes to muscle growth.
So, even if you've just got home from the office, you probably have time for a quick workout, especially when it takes just nine minutes and doesn't require any equipment. That's the case with this time-efficient session from Mark Lauren, the internationally recognized bodyweight training expert and author.
"The biggest fitness mistake is doing too much, especially for beginners, which is what keeps them from being consistent with their training," Lauren tells Fit&Well. "By doing just enough to make long-term progress, users are able to stay consistent by maximizing the reward and minimizing the cost in terms of pain, energy, and time."
This workout is made up of three exercises repeated three times, so it's super simple and great for people looking to improve their overall fitness and core strength. All you need is some open space and potentially a yoga mat, so check out our guide to the best yoga mats (opens in new tab) here.
To complete the workout, repeat each exercise three times for 30 seconds, with a ten-second break in between.
Workout provided by
Workout provided by
Mark Lauren
Mark Lauren spent fifteen years as a military physical-training specialist for the social operations community. A triathlete, bodybuilder, and a champion Thai boxer, Mark is now a sought-after personal trainer for governments, trainers, and men and women of all fitness levels. He is the author of the internationally popular body-weight bibles: You Are Your Own Gym, Body By You, and Body Fuel.
Nine-minute equipment-free workout
1. Parallel leg crunch