You don't need the gym to build strength — use this seven-move workout instead
Boost your metabolism and build full-body strength with this seven-move equipment-free workout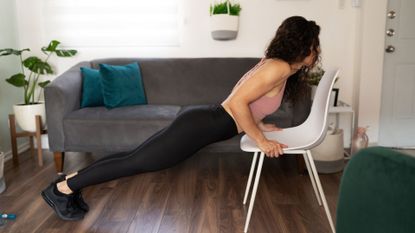 (Image credit: Getty)
You might think you need a pair of dumbbells or kettlebells for an effective home workout, but that's not the case.
Our featured workout will work your upper and lower body in just 20 minutes. The only equipment you need? A chair.
The session has been created by personal trainer and Sweat app co-founder Kayla Itsines (opens in new tab) to help you get moving when you're short on time.
"Take 20 minutes out of your day to do this at-home chair workout," she says. "You'll be surprised how much this workout actually works your entire body!"
The session consists of seven exercises performed as a circuit (one after the other) for 12-15 repetitions each. Complete this seven-move circuit twice through to finish the workout, with the option to add an extra round if you want to really test yourself.
Itsines says you can rest when you need to during this circuit workout, but that doesn't mean you should take it easy if you want to feel the full benefits. Try to keep your breaks to a minimum and move with purpose for as much of the session as possible.
Watch Kayla Itsines' full-body workout
Limiting your rest times will keep your heart rate elevated throughout the workout, burning calories, boosting your metabolism (opens in new tab) and developing your cardiovascular endurance (the ability of your heart and lungs to support prolonged bouts of exercise) in one fell swoop.
Challenging your muscles with exercises like push-ups (opens in new tab) and knee-ups will also build strength in your upper and lower body. Your core doesn't get off lightly either, with movements like mountain climbers and decline toe-taps (which can be found in many of the best abs workouts (opens in new tab)) sure to fire-up your midsection.
This workout is short but effective, making it a great way to squeeze some health-boosting movement into an otherwise busy day. But, if you have a bit more time on your hands and are looking for a longer exercise session, you might want to pair it with some strength training.
If you want to work your upper body, this chest and back workout (opens in new tab) is a strong choice. Or, if your goal is to strengthen your legs, our feature on the best leg workouts (opens in new tab) has some useful tips to help you get started.
Harry Bullmore is a fitness writer covering everything from reviews to features for LiveScience, T3, TechRadar, Fit&Well and more. So, whether you're looking for a new fitness tracker or wondering how to shave seconds off your 5K PB, chances are he's written something to help you improve your training.
When not writing, he's most likely to be found experimenting with a wide variety of training methods in his home gym or trying to exhaust his ever-energetic puppy.
Prior to joining Future, Harry wrote health and fitness product reviews for publications including Men's Health, Women's Health and Runner's World. Before this, he spent three years as a news reporter with work in more than 70 national and regional newspapers.