You don't need the gym to build strong arms – use this eight-move workout instead
You only need two dumbbells and a spare 30 minutes to squeeze this session in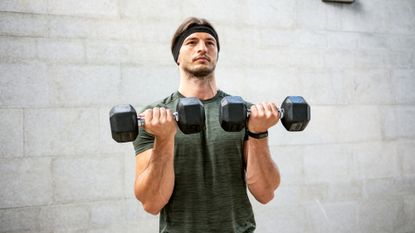 (Image credit: Getty Images)
If you want to build a strong set of arms, you might think you need to make a beeline for the gym, but that's not true. This workout allows you to train at home using just a couple of light-moderate dumbbells.
Personally, we recommend picking up a pair featured in our roundup of the best adjustable dumbbells (opens in new tab) (clever workout companions with several weight options so you can find a load to suit your strength level). But, if you'd rather keep things simple, a fixed weight set or even two tins of beans will do the trick for beginners.
This session has been designed by Sweat app trainer Britany Williams (opens in new tab) to hit the two main muscles in your arms: the biceps (opens in new tab) and triceps (opens in new tab). It features four supersets (complimentary pairs of exercises performed one after the other) which couple a biceps exercise with a triceps exercise.
To try it for yourself, perform 10-12 repetitions of both exercises in the first superset without taking a break between them, then rest for 90 seconds. Complete this sequence for three rounds, then it's time to switch things up by starting the next superset.
The workout is finished when you've completed three rounds of each superset. This should take you about 30 minutes.
Find out which exercises await you in Williams' videos below. Then (after a thorough warm-up, of course) you're ready to take on this testing session for yourself.
Watch Britany Williams' dumbbell arm workout
This is an example of a resistance training workout, with a focus on building strength and muscle in the targeted body part (in this case, the arms). This training style usually follows a format of between eight and 12 repetitions of an exercise followed by 60 seconds or more of rest.
Unlike in HIIT workouts for fat loss (opens in new tab) you might have tried, these longer rest periods have the benefit of allowing your muscles to recover slightly so you can hit the next set with renewed intensity. But, this can mean you end up spending an hour or more in the gym.
On the other hand, Williams' clever use of supersets in this session makes it a time-efficient way to train. By pairing a biceps exercise with a triceps exercise, one muscle is able to rest and recover while the other works, and vice versa.
This means you only have to rest after every two exercises, rather than one, allowing you to hit an effective workout in almost half the time.
If you enjoy this training method, why not try our superset-based full-body resistance band workout (opens in new tab), or challenge your lower-body with this dual dumbbell leg session (opens in new tab).
Harry Bullmore is a fitness writer covering everything from reviews to features for LiveScience, T3, TechRadar, Fit&Well and more. So, whether you're looking for a new fitness tracker or wondering how to shave seconds off your 5K PB, chances are he's written something to help you improve your training.
When not writing, he's most likely to be found experimenting with a wide variety of training methods in his home gym or trying to exhaust his ever-energetic puppy.
Prior to joining Future, Harry wrote health and fitness product reviews for publications including Men's Health, Women's Health and Runner's World. Before this, he spent three years as a news reporter with work in more than 70 national and regional newspapers.