You only need six minutes to relieve the damage of sitting with this yoga instructor's short stretching routine
Soothe back soreness and relieve muscle tightness by trying these seven stretches at your desk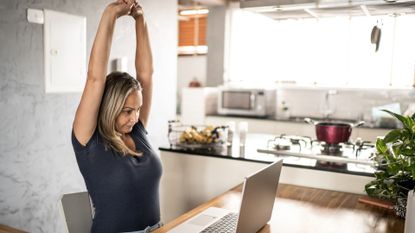 (Image credit: Getty)
Whether we're working at a desk or watching TV from the couch, many of us spend a large portion of our day sitting down. This is often unavoidable, but by staying in the same position for such a long time we risk seeing our muscles tighten and our core weaken due to a lack of use.
To prevent this, it pays to introduce a bit more movement into your day. This sequence of seated stretches from yoga teacher Adriene Mishler (Yoga With Adriene) offers impressive benefits for your mind and body, and it can be done at your desk in just six minutes.
Not only will this session help loosen your muscles through stretching, but it can also improve your mood and sharpen your brain. You don't need any equipment to give it a go, and all the movements are easy to squeeze in when you have a spare moment during your work day.
Follow along with Mishler's movements below to try it for yourself.
Watch Yoga With Adriene's six-minute desk yoga
Sitting in a chair for prolonged periods can cause significant increases in the stiffness of your back muscles, research published in the Frontiers in Sports and Active Living journal shows. This is because your back and core muscles are largely inactive when you're supported by a backrest.
Your hip flexors can also become tight, and your legs and glutes may weaken, for the same reason. However, the same study found that regular muscle contractions (using your muscles) can prevent these effects.
So, whether you're trying this session, going for a walk during the working day or taking time to stretch, it's well worth finding time to move your body every once in a while.
To see the benefits for themselves, our writer tried doing yoga every day for 30 days, and they were amazed to find they felt "stronger inside and out" by the end of the experiment.
If you want to break-up your habitual sitting adding some yoga into your weekly routine, take a read of our feature on anti-aging yoga moves. Or, if you're new to the practice, try these beginner's yoga exercises for building strength.
Get the Fit&Well Newsletter
Start your week with achievable workout ideas, health tips and wellbeing advice in your inbox.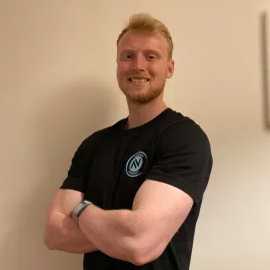 Harry Bullmore is a Fitness Writer for Fit&Well and its sister site Coach, covering accessible home workouts, strength training session, and yoga routines. He joined the team from Hearst, where he reviewed products for Men's Health, Women's Health, and Runner's World. He is passionate about the physical and mental benefits of exercise, and splits his time between weightlifting, CrossFit, and gymnastics, which he does to build strength, boost his wellbeing, and have fun.
Harry is a NCTJ-qualified journalist, and has written for Vice, Learning Disability Today, and The Argus, where he was a crime, politics, and sports reporter for several UK regional and national newspapers.