Best mattress toppers: Upgrade your bed and enjoy a sumptuous night's sleep
The best mattress toppers can transform your bed, helping you sleep better - and wake up happier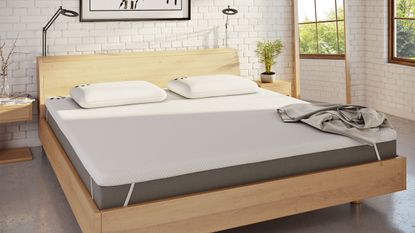 (Image credit: Panda)
Get the Fit&Well Newsletter
Start your week with achievable workout ideas, health tips and wellbeing advice in your inbox.
Thank you for signing up to Fit And Well. You will receive a verification email shortly.
There was a problem. Please refresh the page and try again.
The best mattress toppers can help ensure your bed is of Goldilocks-style standard. After all, we spend one-third of our lives in bed – and that's not counting the hours sat upright binge-watching Netflix.
If your current mattress feels a little worn but you're not quite ready to fork out for a new one, a mattress topper offers a quick fix. For a lot less cash, mattress toppers can give your existing bed a new lease of life by smoothing over any lumps and bumps and adding an extra layer of comfort and warmth.
In this article we've picked our top five of the best mattress toppers you can buy right now, chosen for their quality materials and stylish finishes. Topping our list is the DuPont Serica microfibre mattress topper from Sealy; a great all rounder due to its reasonable price, smooth finish and washable material. We've also highlighted The White Company's Platinum Goose Down mattress topper as the best premium for its light and luxurious feel.
How to choose the best mattress toppers for you
When it comes to finding a design that works for you, the choice is vast. 'Toppers come in a variety of materials including microfibre, latex, memory foam, feather, down and wool,' says Jessica Alexander from National Bed Federation.
'Which one you choose is generally a matter of taste as a topper is not a substitute for a correctly supportive mattress, but that said there are pros and cons to each material.'
Here are a few key points to consider when purchasing a mattress topper:
Natural fibres such as feathers will add a beautifully light bounce to your bed, while a down filling will give it warmth without feeling too bulky.
If you suffer from allergies, wool is a good option, but it can be pricey. Or, you can choose a more budget-friendly synthetic filling such as polyester.
Microfiber (designed to mimic feather) and hollowfibre (known for its springiness) are also great options.
Memory foam is also a safe bet as and can mould to the contours of your body, regulate your temperature and alleviate pressure while you sleep.
Before you buy, consider how firm or soft you want your topper to be – a firm topper can add structure to a mattress that feels too soft for example, while a soft topper can add a plump, hotel spa-like feel to a bed that feels too hard.
The density of your topper can often dictate this - some of the thicker memory-foam style designs can feel like a mini mattress, while the natural-feather ones feel a bit more cloud-like.
Also consider how the topper attaches to the bed – some come with a strap that simply folds over the underside of the mattress, while others come with material that grips on top of the mattress.
You can expect to pay anywhere from $40 / £30 to $300 / £250 for a good mattress topper, with many slashing companies slashing prices in the season sales - so it's always worth keeping an eye open for limited-time deals.
Read on to discover our mattress topper favourites below…
1. Sealy Select Response Mattress Topper
The best mattress topper for most people
Specifications
Materials: DuPont Serica microfibre
Depth: 5cm
Sizes: Single, Double, King, Super King
Reasons to buy
+
Soft microfibre designed to 'respond' to body
+
Non-allergenic
+
Can be washed and tumble dried
Sealy is well known for its range of beds, mattresses and pillows and we've pinpointed this topper for its reasonable price and well-designed structure.
Filled with a comfy DuPont Serica microfibre, the Sealy Select Response mattress topper is designed to respond to your body to keep you the optimum temperature at night. After a night sleeping on this topper, we were suitably impressed by its squishy offering and woke feeling refreshed.
The Sealy Response mattress topper has a great bounce to it without feeling too flimsy, too bulky or too firm - as Goldilocks herself would say, it's just right. The microfibre feels evenly spread within the topper pockets, and is nicely contained by the stylish piped edging.
While the Sealy Select Response mattress topper may not be made from the most luxurious of materials, it is a non-allergenic option and provides balanced support and a smooth surface on which to rest. It's easy to care for too as you can wash it on a warm wash (up to 40°C) and dry it in the tumble dryer afterwards.
2. The White Company Platinum Goose Down Mattress Topper
The best premium mattress topper
Specifications
Materials: 233-thread-count pure cotton cover, goose down & goose feather filling
Depth: 5cm
Sizes: Single, Double, King, Super King, Emperor
Reasons to buy
+
Luxurious feel
+
Breathable cover
Reasons to avoid
-
Expensive
-
Not ideal for asthma sufferers
A best-selling mattress topper for luxury retailer The White Company, this comfy design features two layers filled with sumptuous goose down and feather - the top layer has 80% fluffy goose down and 20% plump goose feather, while the base layer is made up of 100% goose feather.
These layers are covered with 233-thread-count pure-cotton casings, which make them soft and breathable. They are finished with a baffle-wall construction and ring stitching, which helps the soft and supportive fillings to spread evenly throughout so your body feels balanced as you sleep.
The mix of down and feather is great at providing warmth on chillier nights, but also feels light and luxurious to sleep on. While it's not a natural choice for allergy sufferers, it is machine wash and tumble dry safe, which makes it easy to maintain. Team it with The White Company's Egyptian cotton bed sheets and you'll wake up in boutique-hotel heaven.
3. Silentnight Impress Memory Foam Topper
The best budget mattress topper
Specifications
Materials: Memory foam
Depth: 2.5cm
Sizes: Single, Double, King
Reasons to buy
+
Great value
+
Hypoallergenic
+
Removable machine-washable cover
Reasons to avoid
-
Memory foam not for everyone
-
Too thin for some
A useful addition to memory foam or pocket sprung mattresses, this Silentnight topper is a reasonable 2.5cm thick. Whilst 5cm and 7cm-thick versions are also available, if you're just looking for something to take the edge off your existing mattress, then this design will provide a nice squidgy touch of support. It's made from soft and reactive memory foam and has a removable cover that can be machine washed with ease.
The surface of the topper provides an even and stable layer of comfort, and is just thick enough to cover any small, annoying bumps in an existing mattress. After a night's sleep we were impressed at how well the topper reacts to the body to support its position – it helped to minimise movement transfer during the night so we were remained blissfully unaware of our partner fidgeting on the other side of the bed too, which is always a bonus.
4. Soak and Sleep Soft as Down with Silk Mattress Topper
The best mattress topper for thickness
Specifications
Materials: Hollowfibre
Depth: 7cm
Sizes: Single, Double, King, Super King
Reasons to buy
+
Deep 7cm supportive layer
+
10% silk
+
Good for allergy sufferers
Reasons to avoid
-
Synthetic hollowfibre
-
Maybe too thick for some
The Soak and Sleep Soft as Down with Silk mattress topper is designed to add a 'blissful bounce' to your bed. It's made with a super squishy hollowfibre fill that is naturally springy and is designed to add a cloud-like layer of softness to your bed. Unlike some memory foam mattresses that can feel a little stiff, this mattress topper has a satisfying bounce to it when you lay down.
Carded pure mulberry silk has been added to this mattress topper, which not only gives it a luxurious dimension but will also help to regulate your body temperature as you sleep. What's more, at 7cm thick it's one of the thickest toppers we've tried - making it a great option if your mattress is particularly worn.
The topper can be popped in the washing machine on a cold wash (30°C), although the manufacturer suggests having it professionally dry cleaned if you want to keep it in tip-top condition for longer.
5. Panda The Topper
The best memory foam mattress topper
Specifications
Materials: 3rd generation memory foam and bamboo
Depth: 5cm
Sizes: Single, Small Double, Double, King, Super King
Reasons to buy
+
Antibacterial bamboo filling
+
30 night trial
Reasons to avoid
-
Not for fans of pure natural fillings
Made from third generation memory foam, Panda prides itself on its beautifully crafted toppers, which arrive neatly packaged in a branded cardboard box, similar to those stylish bed-in-a-box mattresses you can buy online.
At 5cm in depth, Panda's The Topper is more like a mini mattress than a simple cover. The topper is designed to mould to your body's natural shape while you sleep, helping to relieve pressure from your neck, shoulders and back. It comes infused with capsules of cooling gel to help regulate your temperature at night and keep you cool in the summer and warm in the winter.
What we like most about The Topper is its very tactile bamboo cover – a naturally antibacterial material that is particularly good for those who suffer from eczema, hay fever or just have sensitive skin. The cover can also be easily removed and washed.
We were also impressed by The Topper's double base layer – there are elastic strips to fold under your existing mattress as well as a silicone dot anti-slip layer to ensure your mattress stays firmly in place all night long.
Get the Fit&Well Newsletter
Start your week with achievable workout ideas, health tips and wellbeing advice in your inbox.
Emily Peck is a freelance journalist who writes for a range of lifestyle, home and tech publications. She has worked for the likes of Women & Home, Grand Designs, Ideal Home, Wired, Stylist and TechRadar, and covered a range of subjects, from the latest smart technology to testing the latest consumer products that are catching the zeitgeist: bee hives to vegan burgers and everything in between. As a writer she can often be found glued to her laptop during her spare time, so she is mindful of the need to reset and unwind during the week. To do this she can be found either playing the piano, practising pilates, at a boxing class or getting up at 6.30am to workout at a local boot camp. However, she finds the most effective form of exercise to be dancing around the living room with her two young kids. 'They love playing The Greatest Showman soundtrack really loudly and I often think we'd be perfect for the circus,' she says.