Fitness gifts: 50 best buys to give this Christmas
Shopping for the health and fitness obsessive in your life? These fitness gifts will help you hit a home run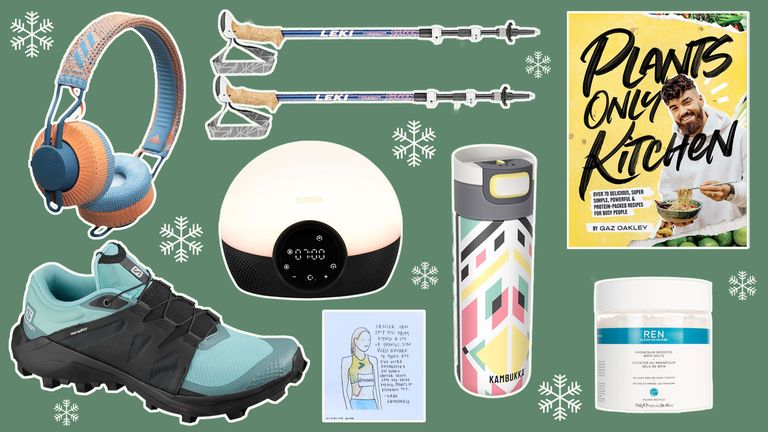 (Image credit: Various)
If you're looking for the best fitness gifts to give this festive season, you've come to the right place.
Welcome to this, our ultimate gift guide for anyone in your life with an interest in health and fitness. We've got fitness gifts for all your loved ones, from gym bunnies to yogis, runners to swimmers, whether they are taking their first steps into the workout world or the difficult-to-buy-for seasoned fitness fanatic.
You'll find practical products, thoughtful gift ideas and guaranteed-to-please presents from big-name brands and independent outlets in our Festive 50 list below. Happy Christmas shopping!
For those who don't like the fit or feeling of in-ear headphones, these Adidas over-ear 'phones are the answer to your ear-canal woes. They are designed to get sweaty, with removable covers you can chuck in the wash with your workout kit. Available in black, grey and this cool blue and coral color combo.
These new boots from Hoke One One will undoubtedly provide a talking point if conversation with your fellow ramblers runs dry. The moon boot/hovercraft-styled shoe provides unparalleled cushioning and comfort for the rockiest of trails.
Pulseroll Vibrating Peanut Ball
The Peanut is perfect for stashing in your gym bag and taking with you wherever you go. It vibrates at four speed settings, meaning it massages deep into your muscle tissue, and is perfect for muscles you can't reach with a foam roller.
SmartWool pHD Women's Pro Endurance Print Socks
It's all about bold socks for running or working out in. These are as showstopping as they get, but they are also durable, feature toe-specific cushioning and a narrow fit with a slimmer heel.
Yoga Design Lab cork block
Never feel like you're slouching during yoga again with this eco-friendly cork block. The cork makes for a grippy surface, and will help you progress to the more difficult poses you've given up on such as the rarely seen Handstand Scorpion. Shopping for a yoga lover? See our pick of the best yoga mats.
BeachBody Cordless Indoor Jump Rope
We're all now experts at indoor workouts. One thing most of use can't do indoors though is skipping. The BeachBody Jump Rope stamps all over that dated thinking as it's a skipping rope with no rope. Instead, it cleverly uses weighted ball bearings in the handles to give the feel of skipping.
You might have heard of Wim Hof – he's the Dutch 'Iceman' who advocates cold showers and jumps in frozen canals. But many athletes swear by his method, and this book teaches you his method by working on mindset, cold therapy and breathing.
Icebreaker Oasis Merino Crew
A baselayer is an essential addition to any fitness fan's wardrobe. Throw it on under a lightweight jacket for winter runs, layer it under a warm fleece and jacket for cold-weather hikes or just wear it on its own for a workout. This, from Icebreaker, is brimming with warm and sweat-wicking merino wool.
Leki Cressida Trekking Pole
Once you use a pair of hiking poles on a trek you'll never look back. You'll be powering up climbs and see reduced fatigue over long distances. The telescopic Cressidas feature a unique shock-absorption system to help you hike even more smoothly.
If your loved ones have resolved that 2021 is the year they finally get fit, this is the gift to help them on their way. The workouts in this bookazine are all created by top fitness experts. They feature three degrees of difficulty – Beginner, Intermediate and Tough – with three or more varied weekly sessions, plus loads of other inspiration features to get the motivation pumping. To see more great titles like this one, head to magazinesdirect.com.
Garmin's latest health smartwatch does everything you expect from a high-end health monitor, from tracking your workout, sleep, pulse ox, heart rate, hydration, respiration, stress and menstrual cycle to offering mindful breathing, Garmin Coach workouts and Garmin Pay contactless payment. All this while looking like a luxe piece of kit on your wrist, making it one of the best fitness watches around.
Forget startlingly-yellow high-viz jackets – Rapha makes more stylish cycling gear. This new winter jacket now features triple-layer Gore-Tex fabric to keep out the most horror-show of weather, while helping to regulate your body temperature via its next-level breathability. Looks great, too.
Ultimate Direction Adventure Vesta 4
The, ahem, ultimate in running packs – this fits tightly, is adjustable, stretchable, features a trekking pole holder, two soft bottles in the front pockets for easy access and plenty of room to stash jackets, food and first aid in the main section.
Looks like something you should be grating over a crab linguini, but is actually for shaving callouses and hard skin off the sole of your foot. Sounds gross, is actually great. For the runner in your life who has a reputation for neglecting their gnarled feet.
Reusable water bottles are a dime a dozen these days, so why get this one? Tentree plants trees for every item it sells, so if you purchase this you can feel slightly smug that your water is kept cold while it does some good. Check out more of the best water bottles for the gym in our handy guide.
For runners looking for a trainer that does everything, whatever distance and speed you are aiming for, Saucony's Ride 13 is the perfect gift. It fits well and is well-cushioned and responsive, meaning you can depend on it for a 5k training run or a marathon. Shopping for a runner? We've picked the best running shoes for men and the best running shoes for women.
As the weather gradually drops in quality, and walks or runs outdoors increasingly take place in a relentless, biting headwind your skin shows how unhappy it is by completely drying out. This pack contains everything runners need for their skin, including anti-friction balms, a weather defence cream and a warm-up cream.
Northcore Zen Balance Board
You don't have to use the words "gnarly" or "stoked" to get a kick out of using a balance board – they are ideal for building core strength and balance as well as aiding your skills in the surf, powder or skatepark.
We all do it, thousands of times a day, and most of use barely give it another thought. But changing the way you breathe can change your life, claims author James Nestor. He talks to scientists, experts and athletes and recommends exercises to help you become a better breather.
Plug-in blenders are so 2019. This year is all about the portable blender, despite the fact we all travelled much less further than normal. This is compact, USB-chargeable and easy to sling in your bag to whizz up a fresh smoothie while you're on the move. For non-portable options, see our pick of the best blenders.
JaxJox Kettlebell Connect 2.0
The future of at-home workouts – a fully adjustable kettlebell that changes weight at the press of a button. It ranges from 5.5kg to 19kg, and allows you to alter the weight in increments of 3kg. It also tracks your workout via the JaxJox app, meaning you can monitor your reps without losing count in your head. Want more weights? See our pick of the best adjustable dumbbells.
Ellia Adore Ultrasonic Essential Oil Diffuser
If you feel life is getting on top of you, the best diffusers for essential oils can help you relax and improve your mood. This one It releases fine mists of Ellia essential oils while also humidifying the air and gently changing colour through soothing light sequences.
Inspirational Athletic Prints by PhDistance
This range of tiny artwork by 'tiny art' painter Jaqueline makes for the perfect gift for the sports lover in your life. The range of simple line drawings with watercolour feature inspirational feats and quotes by women, from US marathoner Des Linden to 2020 London Marathon winner Brigid Kosgei.
A Year of Mindfulness Journal
Now more than ever, mental fitness is just as important as physical fitness. Mindfulness has been the mental health buzzword for the last few years, and with good reason - it's an effective way to quiet the mind. This handy week-by-week journal encourages reflection through written tasks, and also explains mindfulness concepts in a simple, inspiring manner.
Inject a little Michael Phelps into your swim session by strapping on the latest pair from his range. The Ninjas are a sleek, minimal, mirrored pair of goggles that will help you channel the most decorated Olympian of all time even if you are just doing leisurely breaststroke lengths in your local leisure centre.
A front-zipping sports bra that's easy to put on and take off, is lightweight, doesn't restrict breathing and is constructed from a soft material – the Dare will quickly become your go-to running bra. For more shopping options, see our pick of the best sports bras.
Totally FKT: Breaking the Pennine Way Fastest Known Time
Seeing as no one buys DVDs any more, how about giving someone the gift of a film to stream this Christmas? Totally FKT follows two ultra-runners – Brit Damian Hall and American John Kelly – as they attempt to smash the fastest known time for running the UK's Pennine Way within days of each other. There's mud, swearing and lots of tea.
Lululemon The (Small) Towel
Whether you're maxing out your heart rate on the exercise bike, doing intervals on the treadmill or an hour of Bikram yoga, chances are sweat will be dripping. Lululemon's super-absorbent microfibre towel is exactly the right size for hanging over your handlebars ready to dab your brow/face/neck when the perspiration tap opens.
Oofos OOahh Sport Recovery Sandals
If you often find yourself hobbling around after a run or workout, these are the sandals you should be slipping on to help your muscles recover. Oofos shoes are designed to sooth your aching joints thanks to their unique impact-absorbing foam construction.
Want to make winter running a joy rather than a chore? A high-quality waterproof jacket changes everything. On's Weather jacket looks the part, is extremely lightweight and packs down into a pocket so you can stash it away if the sun comes out.
REN Magnesium Booster Bath Salts
If you're regularly experiencing a fatigued body (and let's be honest, who isn't?) a handful of this this in your bath will make a significant difference. Soak in the salts extracted from the Zechstein sea and feel your tense muscles slowly begin to unravel.
Jack Wolfskin Proton 18 Pack
Whether you're a runner or a cyclist or just want some extra illumination on your walk into work on winter days, Jack Wolfskin's new Proton pack features a bright red LED lining that lights up like a Christmas tree. No one will miss you, whether you're on the road or pavement.
Lumen Home Metabolism Device
A revolutionary new way of tracking your metabolism – simply breathe into the Lumen and you're provided with a wealth of data. It tells you whether you are currently burning more fat or carbs, and then recommends everything from whether you have enough energy to do your workout to what you should eat for lunch.
A perfect introduction to the world of running headlamps for those who pound lit urban streets but want a little more illumination at night. The Bindi is USB-chargeable, and features a thin elastic strap that can easily be tightened or loosened mid-run.
Plants Only Kitchen by Gaz Oakley
Whether you're a vegan or not, this cookbook is packed full of simple recipes that will quickly become staples. They are easy to follow, don't use obscure ingredients and are perfect for anyone looking to take part in Veganuary.
Salomon Wildcross Trail Running Shoes
For the runner who likes to wade through the worst conditions. Salomon make some of the best trail running shoes on the market, and these feature long, multidirectional lugs on the sole to help you power through the bogs most sensible runners would skirt around. They're great in the snow too, so perfect for when the blizzards hit.
How does a gentle start to the new year sound, waking up slowly to a clock mimicking the sun rising in your bedroom rather than anxiously checking your phone to see what the latest news is? If that appeals, this sunset-based alarm clock can also wake you to eight different sounds including bleating goats, if that's your thing.
Sundried Solaro Women's Vest
The ideal do-it-all vest, for whatever at-home workout you choose or alternatively hitting the streets for a run when the weather warms up. It's soft, light, sweat-wicking and features an extra-long design.
These wireless earbuds are designed to keep playing during your toughest workouts or runs, in the gym or on the streets. They lock into the ear tightly, are water- and sweat-resistant and also allow ambient noise through so you can hear what's around you. See more of the best workout earbuds in our expert guide.
Sachi Organics Buckwheat Neck Pillow
A pillow filled with buckwheat hulls… bear with us on this, as many users claim it has completely transformed their sleep. Especially transformative for those suffering from neck pain, the pillow moulds to your shape, provides better ventilation and its even claimed to reduce headaches.
Inov-8 Extreme Thermo Mitts
You peel back the curtain, pristine glistening snow covers everything. Normally you'd consider climbing back into bed. Not with the Thermo Mitts – pull them on and head out into frostiest of conditions and, with these on, you'll still be able to undo your laces at the end.
JBL Flip 5 Eco Edition Bluetooth Speaker
The latest version of the waterproof Flip is made from 90% recycled plastic, so you can sling it in your bag, take it to the park while you work out in the sun and feel like you're helping the environment just a tiny amount.
Nimble High Rise 7/8 II Leggings
The ideal gift for yoga lovers – the High Rise 7/8s are super-smooth and feature a high waist. Best of all the bold print comes in four different colours and they are fully squat-proof. For more options, see our edit of the best workout leggings.
Sure, your sports watch might have a wrist heart-rate sensor, but have you ever wondered how accurate it is? Chest straps provide a more accurate reading, especially during harder workouts such as HIIT or intervals. The Wahoo TICKR heart rate monitor is one of the best heart rate monitors around. It connects to multiple apps and devices, including three things simultaneously via Bluetooth.
HoMedics Physio Massage Gun
Aid your recovery with this massage gun – comes with five massage heads and three speeds, so you can target knots and strains and help speed up their recovery. Particularly useful for runners who never bother to stretch (i.e. pretty much every runner).
Adidas Terrex Agravic Split Shorts
Featuring a lightweight and athletic design, these running shorts will help you feel more nimble whether you're leaping up your local hill or upping the incline on the treadmill. They are also produced sustainably using yarn made from ocean plastic.
Yogi Bare Wild Paws Extreme Grip Yoga Mat
Yogi Bare is a company with a focus on sustainability – this mat is made from rubber sourced from a sustainable forest, is biodegradable and with each Wild Paws mat sold they plant a tree. Not only that, but the grippiness will mean no slipping during Downward-Facing Dog. For more options, check out our guide to the best yoga mats.
You rarely think about your ears on a winter run, but when they are exposed to the frosty air they can quickly become painful. Solve that problem by wrapping them in Sweaty Betty's toasty ear warmer, complete with a soft fleece lining and reflective panels for visibility in the dark.
This 500ml bottle can keep liquids hot (for nine hours) or cold (for 18 hours), so is great for either filling with a piping hot coffee or iced water - making it one of the best water bottles for hiking. It comes in a range of bold colours and designs and can even come with a filter for loose leaf tea.
New Balance Impact Run Heat Tights
It's definitely the weather for running tights now, and they can make a huge difference to your enthusiasm and staying power when it's cold outside. These feature New Balance's Heat technology to keep your legs warm and wick away sweat.
One Trail Hands Free Dog Leash
Combine your run with walking your dog with a hands-free lead. The snug-fitting bum bag has room for treats and dog bags and it doesn't bounce as you run. Perfect, and the added bonus is the dog can pull you along if you're flagging.
Running The Dream by Matt Fitzgerald
Matt Fitzgerald is an American writer who has written about running for most of his life. Now in his forties, he wondered what would happen if he trained like an elite runner. Just how fast could he get? To find out he trains with a college team half his age.
Howard is a freelance health and fitness journalist and copywriter. He has written for publications including ShortList, Runner's World, Trail Running, Women's Running, Red Bulletin, Wareable and Cycling Weekly. He enjoys nothing more than lacing up his trail shoes and heading out to explore new trails. He's run ultramarathons everywhere from the French Alps and Canadian mountains to the Welsh coast and Peak District. When not running, he's usually found hitting his local MTB singletrack trails or on a quest to find the country's best cinnamon bun.