Best fitness gifts 2021: present ideas for workouts and mindfulness
All the best fitness gifts this year, including presents for training, sleep, and nutrition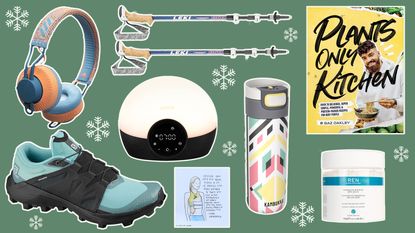 (Image credit: Various)
Get the Fit&Well Newsletter
Start your week with achievable workout ideas, health tips and wellbeing advice in your inbox.
Thank you for signing up to Fit And Well. You will receive a verification email shortly.
There was a problem. Please refresh the page and try again.
Find all of this year's best fitness gifts in one place here. We've included a huge range of things to buy for the fitness fans in your life (or yourself, we won't judge). And it's not all about the serious fitness fanatics either. You'll find plenty of ideas for those that take their sleep routine seriously, enjoy mindfulness, and also anyone who wants to start out with a new wellness regime.
We're all about celebrating being, well, Fit and Well so giving someone the gift of something for self-care, investing in their health, or simply something they'll love using is a present well worth buying.
Whether you're after the latest fitness tracker, a massage gun, or some bath salts for soaking after a workout, find them all below in this guide to the best fitness gifts 2021.
Best fitness gifts to shop right now
Apple Watch Series 7
The best fitness gift for all-round tracking
Another year, another Apple Watch update, and this time, the screen is bigger than ever. If you want a great watch that can track every style of heart rate, whilst also looking stylish, then this is the one. Plus, it connects to your iPhone for notifications and alerts.
Not for you? Check out the best fitness trackers.
Skullcandy Push Active True Wireless Earbuds
The best fitness gift for endless tunes
These comfy headphones don't just play great sound, but they're also ideal for exercising as they simply do.not.budge. Plus, Skull-iQ - the hands-free voice control - allows users to give commands to play/pause/accept calls and even request tracks on Spotify.
Find other options in our best workout earbuds guide.
Myzone MZ-Switch
The best fitness gift for heart rate tracking
The world's first interchangeable heart rate monitor can be used on the chest, arm, or wrist and uses both PPG and ECG heart rate tracking, for super-accurate monitoring. Basically, if you REALLY want to know what your heart is doing in a workout, this is the tech you need.
There are other ideas in our best heart rate monitors round-up too.
Amazon Basics Aluminum Handle Speed Jump Rope
The best fitness gift for skippers
Skipping is a serious calorie burner, plus you can never run out of tricks to master. Need to give someone a fitness gift that's portable but provides an epic workout? Then give them the gift of skipping! Just mind the whips...
Bowflex SelectTech 840 adjustable Kettlebell
The best fitness gift for home resistance workouts
Essentially, six different kettlebells in one, ranging from 8 to 40 lbs (3.5kg to 18kg). Simply use the selector dial to quickly and easily change between the weights. This is also great for households where users have varying strength levels; no need for a range of weights anymore!
Need more? Check out the best adjustable dumbbells right now.
Withings Connected Scales Body Cardio
The best fitness gift for tracking body stats
Scales have gone up a peg or two. With these, don't just measure your weight, but measure your fat percentage, bone and muscle mass, and even your body's water percentage too. Plus, you can also track your vascular age and receive personal coaching.
Contigo Autoseal Chill Water Bottle
The best fitness gift for staying hydrated
Pretty patterns make hydration fun! These bottles keep cold drinks cold for 28 hours, plus the Autoseal technology ensures they're spillproof. This is as glam as you'll get in a water bottle.
Find plenty more ideas in our best water bottle for gym guide.
Fit in 30 Bookazine
The best fitness gift for readers
If your loved ones have resolved that 2022 is the year they finally get fit, this is the gift to help them on their way. The workouts in this bookazine are all created by top fitness experts. They feature three degrees of difficulty – Beginner, Intermediate and Tough – with three or more varied weekly sessions, plus loads of other inspiration features to get the motivation pumping. To see more great titles like this one, head to magazinesdirect.com.
RENPHO R3 3200rpm Handheld Percussion Muscle Massager
The best fitness gift for home massage
Every fitness fan needs a massage gun. Not only do they help relax muscles, but they can seriously attack tight knots and relieve tension. These are also ideal for those who carry heavy bags as well as office workers who are constantly hunched over keyboards.
Looking for other ways to soothe post-workout aches? Check out the best foam rollers.
Hammerhead Karoo 2
The best fitness gift for cycling GPS
This GPS bike computer makes it easy for cyclists to follow structured workouts and routes and also connect to Strava and other cycling apps, all alongside a smartphone-like responsive touchscreen. Plus, it comes with anti-glare texturing and droplet rejection, so you can ride whatever the weather.
Philips SmartSleep Wake Up Light
The best fitness gift for better sleep
A stylish wake-up light is perfect to mimic brighter mornings, just like a real sunrise. The light slowly lights up as your chosen time, to allow the body to wake up naturally. Plus the white LED light can help tackle the symptoms of SAD.
Find alternatives in the guide to the best sunrise alarm clocks.
Saucony Ride 13
Best fitness gift for keen runners
For runners looking for a trainer that does everything, whatever distance and speed you are aiming for, Saucony's Ride 13 is the perfect gift. It fits well and is well-cushioned and responsive, meaning you can depend on it for a 5k training run or a marathon. Shopping for a runner? We've picked the best running shoes for men and the best running shoes for women.
Dr Teal's Foaming Bath Soothe & Sleep
The best fitness gift for a soothing bath
Help fitness lovers to recover from exercise with a relaxing bath that will help soothe aches and pains whilst also giving the mind a little respite too. Simply add to a tub of warm water and feel the tension just slip away!
Innermost The Fit Protein
The best fitness gift for hitting protein targets
We all know the importance of protein for muscle growth and repair, but sometimes it can be hard to get enough. Not everyone wants to carry chicken, fish, and eggs around. So, a protein powder can help. This one is super tasty alone as well as when it's added to a smoothie.
We've also rounded up the best protein powder for weight loss.
Nutribullet Magic Bullet Mini Blender
The best fitness gift for smoothie lovers
The first-ever cordless blender from NutriBullet. This is super compact and fits into handbags, gym bags, and even a big coat pocket! The charge time is also speedy so you'll never be without a trusty smoothie. For non-portable options, see our pick of the best blenders.
JaxJox Kettlebell Connect 2.0
The future of at-home workouts – a fully adjustable kettlebell that changes weight at the press of a button. It ranges from 5.5kg to 19kg, and allows you to alter the weight in increments of 3kg. It also tracks your workout via the JaxJox app, meaning you can monitor your reps without losing count in your head. Want more weights? See our pick of the best adjustable dumbbells.
Microplane Bowl Grater
The best fitness gift for your 5-a-day
If you know someone who is a fan of courgetti for dinner, or someone who loves cheese on their pasta, then get them this. It easily and efficiently grates vegetables, fruit, and hard cheeses directly and neatly into a container or bowl.
A Year of Mindfulness Journal
The best fitness gift for mindfulness
Now more than ever, mental fitness is just as important as physical fitness. Mindfulness has been the mental health buzzword for the last few years, and with good reason - it's an effective way to quiet the mind. This handy week-by-week journal encourages reflection through written tasks, and also explains mindfulness concepts in a simple, inspiring manner.
Phelps Ninja Goggles
The best fitness gift for swimmers
Inject a little Michael Phelps into your swim session by strapping on the latest pair from his range. The Ninjas are a sleek, minimal, mirrored pair of goggles that will help you channel the most decorated Olympian of all time even if you are just doing leisurely breaststroke lengths in your local leisure centre.
Brooks Dare Zip Run Bra
The best fitness gift for workouts
A front-zipping sports bra that's easy to put on and take off, is lightweight, doesn't restrict breathing and is constructed from a soft material – the Dare will quickly become your go-to running bra. For more shopping options, see our pick of the best sports bras.
KitchenAid Cordless Hand Blender
The best fitness gift for easy homemade soups
An item from KitchenAid is a must in any cook's kitchen. This blender is ideal for whizzing up healthy, homemade dishes like soups, pesto, and homemade curry pastes.
Jack Wolfskin Proton 18 Pack
The best fitness gift for safety
Whether you're a runner or a cyclist or just want some extra illumination on your walk into work on winter days, Jack Wolfskin's new Proton pack features a bright red LED lining that lights up like a Christmas tree. No one will miss you, whether you're on the road or pavement.
Petzl Bindi
The best fitness gift for night time running
A perfect introduction to the world of running headlamps for those who pound lit urban streets but want a little more illumination at night. The Bindi is USB-chargeable, and features a thin elastic strap that can easily be tightened or loosened mid-run.
Salomon Wildcross Trail Running Shoes
Best fitness gift for trail runners
For the runner who likes to wade through the worst conditions. Salomon make some of the best trail running shoes on the market, and these feature long, multidirectional lugs on the sole to help you power through the bogs most sensible runners would skirt around. They're great in the snow too, so perfect for when the blizzards hit.
Lumie BodyClock Glow 150
Best fitness gift for sleep hygiene
How does a gentle start to the new year sound, waking up slowly to a clock mimicking the sun rising in your bedroom rather than anxiously checking your phone to see what the latest news is? If that appeals, this sunset-based alarm clock can also wake you to eight different sounds including bleating goats, if that's your thing.
Sachi Organics Buckwheat Neck Pillow
Best fitness gift for relaxing
A pillow filled with buckwheat hulls… bear with us on this, as many users claim it has completely transformed their sleep. Especially transformative for those suffering from neck pain, the pillow moulds to your shape, provides better ventilation and its even claimed to reduce headaches.
Inov-8 Extreme Thermo Mitts
Best fitness gift for keeping warm
You peel back the curtain, pristine glistening snow covers everything. Normally you'd consider climbing back into bed. Not with the Thermo Mitts – pull them on and head out into frostiest of conditions and, with these on, you'll still be able to undo your laces at the end.
JBL Flip 5 Eco Edition Bluetooth Speaker
Best fitness gift for workout music
The latest version of the waterproof Flip is made from 90% recycled plastic, so you can sling it in your bag, take it to the park while you work out in the sun and feel like you're helping the environment just a tiny amount.
Wahoo TICKR
Best fitness gifts for stat lovers
Sure, your sports watch might have a wrist heart-rate sensor, but have you ever wondered how accurate it is? Chest straps provide a more accurate reading, especially during harder workouts such as HIIT or intervals. The Wahoo TICKR heart rate monitor is one of the best heart rate monitors around. It connects to multiple apps and devices, including three things simultaneously via Bluetooth.
HoMedics Physio Massage Gun
The best fitness gift for DOMS
Aid your recovery with this massage gun – comes with five massage heads and three speeds, so you can target knots and strains and help speed up their recovery. Particularly useful for runners who never bother to stretch (i.e. pretty much every runner).
Adidas Terrex Agravic Split Shorts
Best fitness gift for running fans
Featuring a lightweight and athletic design, these running shorts will help you feel more nimble whether you're leaping up your local hill or upping the incline on the treadmill. They are also produced sustainably using yarn made from ocean plastic.
Yogi Bare Wild Paws Extreme Grip Yoga Mat
The best fitness gift for yogis
Yogi Bare is a company with a focus on sustainability – this mat is made from rubber sourced from a sustainable forest, is biodegradable and with each Wild Paws mat sold they plant a tree. Not only that, but the grippiness will mean no slipping during Downward-Facing Dog. For more options, check out our guide to the best yoga mats.
Sweaty Betty Earwarmer
The best fitness gifts for colder days
You rarely think about your ears on a winter run, but when they are exposed to the frosty air they can quickly become painful. Solve that problem by wrapping them in Sweaty Betty's toasty ear warmer, complete with a soft fleece lining and reflective panels for visibility in the dark.
Kambukka Etna
Best fitness gift for keen walkers
This 500ml bottle can keep liquids hot (for nine hours) or cold (for 18 hours), so is great for either filling with a piping hot coffee or iced water - making it one of the best water bottles for hiking. It comes in a range of bold colours and designs and can even come with a filter for loose leaf tea.