Best sleeping positions: avoid pain and sleep better
Trouble sleeping? Find out the best sleeping position for you, based on your personal needs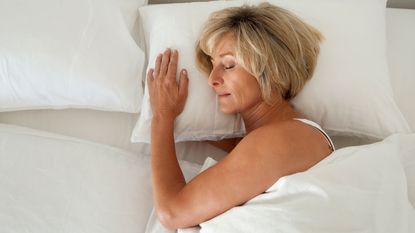 (Image credit: Getty Images)
We all know that the key to achieving better health and wellbeing starts with a good night's sleep - and finding the best sleeping position for you plays a key part in achieving that.
Sleep is so important to reset the body and mind. If your sleep is disturbed you can feel fatigued, have low energy and unmotivated by the time the morning sun rises.
The problem is that no two people are the same, so the best position for sleeping will differ from person to person - especially when health conditions such as sciatica or arthritis are present.
It's therefore important to seek out a sleeping position tailored to your needs in order to get a comfortable night's sleep.
Sleep expert and founder of Levitex sleep posture products James Leinhardt specialises in improving posture to ease pain. He believes that finding the best sleeping position for you can help with aches and pains experienced in our waking lives too.
'We generally spend as much time in bed as we do at work, so this is the ideal time to correct daytime posture problems with good sleep posture, focusing on the health of your spine.'
He adds: 'If you struggle to get to sleep, stay asleep, move or turn in bed because of pain, then much of that may be down your sleeping postures and your lying surface.'
Below we share how to sleep to reduce pain and prevent continuous tossing and turning with a few key adjustments and sleeping props.
Best sleeping position for neck pain
When neck pain is an issue, it can seem impossible to find a comfortable position to sleep. In this situation, the most important thing is to consider is a pillow that fully supports your neck.
Leinhardt says: 'Supporting your head and neck with the correct pillow is probably half the battle. Choosing the best pillow for neck pain is an obvious and comparatively cheap way of attending to your spine health with limited effort.'
If you have found yourself searching for the perfect pillow, where some are too low and others too high, fear not. Levitex produces patented foam pillows which are targeted to reduce neck and back pain during sleep. They have been used sports professionals, such as the Team GB Olympians.
Best sleeping position for shoulder pain
Most people experience the least amount of shoulder pain when sleeping on their backs, but if sleeping on your back for long periods of time isn't comfortable for you, then consider a sleeping position on the opposite side of your body to your bad shoulder.
You can also avoid aggravating shoulder pain while you sleep by investing in a quality body pillow like those from Bbhugme for added support.
Dr Hilde Tavares, founder of Bbhugme, explains how he has seen a demand in customers wanting to purchase the renowned pregnancy body pillow despite them not actually being pregnant.
'Ever since we launched it onto the market, we have seen people buying it for reasons other than pregnancy. Many due to so-called general aches and pains, which can make it really hard to get proper rest and sleep, and many simply because they want an adjustable body pillow for added comfort and that luxury feeling.'
Best sleeping position for upper back pain
'We are told by physiotherapists that anyone suffering from upper back pain should sleep on their side,' says Leinhardt. 'However, the benefit of that position that is totally dependent on having an appropriate lying surface. Too soft and the person will become banana shaped, and if too firm the bed will not accommodate their unique body shape.'
He also adds: 'If the mattress provides the correct level of envelopment and immersion and is complimented by a pillow that keeps the person's head fully supported with reduced pressure driven through the shoulder, hips, knees, and ankles, then I would promote side sleeping.
"Generally speaking, lying on your back provides the most even body weight distribution, however it also requires more stability to maintain a neutral spine.'
Best sleeping position for lower back pain
'Most physiotherapists will generally suggest side lying to their patients, as you put far less tension through your body,' Leinhardt explains.
However, if you have tried this on numerous occasions without any improvement to your sleep then he has another suggestion.
'Add a pillow or place the duvet between your knees and ankles to keep your top hip parallel to the bottom hip. This takes unnecessary pressure off the knees and ankles and keeps the hips neutral, which will put less stress on your back at night.'
Best sleeping position for hip pain
Avoid aggravating hip pain while you sleep with key sleeping positions.
'It used to be that hip surgeons would require a person to stay on their back for six weeks after a hip replacement, but that advice has changed recently,' Leinhardt confirms. Consider sleeping on a memory foam mattress topper, like the Panda gel-infused memory foam bamboo mattress topper - one of our top-5 picks of the best mattress toppers. It has received over 800 rave reviews on Amazon and is designed to relieve pressure points when sleeping on your back and side.
'From our experience, if the hip is supported with a pillow to remain neutral, side lying is again beneficial, so I would urge the vast majority of people to sleep on their side to either ease pain or prevent it and hopefully sleep better in the process,' Leinhardt asserts.
Best sleeping position for sciatica suffers
Generally speaking, sleeping on your back and side is considered the safest and most comfortable position for sciatica suffers, to avoid putting pressure on the sciatic nerve.
Avoid the common foetal position, which causes shooting pains down your lower back, legs and buttocks and pins and needles in your feet.
What should be a priority is investing in the correct sleeping props: choose a plump pillow for your head, a body pillow to reduce pressure on your lumbar spine and a firm mattress which supports spinal alignment.
Best sleeping position for arthritis
Depending on the type of arthritis you have, the most important thing to remember is to keep your spine straight and to sleep in a position that won't allow your joints to go under any added pressure at night.
It is recommended to sleep on your back or side to keep your spine in line, and sleep on a supportive pillow that moulds around your neck and head, combined with a firm mattress to support and ease pain.
Best sleeping positions when pregnant
Having a large baby bump and associated aches can prevent women from sleeping well. Getting comfortable at night is one of the main contributors to insomnia in pregnancy, not to mention all those additional toilet trips.
The recommended sleeping position for pregnancy is sleeping on your left side with legs bent and a body pillow inserted between the legs. This position is said to be the most comfortable, as well as offering the most support for your baby.
Get the Fit&Well Newsletter
Start your week with achievable workout ideas, health tips and wellbeing advice in your inbox.
Kirsty is an accomplished journalist specialising in the wellness industry. She has previously written for titles including Grazia, Popsugar, Metro.co.uk, Elle UK and the Sunday Telegraph. You'll find her running around Windsor Great Park at 6am most mornings (before her toddler, Clementine Lilac, wakes up), followed by a virtual barre class with the team at Psycle London – where that barre burn is just so addictive. Kirsty loves to stock up on new activewear; because, let's face it, you can never have too many pairs of sculpting leggings. She's always keen to try/endure the latest workouts to come to London. Kirsty also enjoys rustling up nutritious family meals and indulging in her newfound hobby: flower pressing.