Best SAD lamps: Brighten your home and tackle seasonal affective disorder
The best SAD lamps can help ease the symptoms of seasonal affective disorder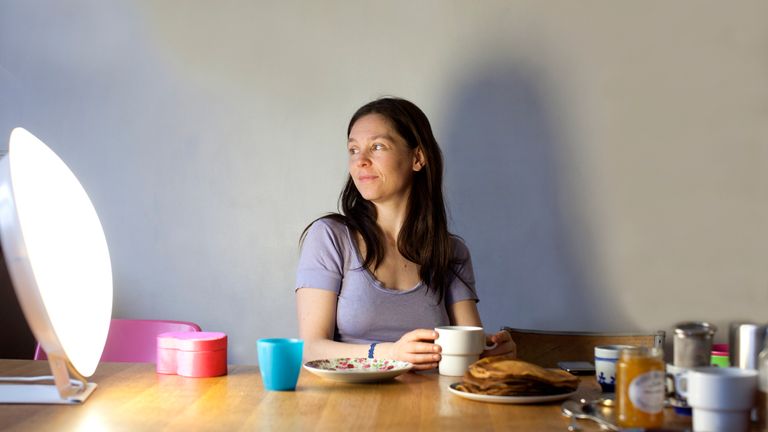 (Image credit: Getty Images)
We all know that sunshine is a great mood booster, so it makes sense that a lack of natural light could make us feel a little low.
This condition is known as Seasonal Affective Disorder (or SAD) and it affects about 10 million Americans annually. It's sometimes known as the 'winter blues' but the truth is this type of depression can come and go with the changing seasons all year round. If you have a dark working space with little natural light, this can also trigger similar feelings of low mood and lethargy.
Other common SAD symptoms include craving carbs, a tendency to over-eat, irritability and difficulty in finding pleasure in simple things, explains Bio-Kult nutritional therapist Hannah Braye.
That's where SAD lamps, a form of light therapy, can help. Also known as light boxes, these clever gadgets influence our body chemistry by mimicking outdoor light – a natural mood booster - to make us feel more alert and positive. They also boost the body's serotonin levels, our 'happy hormone'.
As family medicine practitioner Robert Cain adds: "Long periods of dark and a lack of sun exposure gets your sleep-wake rhythm thrown off and sun lamps help reset it."
"Any doctor who treats depression — a primary care provider, psychiatrist or psychologist — can recommend light therapy, but you don't need a prescription to buy a sun lamp."
Dr Cain says the lamps can also help children who suffer from SAD, so talk to your doctor to see if it's a good option.
"If a child has been diagnosed with depression, I wouldn't hesitate to recommend it," he says. "I think it's pretty safe. Just make sure they don't look directly at the light."
So where do you start? We recommend investing in the TaoTronics TT-CL016 Light Therapy Lamp, which is affordable, portable and it has a sleek and compact design. If you are on a budget, the Tecboss Light Therapy Lamp is excellent value.
How to choose the best SAD lamp for you
Probably the most important consideration is the brightness of the SAD lamp. Experts recommend that you opt for one with at least 10,000 lux (the measure of brightness). 10,000 lux is also the minimum brightness needed for the lamp to be medically certified. Another feature to look for is that the lamp gives off little, or no, UV light. This is so it won't damage the eyes.
Next, think about what size lamp you need. Many of them are portable or in tablet shape, so they are easy to put in your bag and take to the office or away on vacation. Some SAD lamps are also reading lights, so they make a great addition to the bedroom.
The light needs to be directed to both eyes so look for one that has a few options when it comes to positioning. Some have movable stands in both portrait and landscape, so you can change positions depending on your needs.
Often these SAD lamps have low blue light (know to help balance the sleep-wake cycle) and the more expensive ones come with extra feature like radios, USB ports and light alarms, or dawn stimulators, which can help you wake up more naturally than a traditional alarm. These dawn stimulators work by mimicking a sunrise and slowly getting brighter to wake you up. But it's important to be aware that these tend not to be as bright as SAD lamps, so won't be as effective in treating the symptoms of Seasonal Affective Disorder.
Another consideration is how energy efficient is the lamp – something that will help reduce your bills and is better for the environment.
It's always advisable to check with your doctor or healthcare professional if light therapy is a good option for you. Once you've got the go ahead, then read on to see our pick of the best SAD lamps.
The best SAD lamps you can buy right now
TaoTronics TT-CL016 Light Therapy Lamp
The best SAD lamp for most people
Specifications
Brightness: 10,000 lux
Light settings: Adjustable (20% - 100%)
Timer: 30 minutes
Reasons to buy
+Ultra thin and lightweight+Modern tablet design+90 degree rotatable stand
Reasons to avoid
-Easy to knock over-Buttons can be overly sensitive
If you're just dipping your toe into the world of light therapy, this tablet-style, portable SAD lamp is for you. It's ultra-thin, compact and really easy to use - no wonder it scores 4.8 stars out of 5 on Amazon.
You can adjust the position of the lamp to vertical or horizontal, making it easy to fit your space. It's very lightweight – just 1.5lbs – so it's easy to transport to the office or on holiday, helped by a handy carry bag.
Like many of its competitors it uses LED tech to create a flicker-free UV-free glare. The ability to increase or decrease the intensity is a major plus (although the touch controls can be a little overzealous at times), plus comes with a built-in timer. A great little lamp that packs a punch.
Innolux Aurora Designer SAD Lamp
The best premium SAD lamp
Specifications
Brightness: 10,000 lux
Light settings: Dimmer
Timer: No
Reasons to buy
+Stylish Scandinavian design+Great light distribution
Reasons to avoid
-High price tag-Large size
Modern and chic, the Aurora is Scandinavian-designed and we love that it doubles up as a standard table lamp: the dimmer switch means you can quickly change to mood lighting. It uses highly energy efficient bulbs that work for over 10,000 hours and provides a safe, glare-free, UV-free brightness of 10,000 lux.
It's a little more on the pricey end of SAD lamps on the market, but if you're looking for something stylish that also really works, then this is a great option. It offers great light distribution, has a weighty base that keeps it from knocking over - although, be warned, it will take up a fair bit of space. But if you want your SAD lamp to make a statement, this it the perfect choice.
TECBOSS Light Therapy Lamp
The best budget SAD lamp
Specifications
Brightness: 10,000 lux
Light settings: 3 color & 5 brightness options
Timer: Yes
Reasons to buy
+Easy to operate+Excellent value
Reasons to avoid
-Basic design-Quite small
Excellent value, portable and so easy to use a four year old can operate it, the TECBOSS sunlamp really delivers. It may be small - it only weighs 1.5lbs - but it's super bright (choose from five brightness levels), has a full 10,000 lux and three colour options to work through (white, natural or warm light).
The night light option is also great for young kids, while the timer and automatic switch off is energy efficient and prevents over-usage. It's well made, includes an adjustable stand and is UV-free. We loves the user-friendly memory function that allows you to keep your preferred settings, meaning you are good to go as soon as you want to use your lamp. A great all-rounder and an all-round great price!
Lumie Bodyclock Shine 300
The best SAD lamp alternative
Specifications
Brightness: N/A
Light settings: Dimmer
Timer: 15 to 90 minutes
Reasons to buy
+Aids the body's natural rhythm+FM alarm and alarm clock
Reasons to avoid
-Not technically a SAD lamp-A pricier option
OK, this isn't technically a SAD lamp (hence it doesn't have a lux rating). Instead, this is a wake-up light (also known as a dawn simulator). However, if you struggle to wake up in the mornings - especially in winter when the days are dark - then this might just boost your wellbeing, both mentally and physically.
Forget being jolted out of your slumber by a loud alarm, and instead wake to a gradual sunrise to feel naturally refreshed and alert. Like many of its rivals, the medically-certified Lumie Bodyclock Shine 300 uses LED tech to provide smooth light changes, which you can set to occur over 15 to 90 minutes.
You can also chose to add a radio alarm or one of the 14 wake sounds - from waterfalls to bird song. On cold, dark winter mornings, what could be a better way to start your day?
Beurer TL30 Ultra Portable Daylight
The best travel SAD lamp
Specifications
Brightness: 10,000 lux
Light settings: None
Timer: None
Reasons to buy
+Portable, slim-line design+Low energy consumption
Reasons to avoid
-No customizable features for light settings-Small, so need to be close (10cm) for it to be effective
Sleek and stylish, this tablet-style portable daylight is compact and practical, and thanks to its adjustable base can be used in both portrait and landscape format. It may be small, but it packs a powerful punch simulating sunlight of 10,000 lux (at a distance of 10cm) – an intensity that is medically recognised to help treat seasonal depression and sleeping disorders.
This lamp uses UV-free LED technology designed to save on energy bills. So, while it's bright, it won't cost you a fortune. It's really easy to use, and comes with an adjustable stand and travel bag. Good-looking, neat design with a perfectly even light output, this is a great choice for anyone looking to try light therapy. Not surprising that it's a top seller!
Maddy is a freelance journalist specializing in fitness, health and wellbeing content. She has been a writer and editor for 22 years, and has worked for some of the UK's bestselling newspapers and women's magazines, including Marie Claire, The Sunday Times and Closer. She also manages Fit&Well's Instagram account.
Maddy loves HIIT training and can often be found working out while her two young daughters do matching burpees or star jumps. As a massive foodie, she loves cooking and trying out new healthy recipes (especially ones with hidden vegetables so the kids eat them). She makes a mean margarita and has twice won awards in previous staff jobs as the "office feeder".
Maddy is currently completing a diploma in Level 3 personal training and can't wait to help other busy mums like her feel energized and confident in how they look and feel.