Best SAD lamps to improve your mood and brighten up your home
The best SAD lamps are a great way to mimic natural light and promote wellbeing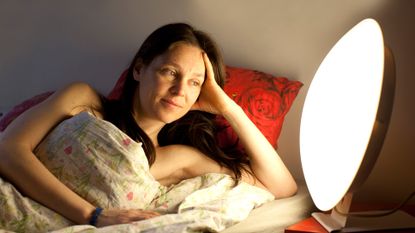 (Image credit: Getty Images)
Investing in one of the best SAD lamps can make a massive difference in how you feel, especially during the darker winter months. These light therapy lamps replicate natural light to keep your vitamin D levels topped up at home.
If your mood changes at certain times of the year, especially around winter, then you might be experiencing Seasonal Affective Disorder (SAD). The condition can make you feel unusually tired and down and cause sleep difficulties. SAD lamps are designed to help combat these symptoms.
While you could take some of the best vitamin D supplements to hit your daily dosage, it's still worth picking up one of the best light therapy lamps. According to a study published in BMC Psychiatry, "30 minutes of daily light exposure... is [an effective] treatment of SAD."
These SAD light therapy lamps have varying brightness (measured in lux), but it's recommended to find a light with at least 10,000 lux to see the effects. Some are small options for your desk, while others have large bases for you to store on the floor.
Many SAD lights also have other features, like timers, adjustable color temperatures, memory settings, and stands. To help you find the right option for your home, we've rounded up five of the best SAD lamps you can buy right now to look after your wellbeing.
The best SAD lamps you can buy right now
1. Lumie Vitamin L
The best SAD lamp for most people
Specifications
Brightness: 10,000 lux
Light settings: None
Timer: No
Reasons to buy
+
10,000 lux output
+
Can easily change orientation
+
Rippled face for effective light distribution
Reasons to avoid
-
No additional features or timers
The Lumie Vitamin L is an effective 10,000 lux SAD lamp for emulating natural light and boosting your mood. The company is well-known for its range of SAD lamps and wake-up lights.
Reputation is essential when choosing a light therapy lamp, as these aren't regulated medical devices. Notably, Lumie hasn't attempted to fill the Vitamin L with features and has focused solely on the light itself.
You can position it horizontally or vertically using the rear side stand. The unit plugs into the mains for power, so you won't need to recharge the light constantly. The face plate is rippled for more effective light distribution.
At a distance of 16cm, the company estimates that 30 minutes of light therapy should see you through the day. If you have it positioned at arm's length, then you should increase your exposure time to 60 minutes.
2. Emibele Light Therapy Lamp
The best budget SAD lamp
Specifications
Brightness: 10,000 lux
Light settings: 5 brightness options
Timer: Up to 1 hour
Reasons to buy
+
Five brightness settings
+
Four timer options
+
Memory function stores most recent settings
Reasons to avoid
-
Adjustable kickstand not durable and may slip on certain surfaces
The most crucial aspect of any SAD lamp is that it emits light at 10,000 lux. However, if you're after some other useful options, too, it's worth considering the Emibele Light Therapy Lamp.
This light is one of the most customizable SAD lamps available, with adjustable brightness, timers, and a memory function. You can even physically adjust the height and orientation of the lamp.
The Emibele Light Therapy Lamp comes with five brightness levels and several color temperatures. You can set the lamp to turn off automatically after 15, 30, 45, or 60 minutes and the memory function stores your most recent settings, so you can power it back on where you left off.
3. Verilux HappyLight Luxe
The best premium SAD lamp
Specifications
Brightness: 10,000 lux
Light settings: 4 brightness options, 3 color temperatures
Timer: Up to 1 hour
Reasons to buy
+
Four brightness settings
+
Three color temperature options
+
Portable at just 2 pounds
Reasons to avoid
-
Small surface area so the lamp has to be quite close for full effect
Many people use SAD lamps first thing in the morning, but you may want a more flexible option for light therapy throughout the day. The Verilux HappyLight Luxe is a portable SAD lamp offering 10,000 lux light and a handful of settings to customize the experience.
It comes with a detachable stand, allowing you to move it around your home with ease. It only weighs two pounds, making it ideal for travel as well. If you'd prefer to make it more of a fixture, there's a mounting insert on the backside too.
The HappyLight Luxe comes with four brightness levels, which you can toggle using the touch controls on the front of the unit. There are three color temperature options if you want a different light style, alongside an up to a 1-hour timer, which you can set in 5-minute increments.
4. TheraLite Light Therapy Lamp
The best practical SAD lamp
Specifications
Brightness: 10,000 lux
Light settings: None
Timer: No
Reasons to buy
+
Great for smaller spaces
+
Can be angled and height-adjusted
Reasons to avoid
-
No additional features
-
Bulkier design than other portable options
The TheraLite Light Therapy Lamp is a budget-friendly 10,000 lux SAD lamp for your home. The light is adjustable, with a screw on the rear, allowing you to toggle between vertical and horizontal placements. The foldable stand means you can angle the light too.
This customization is ideal if you're hoping to squeeze a SAD lamp onto a crowded desk or table without taking up too much space. The stand also doubles as a screen protector, closing over the lightbox when not in use.
5. Northern Light Flamingo
Best SAD lamp to free up desk space
Specifications
Brightness: 10,000 lux
Light settings: None
Timer: No
Reasons to buy
+
Large lightbox
+
Floor lamp frees up desk space
Reasons to avoid
-
Expensive for so few features
If you're after a SAD lamp that doesn't take up desk space, then consider the Northern Light Flamingo. This free-standing floor lamp comes with a larger lightbox than many tabletop options, so you can place it further slightly further away and still be within the 10,000 lux area.
The lamp is four feet tall, and the lightbox is adjustable, so you can move it into a position that suits your setup and doesn't cause glare on your screens. Because of its size, the company also suggests placing the lamp next to indoor exercise equipment for brighter winter workouts.
How to choose the best SAD lamp for you
When it comes to the best SAD lamp, 10,000 lux is the minimum output you'll want for an effective dose for SAD light therapy. However, SAD lights with a range of different light settings are also a bonus because they allow you to tinker with the brightness level based upon your mood or the time of day. With smart features available, you can even schedule some of the best light therapy lamps to turn on and off in sync with your morning or nighttime routine.
It's also worth considering where you want to place the SAD lamp. Some are designed to be set in a single location, whereas others are more portable, so you can move them about the house, bring them to the office, or take them on your travels.
You need the light to enter your eyes, so look for a model that is adjustable as well. This gives you more freedom on where to place the lamp, which is ideal if you're trying to fit it onto an already full desk or table.
While some of the best SAD lamps are single-function, focused solely on emitting 10,000 lux light, others come with additional features or settings, allowing you to adjust the brightness or set timers. Generally, adjusting the brightness reduces the lamp below 10,000 lux rather than above it.
SAD lamps are also distinct from wake-up or sunrise lights. Although they perform similar functions, wake-up lights are generally used as alarm clock replacements, gradually bringing you around by gently increasing the light. But, they tend not to reach 10,000 lux.
Do SAD lights really work?
One thing is for sure, SAD lights are pricier than your standard shop-bought lampshade, so it's natural if one of the first questions that are on your mind is whether they do what they say on the tin. While it's always a good idea to speak to your doctor if you're experiencing any symptoms associated with SAD, such as a low mood, irritability, or drowsiness in the winter months, studies on the effectiveness of SAD lamps have turned out some hopeful results.
A study on bright light in the treatment of SAD and other mood disorders by Julia Maruani and Pierre Alexis Geoffroy suggested that such an approach can act as a standalone remedy for SAD symptoms – and there's a handful of other benefits they found in their study, from better sleep quality and increased alertness to solving abnormal heart rhythms. Interestingly, another scientific study on how light affects behvioral despair involving the clock gene in mice came to the conclusion that SAD light therapy could mimic the effect of antidepressants, especially when done in the early morning.
When you start and finish work in the dark, it can be hard to keep your spirits up, but the SAD lamps can help amend this. Research from City University London has found "good evidence of an association between lighting and work performance, mediated by employee well-being". If you pick the right one, the best SAD lamp can help you improve your performance at work, unimpeded by the negative effects of those long, dark mornings and evenings.
Coupled with the best desk lamps for lighting your workspace, you'll feel brighter and perform better as a result.
So, there's a lot that can be said about the potential of SAD lamps for fighting off symptoms of SAD. That being said, it's unlikely that an hour of light therapy will cause your symptoms to vanish completely, and Harvard scientists have emphasized that the line of treatment won't work exactly the same for everyone, so it's always worth checking in with your doctor first, especially if you have any other conditions.
Maddy Biddulph is a freelance journalist specializing in fitness, health and wellbeing content. With 25 years in consumer media, she has worked as a writer and editor for some of the bestselling newspapers, magazines and websites in the US and UK.
She is also a qualified L3 personal trainer and weight loss advisor, and helps women over 40 navigate menopause by improving their physical and mental strength. At Maddy Biddulph Personal Training, she runs one-to-one and small group training for menopausal women who want to get fit to ease symptoms and feel like themselves again.