Best sunrise alarm clocks: wake-up lights for a gentle morning routine
These are the best sunrise alarm clocks, complete with gentle wake-up settings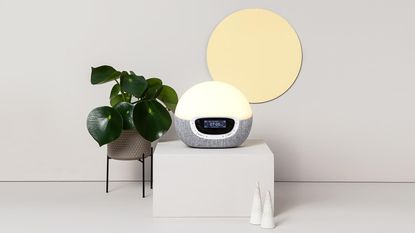 (Image credit: Lumie)
Invest in one of the best sunrise alarm clocks and find that a pleasant morning routine is within your grasp. With a wake-up light to mimic the rising of the sun as you snooze, you'll reap the benefits of a gentler way to start the day and avoid the heart-stopping jolt of your phone's alarm tone. We've compiled all of the standout wake up lights, including those that can be used as a bedside light, to help your bedroom feel more relaxed.
You might be wondering how affordable the best sunrise alarm clocks are, especially if you've seen models kitted out with various sophisticated features, including those that also integrate noise machines. The good news is that these lights are available at a range of prices from £$50/ £30 to $150/ £100, so that you can invest in your sleep routine regardless of your budget.
Wake-up lights on the higher end of that price range include premium features such as integrated voice control and soothing sounds to prevent disruption, like light rain or waves crashing on a beach. Even more inexpensive choices will be a great asset for helping you to get back to a more peaceful, energy restored state, with no more being jolted awake. Discover your perfect sunrise alarm clock in this list, and never settle for a jarring alarm tone again.
The best sunrise alarm clocks you can buy right now
Why you can trust Fit&Well Our expert reviewers spend hours testing and comparing products and services so you can choose the best for you. Find out more about how we test.
1. Lumie Bodyclock Shine 300
The best sunrise alarm clock for most people
Specifications
Radio: FM radio
Choice of sounds: 15
Adjustable sunrise: Yes
Audio alarm: Yes
Dimensions: 18 x 21 x 12cm
Reasons to buy
+
Great sound choice
+
Tap control snooze
When it comes to sunrise alarm clocks, it's fair to say Lumie know a thing or two. The company has been developing light therapy products for 30 years, and this domed design doesn't disappoint.
While it takes a few minutes to set up, it's very easy to personalize. You can adjust the duration of your sunrise and sunset from 15 to 90 minutes, and the light intensity is easily altered from a bright light to a soft glow.
Alarms can be pre-set for the week ahead and there are 14 natural sounds, a standard beep and also an FM radio. Fancy nodding off or waking up to birdsong, or even the gentle bleating of goats? No problem!
2. Philips SmartSleep Connected Sleep and Wake Up Light
The best premium sunrise alarm clock
Specifications
Radio: FM radio
Sounds: 7 or 8 wake-up sounds, depending on model
Adjustable sunrise: Yes
Audio alarm: Yes
Dimensions: 22.5 x 22 x 12cm
Reasons to buy
+
Handy charging point
+
Clinically proven
Yes it's an investment, but the Philips SmartSleep Wake-Up Light is clinically proven to work. Independent studies concluded that it not only wakes you up more naturally (ith 25 brightness intensities, it floods your room with bright yellow light) but also more energized.
Wake up to nature sounds, ambient music or FM radio and at night, use the light-guided wind down function to ease you into sleep. Simply follow one of seven rhythms of light intensity with your breathing, to help you relax. Alternatively, drift off to also the simulated sunset, accompanied by natural sounds.
It's easily personalized, either on the device itself or via the SleepMapper app. The latter is only available on the app-enabled Somneo model, which costs around $20/£20 more, but is well worthwhile as it allows you to analyze your bedroom environment and sleep patterns, helping you towards your best night's sleep.
There's a handy USB charging point too, and the nifty midnight function comes in handy in the dead of night; tap the device twice and it emits a soft orange light to save you stumbling around in the dark.
3. FitFort Wake Up Light
The best budget sunrise alarm clock
Specifications
Radio: FM radio
Sounds: 7 sounds
Adjustable sunrise: Yes
Audio alarm: Yes
Dimensions: 18.9 x 17.7 x 11.7cm
Reasons to buy
+
Purse-friendly
+
USB charging port
Reviewers rave about FitFort's wake up light, not least for its sleek, sun-shaped appearance. The buttons are tucked neatly away at the top of the light and there's an integrated USB port too – handy for charging your phone or other devices.
There's the option to set two different alarms (ideal if your partner wants to wake up later) and the seven natural sounds include wind chimes and calming ocean waves. There's also the option to wake up to FM radio too.
With 16 different volume levels and seven shades of mood lighting, ranging from orange through to green and blue, this is a great gadget for the price.
4. Beurer WL75
The best sunrise alarm clock for tech-savvy sleepers
Specifications
Radio: FM radio
Sounds: 10 melodies
Adjustable sunrise: Yes
Audio alarm: Yes
Dimensions: 22.5 x 18.5 x 9.5cm
Reasons to buy
+
Impressive mood lighting
+
Slender design
Reasons to avoid
-
Might not suit technophobes
This slimline design from German brand Beurer doesn't just look good, it has a relatively small footprint too – handy when space is at a premium.
In addition to the basics you'd expect, like adjustable alarm times, there's an FM radio with 10 presets, six wake-up melodies and four sleep melodies too.
It also works as a bedside light and mobile-savvy users will appreciate the handy LightUp app. This connects your phone to your light via Bluetooth, giving you access to a host of additional functions. These include close control over an impressive range of mood lighting, as well as the ability to personalise the brightness and duration of your sunrise. You can stream your own music via Bluetooth too.
5. Coulax Wake Up Light with Digital Clock Projection
The best sunrise alarm clock for kids
Specifications
Radio: FM radio
Sounds: 30 sounds
Adjustable sunrise: Yes
Audio alarm: Yes
Dimensions: 18.3 x 18 x 9.3cm
Reasons to buy
+
Great value
+
Projects the time
Reasons to avoid
-
Not the most stylish design
This budget-friendly wake-up light offers the fun option to beam the time onto your bedroom ceiling – handy if you like to know how long you've got left in bed! The sizeable screen display can be personalised with four brightness levels too, so it won't keep you awake at night.
The clock gradually simulates sunrise over 30 minutes and the alarm itself can be set for weekdays, weekends or every day. In addition to an FM radio, the Coulax Wake Up Light has 30 built in sounds, and there are 20 adjustable brightness levels.
With mood lighting options that include pink, blue and yellow, it'll appeal to youngsters too. Impressive functionality at a purse-friendly price!
How to choose the best sunrise alarm clock for you
Sleep expert at Snoozel Green (opens in new tab) Rob Davey explained to Fit&Well that our bodies respond best when woken up by the light of a rising sun, as sunlight catalyzes our circadian rhythm and lets our brain know it's time to be alert and operating. A wake-up light is the best way to rise to the effect of sunlight every day

However, there are a few key things to consider when choosing the best sunrise alarm clock - here's a few pointers:
No two sunrise alarm clocks appear the same so it is helpful to think what model will best fit into your room. You will find ones with a more classic design, meanwhile others appear more futuristic.
You will also want to consider what available space you have. Many sunrise alarm clocks can act as a regular light, saving you the need to have a bedside lamp as well.
"An added benefit of many sunrise clocks is that they include optional natural morning sound effects, such as the chirping of birds or the gentle rustling of the wind in trees," explains sleep expert Davey. If you prefer having some form of noise to wake you up then you can find a wake-up light offering various sounds like the ones listed above but if not, there are simpler sunrise alarm clocks with less options but are just as effective for getting you out of bed.
Additionally, you might just enjoy waking up to the familiar sound of the radio and lucky for you some sunrise alarm clocks are fitted with FM capability. If waking up to your favorite music is high on your must-have list, take a look at the products below and consider a model that has an FM radio.
There are plenty of additional features you won't want to miss out on. Many of the wake-up lights feature dimmable red night lights to help you fall asleep.
Moreover, some designs allow you to stream music via bluetooth meaning you can play a soothing song or listen to your favourite podcast as your head hits the pillow.
And, if you are a serial snoozer you will be glad to know many of the models include a snooze function.
Molly is a freelance writer for Fit&Well. Her first role after graduating from college was as a Staff Writer on Fit&Well's sister site TopTenReviews, where she learned how to write about everything homes-centric. From there, she became Acting Features Editor at another Future site, LiveScience, where she helped to commission and edit health and fitness content. She now works as an eCommerce writer across Homes websites at Future, with a focus on cleaning and home gym equipment, two things which actually mesh quite well. She enjoys walking, open-air swimming, and playing netball, when she can get the chance.