Best workout clothes for men: Stylish, practical gear to upgrade your workouts
The best workout clothes for men will have you looking and feeling cool this summer, through even the toughest workouts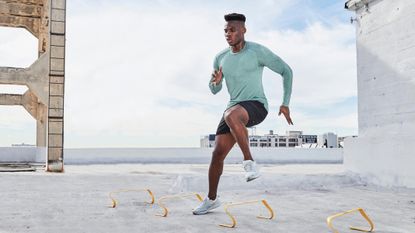 (Image credit: Lululemon)
Welcome to this, our edit of the best workout clothes for men. If you're looking to beat the heat and enjoy rather than endure your exercise, the correct attire is a serious advantage. Activewear makers have amassed a vast selection of lightweight, sweat-wicking, body temp-regulating, chafe-resistant clothing tailored to those braving the heatwave in the name of health and wellness.
A workout tee is a key item (unless you're going topless a la the Muscle Beach crowd, that is), and our favorite workout shirt is the Odlo Blackcomb Pro. Meanwhile for your bottom half, the versatile Lululemon Pace Breaker shorts are among the comfiest we've ever worn. The shower-resistant Arc'teryx Incendo hooded jacket makes the cut too.
Before we dive into what to look for in the best men's workout clothes - and our all-important edit - allow us to direct you to our pick of the best workout clothes for women, in case that is of interest. Meanwhile if running is your game, then we've also picked the best running shoes for men to complete your exercise kit line-up.
How to choose the best workout clothes for men
The memory of blisters, bleeding nipples, heavy and sodden cotton shirts or sunstroke is enough to turn you off working out for good.
Thankfully, the major apparel makers have invested big in R&D in order to develop new fabrics and blends that can rid you of the sweat reservoirs, bring down your body temperature, increase breathability and keep you comfortable whatever the activity. Hooray for science!
When buying workout clothes, you should be on the lookout for this research-backed technology (such as the Ceramicool material within Odlo's Blackcomb Pro shirt), with testimonies from users on its effectiveness. Everything we've chosen for this guide promises the latest technology and the proven ability to keep you cool, moisture- and irritation-free, whether you're embarking on a long run or battling an outdoor gym in your local park. A comfortable and cool workout also means better, potentially faster and longer workouts, which will help you progress towards your fitness goals.
Of course, it's important to check the sizing guides for any products you buy as the difference between a medium and a large, for example, can vary wildly depending on the manufacturer. Retailers are obliged to offer returns if the fit isn't quite right (although not on underwear, for obvious reasons), so don't settle for an ill-fitting garment when you can switch it out for the right size.
In this guide to the best workout clothes for men, we've picked our favourite option for each key category - hats, shirts, shorts, jackets and socks - as well as an additional item to consider at a lower price point. There's something here to suit all budgets and workout needs, so let's go ahead and dive right in...
The best workout clothes for men you can buy right now
1. Odlo Blackcomb Pro
The best workout shirt delivers high tech and max comfort
Specifications
Features: CERAMICOOL active cooling, body-mapped ventilation, Zeroscent odour control
Reasons to buy
+
Unrivalled cooling
+
Exceptional sweat wicking
Summers are getting longer and hotter. Those are the uncomfortable and sticky facts for people wishing to stay in prime shape throughout the season. With its Blackcomb Pro running shirt, Odlo looks to redress the balance in an increasingly one-sided battle with the elements. It's bespoke Ceramicool active cooling technology can lower skin temperature by up to 1°C (which is a lot more than it sounds), while body mapped ventilation adds breathability when you need it most.
The 73% Polyamide, 27% Polyester material promises odour control while adding reflective detail to ensure you're still visible on those dawn and dusk runs (you know, when it's cool enough to actually go outside). The slim fit is true to size, while the super lightweight materials are comfortable and soft, and guard against chafing.
Also consider: New Balance Q Speed Jacquard Patented cooling and sweat wicking tech, plus the soft and reliable Jacquard fabric makes this a great, less-expensive option.
2. Lululemon Pace Breaker 7-inch Shorts
The best workout shorts to unleash your inner workout warrior
Specifications
Features: Out Of Mind lining, no-bounce phone pocket, quick drying mesh, zip-up pocket
Reasons to buy
+
Hugely versatile
+
Butt-enhancing fit
Reasons to avoid
-
A tad pricey, for shorts
Lululemon earned its stripes by catering to hot yogis, so you know these shorts can handle the heat. These highly flexible workout shorts have a 7-inch inseam, meaning they're compatible with a wide-range of outdoor activities, be it tennis, running or hiking or, of course, the occasional downward dog.
The bespoke Out Of Mind technology delivers a quick-drying mesh lining and features a no-bounce pouch for your phone, and even offers a way out for a headphone cord, if you are old school. The outer layer offers a zip-up pocket for your keys or golf tees.
Overall, you're looking at a sweat-wicking, quick drying material with four way stretch that'll ensure comfort and flexibility in pretty much every training scenario. And most importantly of all, the shapely design will ensure your butt looks amazing.
Also consider: Proviz Reflex A more affordable option and, for runners, probably a better one. Combines supreme comfort with high visibility.
3. Arc'teryx Incendo Hoody
The best workout jacket is the ultimate in packable convenience
Specifications
Features: Six-layer system, water and wind repellent, hyperlight Lumin fabric, Composite Mapping tech
Reasons to buy
+
Light enough to pack
+
Excellent breathability
Reasons to avoid
-
Rain resistance is less of a feature
Weather can change mighty quickly, so any experienced runner or hiker should make room for a stowable jacket in their backpack – especially if you're going out on the trails or scaling new heights.
This stylish hooded jacket offers water and wind resistance in marginal weather, while maintaining a lightweight (125g), breathable feel that promotes evaporative cooling and sweat wicking. Arc'teryx does a great job of ensuring a good fit while promoting free movement and flexibility, free of chafing. While it won't keep you dry in a proper downpour, it's an otherwise perfectly balanced jacket, for those only looking to buy one of them.
Also consider: New Balance Impact Run Light Jacket Another versatile jacket to consider for constantly shifting weather conditions
4. Rockay Accelerate Socks
The best workout socks save the planet while protecting your feet
Specifications
Features: 100% recycled materials, anti-blister breathability, padded heel and toe, lifetime guarantee
Reasons to buy
+
Great eco-conscious option
+
Excellent breathability and comfort
Reasons to avoid
-
There are cheaper socks, clearly
When the temperature rises, any item of clothing that comes above the ankle is a burden. So, we recommend the Rockay Accelerate, a compression running sock that is designed to keep blisters at bay.
Why wear a compression sock? While they can feel constrictive at first, socks like the Accelerate can promote healthy blood flow to the muscles and assist with recovery. Many even swear they improve speed and longevity. The Rockay Accelerate also promises a comfortable fit while ensuring breathability on warmer days. Anything that can do that while guarding against the dreaded chafing has our vote too. There's also a lifetime guarantee from these socks that are made from 100% recycled materials. The odour reduction could mean fewer washing machine cycles in theory, too.
Also consider: CEP Ultralight Perfect lightweight breathability for staying cool in the hottest conditions, while providing stability and guarding against blisters.
5. Buff Pack Cap
The best workout hat will keep you cool in several senses
Specifications
Features: Fold down design, drawstring fit, 100% polyurethane peak, UPF 50+ protection
Reasons to buy
+
Packable
+
Purpose built, and it shows
+
Sun-proof
Reasons to avoid
-
You either like the look or you don't
Proving that running is better in the Buff, these runner-specific but multifunctional sports caps are gaining a considerable following. Unlike many rivals in the field, Buff realises a hat isn't just a hat. This is a company in tune with the needs of athletes, who carefully select every item of clothing with specific goals in mind and we loved the considered attention to detail on the Buff Pack Run cap.
It can be scrunched into a tiny ball, stuffed in your run bag and still bounce back to perfect shape. It has an easily-adjustable drawstring means you'll have no problems adjusting mid-run, while the stretchy and flexible fabric conforms well to the shape of your head while still wicking away sweat and providing great visibility. The short 100% polyurethane peak/visor, with reflective logo, can be worn up or down, guarding your eyes from the sun, or giving you a better view of the terrain ahead if you're heading uphill. This is all while offering 98% UV protection equivalent to SPF 50.
Also consider: Under Armour ArmourVent Core 2.0 Cap Stylish and shapely multi-purpose hat, with UA's patented cooling tech and an integrated sweatband.
Chris is a freelance contributor to Fit&Well. He's from Shropshire, England originally, but currently lives in the United States near Miami, FL. Chris has written about health and fitness technology for a decade, including as an in-depth feature writer and product reviewer for Wareable.com, tackling emerging wearable tech trends in the sports and fitness industries. When not on the beat for Fit&Well, Chris writes about technology for Trusted Reviews and WIRED, sports for The Guardian and just about everything else for Shortlist, Pellicle, Digital Spy and a selection of other publications. He also pens books on technology use for Flametree Publishing.
Chris stays fit through hot yoga (studio not always necessary in the Florida humidity) and hopes to complete teacher training in 2021. He enjoys cycling, tennis, running and, ever-more-infrequently, playing football (or soccer, to his American friends). Those old injuries he 'ran off' as a teenager have finally caught up.