We've tested some of the best running shoes for men 2022 – these are our favorites
The best running shoes for men can help you hit new speeds. These are our top picks from Saucony, Brooks and Nike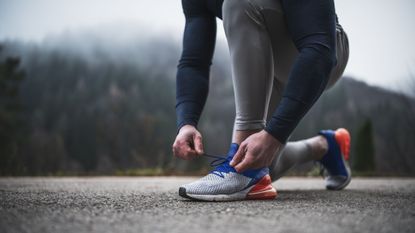 (Image credit: Getty)
If you love running but find putting in the hard miles can leave you feeling worse for wear, we recommend investing in a pair of the best running shoes for men. These sneakers are designed to help you go the distance by providing support for your ankles, a cushioned midsole to soften the impact of each stride on your knees, and a comfortable fit that will keep your feet from rubbing on even the longest runs.
The result? You're able to run regularly while swerving avoidable pain and injuries. So, whether you're wondering how to get into running or at the tail-end of a half-marathon training plan, we think a quality pair of running shoes are a non-negotiable kit bag essential. And now is a great time to pick up a pair, with the price of top models set to tumble in the Black Friday sales.
However, finding the right running shoes is easier said than done, with hundreds of options now on offer. That's where we can help. Our team of regular runners and fitness aficionados have put top models to the test in a quest to find the best shoes for easy miles, endurance events, fast 5Ks and more. We've reviewed shoes to suit all running styles and budgets, listing in simple terms the strengths and weaknesses of each one.
So, read on to find out more, and let us help you find your perfect pair.
The best running shoes for men you can buy right now
The best running shoe for most men
Specifications
Weight: 249g
Offset: 8mm
Terrain: Road
Category: Neutral
Reasons to buy
+
Lightweight and cushioned
+
Wide base for stability
+
Out-the-box comfort
Reasons to avoid
-
Not the quickest shoe
-
Signs of wear on outsole
The Saucony Men's Ride 15 is an exceptionally well-balanced everyday running shoe, offering a neutral ride and plenty of cushioning without weighing over the odds.
The first thing we noticed was just how comfortable they are, with airy padding around the heel and tongue cradling our feet while keeping them firmly in place. This meant we could wear them straight out of the box without worrying about blisters – no break-in period necessary. The upper also features clever straps attached to the laces that wrap around the midfoot, meaning even narrow-footed runners like our tester can tighten the sides of the shoe to provide a great fit.
Now for the jargon. The Saucony Men's Ride 15 has a midsole made from the brand's specially designed PWRRUN tech light foam, which is both more supportive and lighter than the material used in the Ride 14. There is also a new, padded PWRRUN+ sockliner, which only accentuates the pillowy feeling of the sole
It's not so spongy that it saps any spring from your step. However, as an everyday sneaker, don't expect the ultra-responsive feel associated with race-day shoes - that's more the Saucony Kinvara 12 (opens in new tab)'s area of expertise.
Overall, we think the Saucony Ride 15 is an exceptional everyday running shoe, providing rarely-rivaled levels of comfort and support while also providing a lightweight, bouncy feel ideal for middle-to-longer distance sessions, recovery runs and easy miles.
What the users say
As a newer shoe, user reviews are few and far between for the Saucony Ride 15. However, of the 30+ to have accrued on the Saucony website, the outlook is overwhelmingly positive with an average score of 4.6 out of five stars. Buyers say the shoe "feels terrific" and "ticks all the boxes", with several praising its comfort and lightweight, well-balanced design.
---
The best budget running shoes for men
Specifications
Weight: 286g
Offset: 12mm midsole drop
Terrain: Road
Category: Neutral
Reasons to buy
+
Soft, smooth and comfortable
+
The Brooks Ghost range is tried and trusted
+
Great design with plenty of support and a breathable upper
Reasons to avoid
-
Not the quickest shoe
-
Can lead to overpronation
In 2020, dedicated running brand Brooks brought its trusty Ghost range back for a 13th generation, and we're very glad they did. Anyone who has owned a past iteration will know these shoes reliably deliver superb support, cushioning and longevity, and the Ghost 13 is no different.
Like the Saucony Ride 15 before it, the Ghost 13's plush cushioning and smooth ride qualify it as a great everyday road running shoe capable of keeping you comfortable, mile after mile. It also comes in $10 cheaper than its rival – something we can always appreciate. There wasn't enough spring or bounce in the midsole for use to push our PB pace, but if longer routes are your bread and butter then they won't let you down.
Much of this comfort is owed to the expanded DNA Loft technology first introduced in the Ghost 11. This innovative cushioning combines EVA foam, rubber and air to provide a soft landing platform through the heel, midfoot and forefoot.
The upper is sturdy and supportive, while still being breathable, giving the feel of a cooling hug around our feet. They look good too, and there are a wide range of colorways available meaning there's something for showy shoe fans and modest runners alike.
What the users say
As you'd expect from the ever-popular Brooks Ghost range, this shoe has more than 1,000 five star reviews on the Brooks website (averaging 4.6 stars from around 1,800 user ratings). Reviewers had plenty of good things to say about the comfort of the Ghost 13, with many saying they use the shoe for city walks as well as running. Some people said they found the fit too tight and narrow, but they were in the minority.
---
Best lightweight running shoes for men
Specifications
Weight: 213g
Offset: 4mm heel-toe drop
Terrain: Road
Category: Neutral
Reasons to buy
+
Very lightweight
+
Excellent energy conversion
+
Surprisingly durable
Reasons to avoid
-
Firm feel on the roads takes some getting used to
Speed kings and queens, this one's for you. The Saucony Kinvara 12 is a shoe built for PBs, proving to be an impressively lightweight option for runners with a neutral gait.
But don't mistake them for a one-trick pony; our tester described them as "the whole package" after finding they have a slender fit, great engineering and a more durable design than the Kinvara 11.
You'll be pleased to know they don't sacrifice comfort in their quest to shed a few extra ounces either. Our tester said their lower offset and lack of squidgy cushioning may take a little getting used to for runners used to a softer ride. But, after one or two light runs to break them in, they really came to relish wearing the Kinvara 12s, saying they deliver a surprising amount of bounce and energy return.
Though the upper has been stripped back to save weight, it still feels rigid enough to hold our feet comfortably in place. We found this stiffness worked well when supporting our arches and stopping our feet from slipping inside the shoe when running. There is also still a layer of padding around the collar and tongue to enhance the shoe's comfort credentials.
All-in-all, and despite their best efforts, our tester couldn't muster a bad word to say about these superb shoes. So, if it's a blend of speed and comfort you're after, we'd add these to your basket sharpish.
What the users say
The Saucony Kinvara 12 is recommended by 88% of buyers on the Saucony website, with an average rating of 4.4 stars from over 440 reviews. One person who purchased a pair said they had seen them through a marathon in comfort, adding that they had been a Kinvara loyalist for years and the 12s are the best iteration yet. Complaints are few and far between, but the few that do exist tend to center around durability and the fact they fit quite large.
---
Best men's running shoe for long distance comfort
Specifications
Weight: 275g
Offset: 8mm
Terrain: Road
Category: Neutral
Reasons to buy
+
Plenty of cushioning
+
Greater stability than its predecessor
+
Versatile
Reasons to avoid
-
Heavier than previous model
-
Bulky heel may split opinion
-
Fit large
The Asics Novablast 2 improves upon its popular predecessor in nearly every way. The slightly cheap-feeling upper has been overhauled with premium materials, a sturdier heel cup solves the problem of lacking stability in this area, and additional cushioning in the forefoot ensures a smooth all-round ride. These neat features do mean it's slightly heavier than the inaugural Novablast, but not to the extent that your performance will be hampered.
When taking these shoes out for a spin, we found they provided a comfortable ride complimented by soft, balanced cushioning, a good level of shock absorption to spare your knees from bearing the brunt of each stride, and a pleasantly springy midsole. With each step, we felt like our feet were sinking into the plush foam for a millisecond before rebounding upwards, providing fantastic push-off. This allowed us to maintain a decent speed over longer distances with less effort than some of the Novablast 2's softer-soled rivals.
Runners who don't have a neutral stride may want to look elsewhere (such as the Saucony Ride 15 or Nike Air Zoom Structure 24) as these shoes have a relatively narrow platform which our tester found encouraged overpronation. We also found they fit slightly larger than their prescribed size, so it's worth ordering half-a-size down if you want to make the most of the new and improved cushioning.
However, if it's a neutral shoe that strikes a Goldilocks-like "just right" premium between cushioning and responsiveness for longer distances, you can't go far wrong with the Asics Novablast 2.
What the users say
A fan favorite, the Asics Novablast 2 drew praise on the Asics website for their soft yet bouncy midsole and comfortable upper. Buyers said they were a dependable and durable daily sneaker, with the rubber outsole showing no signs of wear after more than 30miles. As a result, they score 4.7 out of five stars.
---
Best men's running shoe for speed
Specifications
Weight: 209g
Offset: 5mm midsole drop
Terrain: Road
Category: Neutral/Moderate
Reasons to buy
+
Incredibly responsive
+
Good for speed and support
+
Comparatively cheap
Reasons to avoid
-
Carbon soleplate won't suit everyone
-
Some may miss the tongue
Hoka has a tendency to stand out from the crowd in the saturated running shoe world, and it's this maverick approach that's earned the brand a favorable following since being founded in 2009. It's not surprising then that the One One Rocket X may split opinion, but those who historically enjoy a Hoka shoe will find a lot to love.
The first thing to address is its modus operandi. Rocket by name, rocket by nature, Hoka designed this shoe to add an extra lick of pace to anyone running the Marathon distance. It achieves this by including a 1mm carbon fiber plate in the sole which can propel the wearer forward with each stride.
While this feature may feel odd at first, our tester felt this model is an ideal introduction to carbon-plated running shoes and enjoyed being able to shave time off their previous personal bests with them on their feet.
The shoes provide an incredibly responsive ride with the concealed tech feeling like it's doing a lot of the leg work for you. But this flash feature doesn't mean Hoka has neglected the basics. The shoes are comfortable, supportive and (we think) easy on the eye too. We should warn you though, once you've experienced the speed of carbon-plated sneakers, you'll find it hard to return to old-school shoes.
What the users say
On online sports retailer Sigma Sports, the Hoka One One Rocket X has an average rating of 4.4 out of a possible five stars from over 160 reviews. Happy customers have dubbed them the "best Hokas yet" with several saying they switched from other models like the Hoka Clifton 8 and haven't looked back. A small number of one star reviews complain that the fit is too tight and there isn't enough support.
---
The best men's running shoe for versatility
Specifications
Weight: 312g
Offset: 8mm
Category: Neutral
Terrain: Road
Reasons to buy
+
Versatile
+
Ample cushioning
+
Durable hard rubber outsole
Reasons to avoid
-
Heavy
-
Feet can overheat
-
Lumpy forefoot
If you'd rather invest in one versatile sneaker than a few specialist running shoes, look no further than the Nike Air Zoom Structure 24. These neutral shoes have plenty of cushioning, raised midsole side walls for additional support, and a durable hard rubber outsole, making them a great daily option. Their sleek, minimalist monochrome design meant we even incorporated them into our day-to-day wear.
We found the plush mesh upper offers immediate comfort, with plenty of padding around the heel and tongue to keep your feet comfortable. They also have a thick foam stack which was fantastically supportive for longer runs, and a crash pad (area of softer foam) in the heel offered more give to encourage a smooth heel-to-toe transition – ideal for heel strikers.
The fancy features don't end there either, with an Air Zoom unit hidden in the forefoot of the midsole. For those unfamiliar, this is a cushioning system made from pressurized, tightly-stretched fibers, designed to offer a more reactive ride than the surrounding foam.
We did find this was the case, meaning we enjoyed a responsive feel when pushing the pace on 5-10km routes. However, on harder surfaces we could feel the unit under our feet, giving a subtly lumpy feel in the forefoot that we weren't particularly keen on. The inclusion of thick padding around the heel and tongue also adds extra weight to the (11oz or 312g) shoes, which we felt towards the latter stages of longer runs.
However, these two gripes aside, we think the Nike Air Zoom Structure 24s are versatile everyday running shoes capable of carrying you through longer runs and easy miles in comfort.
What the users say
An average score of 4.5 stars from 50 user reviews makes the Air Zoom Structure 24s one of Nike's "highly rated" products. Many reviewers who awarded the shoes a full complement of five stars said they mostly wear them for walking, finding them an incredibly comfortable option for everyday wear thanks to their ample cushioning and padded ankles. Some say they noticed the extra weight of the shoe, but many praised their stylish aesthetic.
---
FAQs
How we tested the best men's running shoes
To help you find the right running shoe, we tasked our team of testers with taking top models out for a spin.
They put a selection of shoes, from cushioned daily sneakers to lightweight race-day runners, through their paces, racking up the miles in each pair with a range of long, short, easy and hard runs.
They then provided detailed feedback on several aspects of each shoe – price and features; design and technology; fit, feel and comfort - before using their experiences to decide on a final score out of five stars.
How long do running shoes last?
The answer to this will depend on several factors, including what your running shoe is designed for, what you're using them for, and how often you're using them.
For example, a carbon-plated race-day shoe is unlikely to have the same longevity as a neutral, cushioned sneaker. The former is built with speed as its primary purpose, while the latter has been designed to go the distance.
Or, alternatively, a runner who hits the trails most days is going to tear through shoes far faster than someone who jogs a couple of times each week.
However, as a ball-park figure, the general consensus is that a good pair of running shoes should last anywhere between three and six months, or 300 to 500 miles (whichever comes first).
If this isn't as precise an answer as you would have liked, you can also keep tabs on your shoes' look and feel. If the midsole loses its support and collapses under pressure, or if the sole and upper wear away excessively, it's a sign you need a new pair.
How should running shoes fit?
Finding running shoes with the right fit is like trying to serve Goldilocks the perfect porridge – you have to find a happy medium between a series of factors.
The shoes should be snug enough to support your heel midfoot, without feeling so tight that they're uncomfortable. Your heel needs to be locked into place to prevent rubbing, but you'll want some wiggle room around your toes to help you balance. Use your thumb to check there's enough room at the end of the shoe so that your toes don't bash against the ends of the shoes when you're running downhill. There should be around a 5-10mm gap when standing.
Our other piece of advice is, when trying them on, lace them up as you would for a race or timed run. This will help give you an idea of how they feel on your feet, so you can check for any unwanted pressure points or pinching.
How to choose from the best running shoes for men
The best running shoes for you might not be the same ones that suit your fellow runners. Finding the right pair will depend on your foot shape, gait, running frequency and what sort of running you plan to use them for, among other factors.
Runners with a neutral or supinated stride usually get on better with a neutral shoe with a decent amount of support, while overpronated runners might favor a stability shoe that provides greater support through the midsole and heel.
Regular racers may want a separate pair of sneakers for fast-paced sessions, with features like lightweight designs and carbon plates within the soles lending themselves to speedy runs. Meanwhile, endurance athletes or cross training fans (find out more about cross training shoes vs running shoes (opens in new tab) here) looking to supplement their gym sessions with easy miles will instead need plenty of support from a thick stack.
There are many more points to consider, but the final one we'll touch on is where you are going to run. If you exclusively pound the pavement, road running shoes will be fine. But if you often take your training off-road then a more robust set of the best trail running shoes (opens in new tab) should be your sole-mate (pun intended).
Key running shoe terms
Why you can trust Fit&Well Our expert reviewers spend hours testing and comparing products and services so you can choose the best for you. Find out more about how we test.
Offset: The offset or heel-toe drop is the difference in the amount of material under the heel and forefoot of the shoe. This is usually measured in millimeters.
Outsole: This is the layer of rubber on the bottom of the shoe responsible for making contact with the ground. Some shoes, like the Nike Air Zoom Structure 24, have a fuller hardwearing rubber outsole to improve durability, while others like the Saucony Ride 15 have rubber strips under the foam midsole to save weight.
Midsole: The midsole is the foam section of a running shoe found between the upper and the outsole. This is responsible for providing cushioning and support.
Insole: Often removable, insoles sit inside your shoe on top of the footbed. Your feet sit on top of these thin slips of material. Some brands make their insoles plush and spongy to provide extra cushioning, while many contour them to cradle the feet comfortably and minimize movement mid run.
Upper: This is the material that wraps around the top of your foot. Found on top of the midsole, it is often made from fabric or mesh.
Harry Bullmore is a fitness writer covering everything from reviews to features for LiveScience, T3, TechRadar, Fit&Well and more. So, whether you're looking for a new fitness tracker or wondering how to shave seconds off your 5K PB, chances are he's written something to help you improve your training.
When not writing, he's most likely to be found experimenting with a wide variety of training methods in his home gym or trying to exhaust his ever-energetic puppy.
Prior to joining Future, Harry wrote health and fitness product reviews for publications including Men's Health, Women's Health and Runner's World. Before this, he spent three years as a news reporter with work in more than 70 national and regional newspapers.