Best running shoes for men 2022
Pick up the best running shoes for men and feel the benefits during your next workout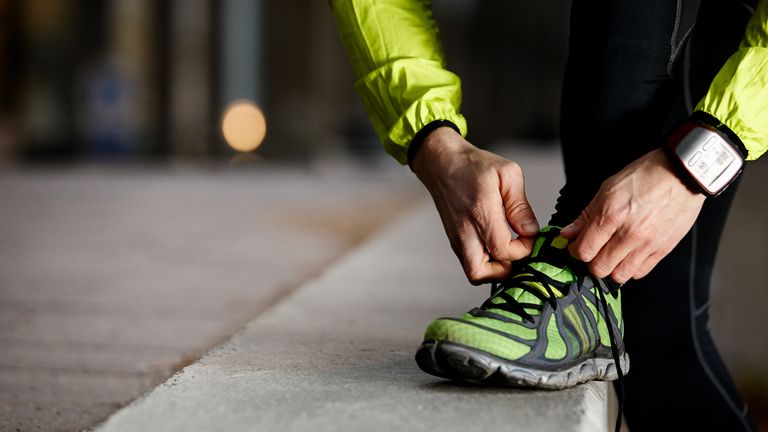 (Image credit: Getty)
Find all the best running shoes for men, with top-rated brands and must-have features. With a pair picked from this round-up, you'll feel a renewed energy for your next run, and your feet will be well supported too!
When it comes to running, or even walking, the most crucial criterion of running shoes is that they enable you to be pain-free. Whether you're just getting started with your first running program or you're a seasoned sprinter, you need a pair of shoes you can rely on. The first thing to establish on your journey is your personal fit and gait. This is essential information on your individual running style and how your foot lands, after this, you'll be able to gauge how much padding you need. We've tested a range of shoes to suit different needs and budgets below so that you can establish which features you do and don't need.
For beginners and marathon runners alike, a pair of the best running shoes for men are sure to make a difference due to their standout designs. Engineered for those who tend to run on sidewalks in cities or beyond, then a pair of road running shoes are sure to lead to more comfortable workouts, whilst the best trail running shoes should be the go-to for all of those more adventurous terrains, like grassy or rocky routes.
Breathability in your next pair of shoes should also be high on your list, as well as finding a pair that you like the look of if that's important to you. Keep scrolling to find your new running essentials.
The best running shoes for men you can buy right now
1. Nike Zoom Pegasus Turbo 2
The best running shoe for most men
Specifications
Weight: 231g
Offset: 8mm
Terrain: Road
Category: Neutral
Reasons to buy
+
ZoomX foam gives great energy return
+
Excellent for everyday distance training
Reasons to avoid
-
Cost a little more than standard Pegasus
The 'Pegasus' range is to runners what Air Jordans are to basketball players (and people who like to wear excessive, overpriced trainers.)
Nike's go-to running shoe just got even better with the addition of the breakthrough zoomX foam. The tech, which provides previously unthinkable levels of responsiveness and energy return, has trickled down from the VaporFly Next% shoes used in Nike's efforts to facilitate a sub 2-hour marathon. The layer of foam in the midsole of this everyday distance trainer provides the speed, while the minimal tongue and upper, constructed from synthetic mesh, ensures a super-lightweight ride. There's also a partial inner sleeve that runs from midfoot to toe to ensure comfort over longer distances.
That extra tech does cost you – the standard Nike Air Pegasus 37 is around £50 cheaper – but it is well worth it, we can tell you.
The best budget running shoes for men
Specifications
Weight: 286g
Offset: 12mm midsole drop
Terrain: Road
Category: Neutral
Reasons to buy
+
Great support
+
Breathable upper
+
A trusted brand
The Brooks Ghost 13 delivers on all of its promises for an oh-so-soft and smooth road running shoe that's a great option for everyday runners. It is a well-constructed trainer delivering great support in most of the key areas. The larger construction, weight and cushion means it isn't the shoe to go to if you're seeking to boost your race day times – the spring just isn't there. However, the Brooks Ghost 13 is an excellent option if your goal is getting the miles in at a steady pace. I felt it left me slightly prone to overpronation – dumping weight into my big toe area – but that won't be a problem for most.
3. On Running Cloudventure Peak
Best running shoes for road/trail mixers
Specifications
Weight: 260g
Offset: 4mm heel-toe drop
Terrain: Trail
Category: Trail
Reasons to buy
+
Lightweight and breathable for trail show
+
MissionGrip sole can handle anything
The inherent focus on support means some trail running shoes can feel sturdy, inflexible and stiflingly hot. But not the second-generation On Cloudventure Peak. The highly breathable, stretchy and lightweight ripstop upper can keep you cool and flexible, while the inner sock provides a secure and comfortable feel.
The real headline feature might be the aggressive MissionGrip sole, which provides traction in varied weather conditions, and uneven terrain – whether you're coming up or down the mountain. The Speedboard plate between the midsole and the upper also provides great energy return whenever your feet strike the ground. And the black and white version of this shoe is so handsome and identifiable, it's almost cruel to take them out on muddy trails.
4. Brooks Adrenaline GTS 20
Best men's running shoe for stability
Specifications
Weight: 300.5g
Offset: 12mm
Terrain: Road
Category: Overpronation
Reasons to buy
+
Best-in class stability
+
Innovative GuideRail protects joints
Reasons to avoid
-
Not ideal for speed work
A shoe with a focus on stability, the Brooks Adrenaline GTS 20 gives a more comfortable ride for runners who deal with overpronation. This is common among flat-footed runners and causes the arches of the feet to collapse as they make contact with the ground, and thus the ankle joint to roll inwards. Without the right support, these runners (and even some with a more neutral gait) risk discomfort and injury to the ankle, shin, heels, arches and hips.
The tried-and-tested GTS range offers a typically cushioned ride with moderate spring, while the GuideRail technology is designed to guard against that excessive movement that can damage the ankle and knee joints. The secure fit is aided by the 3D Fit Print saddle, bringing added structure to the arches. Brooks has also simplified the design, making this the lightest edition yet.
Best lightweight running shoe for men
Specifications
Weight: 213g
Offset: 4mm heel to toe drop
Terrain: Road
Category: Neutral
Reasons to buy
+
Incredibly lightweight
+
Perfect combination of cushion and responsiveness
The Saucony Kinvara is one of those cult classics loyalists buy time and time again. Advocates continue to marvel at its featherlight ride, which provides the perfect balance of ample cushion while retaining responsiveness to keep a spring in the step deep into those distance runs.
Now in its 12th iteration, Kinvara 12 improves upon its predecessor's PWRUN foam in the midsole with added durability, which replaces the EVA+ in the 10 and previous years' editions providing more cushion without adding to the weight. The firm continues to whittle away unnecessary elements from the FORMFIT upper to keep the weight down and the pace up. As with others in the range, you won't need to run these shoes in, they're good-to-go right out of the box. Overall, Saucony Kinvara 12 are a great option for runners with a neutral gait.
6. Adidas Ultraboost 21
The best men's running shoes for comfort
Specifications
Weight: 340g
Offset: 10mm midsole drop
Category: Neutral
Terrain: Road
Reasons to buy
+
Recycled materials in construction
+
Supreme cushioning
+
Incredible energy return
Reasons to avoid
-
Built for comfort, not for speed
The Adidas Ultraboost will put a spring in your step. Of that, there's no question. Boasting 6% more 'Boost' midsole foam, making the energy return even greater than previous models, the Ultraboost 21 is Adidas' springiest shoe yet. There's more than enough cushion and shock absorption, while responsiveness is supplemented by a 15% increase in forefoot 'bending stiffness' from the trusty Torsion tech, which has been around since the mid-90s. This should help runners looking to pick up the pace a little bit. Overall though, this isn't the fastest shoe, because comfort is the overriding priority. For the eco-conscious, Adidas has incorporated recycled ocean plastic into the Primeknit upper.
The best men's running shoe for speed
Specifications
Weight: 209g
Offset: 5mm midsole drop
Category: Neutral/Moderate
Terrain: Road
Reasons to buy
+
Cheaper than rival super shoes
+
Snazzy design
+
Speedy
With shoe names like Mach and Rocket, Hoka doesn't exactly play its cards close to its chest. The Rocket X is a supremely lightweight and speedy shoe with a low heel-to-toe drop (5mm) to encourage those with midfoot-forefoot landing style. The letter 'X' is a common addendum to the most premium shoes on the market and Hoka One One is certainly putting its best foot forward with the carbon fiber-plated Rocket X. This is a flexible shoe that's very well suited to marathons or the next day's recovery run or daily training. It's only much lighter than other shoes in our list, such as the Brooks Ghost 13 and Nike Air Pegasus 37. There's plenty of cushion in the heel with the flexible carbon fiber plate easing the transition to the forefoot. Reviewers were excited about how the show locked down the foot with zero slipping. This great all-rounder while the grip is great even in rainy conditions. It's an excellent option if you're looking to step up from the everyday trainers, without breaking the $200/£200 mark.
How to choose from the best running shoes for men
Nutrition, hydration, proper recovery and strength training – as well as putting in the miles – all play a part in prepping a runner for race day. The wrong pair of shoes can undo it all.
Before considering any of our selection of the best men's running shoes, it's imperative you have your running gait tested. Most specialist stores provide this service.
While most runners have a natural gait, some are prone to overpronation and require a shoe built with added support. This can reduce the risk of injury experienced by flat-footed runners whose arches tend to collapse as the foot makes contact with the surface. Meanwhile, underpronation - which is also called supination, and is less common - will require neutral or cushioned shoes.
Just as important is your preferred terrain. What's good for speed, comfort, and advanced energy return on the roads and treadmills, won't provide the same durability and traction required when traversing rocky, slippery trails. The reverse is also true.
The shoes we have selected here are designed to assist training for the everyday runner. We feel the very expensive high-end race shoes are overkill for most runners, with those athletes already au fait with the shoes that work for them. Shoes like the Brooks Ghost 13 tick so many boxes without dropping half a mortgage payment.
If you're running 5-10km multiple times per week, or training for your first half or full marathon, you may prioritize comfort and cushioning. If you're working on speed, there are lightweight options promising to spring you forward into the next step.
Either way, the perfect running shoe is out there.
Anatomy of a running shoe
One of the most important things when it comes to finding the best running shoe for you is knowing what you're getting, and why you're getting it. To start with, we'll bet you didn't know the sole was actually made up of two different parts – the midsole and the outsole.
The outsole is the piece of rubber that's actually touching the ground, while the midsole is the section of shoe sandwiched between the insole and the out. The midsole provides shock absorption and cushioning for the road, and comes in various different levels of firmness and softness. The softer and thicker the midsole, the "squishier" and more cushioned your run will feel.
The sole also dictates the "drop" or thickness of the shoe's heel – the Saucony Kinvara 12, for instance, has a 4mm drop, while other shoes might have an 8mm. This makes a huge difference as to which part of your foot hits the ground first, and your gait or running style will dictate your ideal shoe choice.
The upper is typically comprised of breathable knitted nylon mesh or polyester. This is one of the big differences between these road running shoes and trail running shoes, as many trail runners will want mud and water kept out of their feet. Road running shoes, on the other hand, are only required to fend off rain and the occasional shallow puddle.
Chris is a freelance contributor to Fit&Well. He's from Shropshire, England originally, but currently lives in the United States near Miami, FL. Chris has written about health and fitness technology for a decade, including as an in-depth feature writer and product reviewer for Wareable.com, tackling emerging wearable tech trends in the sports and fitness industries. When not on the beat for Fit&Well, Chris writes about technology for Trusted Reviews and WIRED, sports for The Guardian and just about everything else for Shortlist, Pellicle, Digital Spy and a selection of other publications. He also pens books on technology use for Flametree Publishing.
Chris stays fit through hot yoga (studio not always necessary in the Florida humidity) and hopes to complete teacher training in 2021. He enjoys cycling, tennis, running and, ever-more-infrequently, playing football (or soccer, to his American friends). Those old injuries he 'ran off' as a teenager have finally caught up.