Best running shoes for men: The best trainers and sneakers for hitting the road
The best running shoes for men protect your joints and boosts your speed. These are our top picks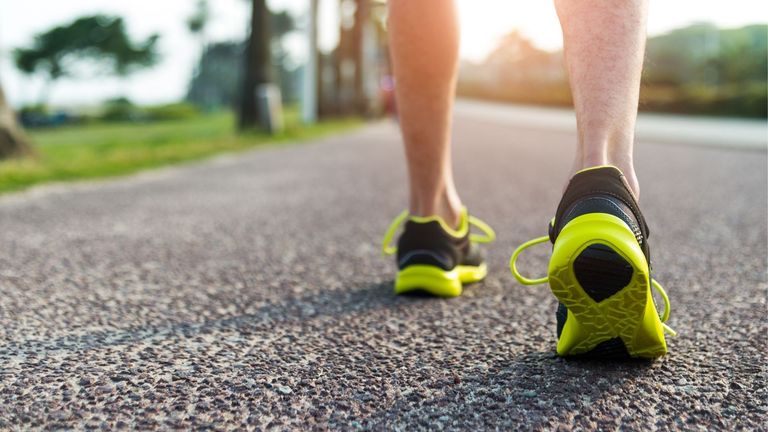 (Image credit: Amazon)
By Chris Smith
Running towards a fitness goal? Then a pair of the best running shoes for men are the Samwise to your Frodo, the Garth to your Wayne, the Hermione to your Harry - an essential buy that will get you over the line, boost your performance and safeguard your joints.
Yet there's nothing 'side' about these trusty 'kicks'. They're fully equipped with the latest running shoe technology, with options for any terrain and running style, and designed to fit most budgets.
Not a man? Head right this way to discover the best running shoes for women!
Our current favourite running shoe, and the best for most men, is the Nike Zoom Pegasus Turbo 2, which represents a massive leap forward for the tried and trusted Pegasus runner. It's all thanks to the fancy zoomX foam, which promises energy return befitting Nike's top-of-the-range running shoes.
For off-roaders we recommend the On Cloudventure Peak, while those requiring enhanced support can rely on the Brooks Adrenaline GTS 20 to guard against injury.
How to choose the best men's running shoes for you, sir
Nutrition, hydration, proper recovery and strength training – as well as putting in the miles – all play a part in prepping a runner for race day. The wrong pair of shoes can undo it all.
Before considering any of our selection of the best men's running shoes, it's imperative you have your running gait tested. Most specialist stores provide this service.
While most runners have a natural gait, some are prone to overpronation and require a shoe built with added support. This can reduce the risk of injury experienced by flat-footed runners whose arches tend to collapse as the foot makes contact with the surface. Meanwhile, underpronation - which is also called supination, and is less common - will require neutral or cushioned shoes.
Just as important is your preferred terrain. What's good for speed, comfort and advanced energy return on the roads and treadmills, won't provide the same durability and traction required when traversing rocky, slippery trails. The reverse is also true.
The shoes we have selected here are designed to assist training for the everyday runner. We feel the very expensive high-end race shoes are overkill for most runners, with those athletes already au fait with the shoes that work for them. Shoes like the Brooks Revel 3 tick so many boxes without dropping half a mortgage payment.
If you're running 5-10km multiple times per week, or training for your first half or full marathon, you may prioritise comfort and cushioning. If you're working on speed, there are lightweight options promising to spring you forward into the next step.
Either way, the perfect running shoe is out there. Here are our top picks...
The best running shoes for men you can buy right now
1. Nike Zoom Pegasus Turbo 2
The best running shoe for most men
Specifications
Weight: 231g
Offset: 8mm
Terrain: Road
Category: Neutral
Reasons to buy
+ZoomX foam gives great energy return+Excellent for everyday distance training
Reasons to avoid
-Cost a little more than standard Pegasus
The 'Pegasus' range is to runners what Air Jordans are to basketball players (and people who like to wear excessive, overpriced trainers.)
Nike's go-to running shoe just got even better with the addition of the breakthrough zoomX foam. The tech, which provides previously unthinkable levels of responsiveness and energy return, has trickled down from the VaporFly Next% shoes used in Nike's efforts to facilitate a sub 2-hour marathon. The layer of foam in the midsole of this everyday distance trainer provides the speed, while the minimal tongue and upper, constructed from synthetic mesh, ensures a super-lightweight ride. There's also a partial inner sleeve that runs from midfoot to toe to ensure comfort over longer distances.
That extra tech does cost you – the standard Nike Air Pegasus 37 is around £50 cheaper – but it is well worth it, we can tell you.
2. Brooks Revel 3
Best cheap running shoe for men
Specifications
Weight: 249.5g
Offset: 8mm
Terrain: Road
Category: Neutral
Reasons to buy
+Great price +Versatile with plenty of cushion
Reasons to avoid
-Lacks water resistance
If you'd get the best running shoes for men for under £100, we recommend the Brooks Revel 3. It's a versatile shoe that that can support interval training and some middle-distance running. There's also plentiful grip to ensure traction when running in the rain, albeit without much in the way of water resistance. At 249.5g, the latest edition is even lighter than the Revel 2 but retains the comfort level.
Also included is BioMoGo DNA cushioning tech included in much more expensive shoes, which will adapt to your stride, weight and speed to lessen impact on the joints. Comfort is the order of the day here and the minimalistic design is such that you'll be wearing them around town as an everyday trainer too.
3. On Running Cloudventure Peak
Best running shoes for road/trail mixers
Specifications
Weight: 260g
Offset: 4mm heel-toe drop
Terrain: Trail
Category: Trail
Reasons to buy
+Lightweight and breathable for trail show+MissionGrip sole can handle anything
Reasons to avoid
-They run quite narrow
The inherent focus on support means some trail running shoes can feel sturdy, inflexible and stiflingly hot. But not the second-generation On Cloudventure Peak. The highly breathable, stretchy and lightweight ripstop upper can keep you cool and flexible, while the inner sock provides a secure and comfortable feel.
The real headline feature might be the aggressive MissionGrip sole, which provides traction in varied weather conditions, and uneven terrain – whether you're coming up or down the mountain. The Speedboard plate between the midsole and the upper also provides great energy return whenever your feet strike the ground. And the black and white version of this shoe is so handsome and identifiable, it's almost cruel to take them out on muddy trails.
4. Brooks Adrenaline GTS 20
Best men's running shoe for stability
Specifications
Weight: 300.5g
Offset: 12mm
Terrain: Road
Category: Overpronation
Reasons to buy
+Best-in class stability +Innovative GuideRail protects joints
Reasons to avoid
-Not ideal for speed work
A shoe with a focus on stability, the Brooks Adrenaline GTS 20 gives a more comfortable ride for runners who deal with overpronation. This is common among flat-footed runners and causes the arches of the feet to collapse as they make contact with the ground, and thus the ankle joint to roll inwards. Without the right support, these runners (and even some with a more neutral gait) risk discomfort and injury to the ankle, shin, heels, arches and hips.
The tried-and-tested GTS range offers a typically cushioned ride with moderate spring, while the GuideRail technology is designed to guard against that excessive movement that can damage the ankle and knee joints. The secure fit is aided by the 3D Fit Print saddle, bringing added structure to the arches. Brooks has also simplified the design, making this the lightest edition yet.
5. Saucony Kinvara 11
Best lightweight running shoe for men
Specifications
Weight: 228g
Offset: 4mm heel to toe drop
Terrain: Road
Category: Neutral
Reasons to buy
+Incredibly lightweight +Perfect combination of cushion and responsiveness
Reasons to avoid
-Not that durable
The Saucony Kinvara is one of those cult classics loyalists buy time and time again. Advocates continue to marvel at its featherlight ride, which provides the perfect balance of ample cushion while retaining responsiveness to keep a spring in the step deep into those distance runs.
Now in its 11th iteration, Kinvara 11 adds a new PWRUN foam in the midsole, replacing the EVA+ in previous year's edition providing more cushion without adding to the weight. The firm continues to whittle away unnecessary elements from the FORMFIT upper to keep the weight down and the pace up. As with others in the range, you won't need to run these shoes in, they're good-to-go right out of the box. Overall, Saucony Kinvara 11 are a great option for runners with a neutral gait.