The best workout clothes for women: The best gym kit for performance and style
The best workout clothes for women – with top windbreakers, shorts, sports bras and more – will upgrade your workouts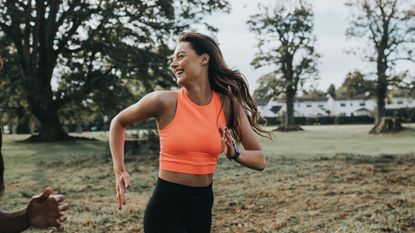 (Image credit: Getty Images)
Looking for the best workout clothes for women? We're not surprised. Last year, gyms closing as a result of the global health crisis meant we all took our fitness out of public spaces, opting to exercise indoors or take up outdoor sports such as running or cycling. Now communal fitness spaces are available to us once again, we're starting to get the swing of being back in the gym.
Returning to our old workout routine creates new challenges: your old gear might no longer be suitable if your body has changed, you may have fallen in love with a new workout discipline requiring different kinds of clothing, or you simply want to look fresh for your post-pandemic gym debut. For example, your wardrobe might be chock-full of gear for running and HIIT, but you might need a few long-sleeve yoga tops as we head into the winter months.
Whether you're looking for sports bras for high intensity workouts or in need of running leggings which will keep you dry and cool as you pound the pavements, we're on-hand with the ultimate guide to choosing the best workout wear
Finding the best cute workout tops isn't just about finding something that looks good while you plank, power lift or perfect your downward dog. It's about the right support, the best sweat-wicking materials and the most durable fabric.
In this guide, we present you with our pick of the best workout clothes for women across a range of categories, from outerwear to underwear.
What you won't find in this article is shoes – for those, head over to our article on the best running shoes for women. We also have dedicated guides to the best sports bras and the best workout leggings, if you're after some more options there.
Alternatively, if you're sticking with this page, read on to discover exactly what you should be checking for when it comes to selecting your workout wardrobe, along with our pick of the best workout clothes for women.
Shock Absorber Ultimate Run Bra
A brilliant sports bra for the style-conscious exercise junkie
Specifications
Sizes: 32 to 38, A to G (including DD and FF)
Colours: Grey with Coral
Reasons to buy
+
Seamless design for extra comfort
+
Non-slip straps ensure everything stays put
Reasons to avoid
-
Material is on the thick side
-
High price
So many sports bras promise to keep things in place, but rarely do. Not this one – a stylish, sturdy bra designed for high impact sports, but equally suitable for lighter workouts. The wide range of sizes makes it a great sports bra for larger busts, with a range that runs up to a G cup.
Every detail has been considered, from the non-slip, extra-wide straps (nothing is worse than constantly interrupting a workout in order to hoist everything back into place) and the smooth, seamless design. We also love the wide range of designs, which make this particular sports bra perfect as an undergarment but equally appealing to those who want to wear it crop top-style. Finally, it's hard to not be impressed by the fact that Shock Absorber sports bras are put through their paces by sports scientists at University of Portsmouth.
For some alternatives and extra buying advice, head to our in-depth guide to the best sports bras.
The best exercise jacket for women
Specifications
Sizes: XS, S, M, L, XL
Colours: Grey, Green, Pink
Reasons to buy
+
Stashes into the smallest of spaces
+
Generous cut and breathable fabric
Reasons to avoid
-
Water repellent but not waterproof
Yes, this jacket has a rather high price tag given its flimsiness, but that latter aspect is also its main selling point – you'll be hard pushed to find an outer later of this quality which can be quickly crumpled up and stowed away (in this case into its very own stash pouch). But there's so much more to this lightweight exercise jacket than meets the eye. To start with, the strategically-placed stitching on the forearm creates a sleeve hole which is large enough to allow for air circulation, yet won't flap or gape, and the use of different composite materials means brilliant thermal regulation under the arms, while the core gets extra protection from wind and colder temperatures courtesy of patches of stronger material. In a nutshell? One of the best women's exercise jackets available right now.
Patagonia Women's Nine Trails shorts
The best workout shorts for women
Specifications
Sizes: XS, S, M, L, XL
Colours: Black, Red, Khaki
Reasons to buy
+
Incredibly light and breathable
+
Fair Trade certified
Reasons to avoid
-
Close-fitting
-
Thicker waistband could cause chafing
All too often, the comfiest exercise shorts are the least flattering ones. Not so with Patagonia's shorts, which come in three different colourways and have a tailored, flattering fit. They're ideal for the eco-exerciser too – the garment, made with a lightweight blend of polyester and elastane, is Fair Trade sewn. The shorts also have a water-repellent finish, allowing you to keep on exercising (at least for a while) should the skies open. One notable feature is the extra-wide waistband, a feature which exercise junkies prone to chafing are often keen to avoid. However the combination of its ultra-flat design and an easily-adjustable drawcord minimises the risk of unwanted rubbing.
Under Armour Women's Charged Cotton Adjustable Tank
The best workout top for women
Specifications
Sizes: XS, S, M, L, XL
Colours: White, Black, Red, Light Pink, Dark Pink
Reasons to buy
+
Adjustable cord for a looser fit
+
Extra-large arm holes
Reasons to avoid
-
Sweat-wicking capabilities could be better
-
Baggier fit could irritate some
It's all too easy to start a workout wearing what feels like the most perfect exercise top in the world, only to end it feeling thoroughly uncomfortable, whether it's due to ill-fitting workwear or material that rubs in all the wrong places. That's precisely why features which enhance a garment's versatility are so useful, and in this case, it's a bungee-style accessory, designed to allow the wearer to loosen and tighten, or raise and lower, Under Amour's soft cotton top. And although cotton might not be known for its sweat-wicking capabilities, this particular garment is made from Under Armour's legendary Charged Cotton, which offers enhanced moisture-wicking without sacrificing softness. Its versatility is also a great space-saver – say goodbye to wardrobes crammed with separate yoga tops, running tops and HIT vests, because this one will cover all bases effortlessly.
Picture Organic Clothing Caty Tech Legging
Hi-tech leggings guaranteed to keep you cool and dry
Specifications
Sizes: XS/S and M/L
Colours: Dark Blue, Terazzo Print
Reasons to buy
+
Colourful, abstract designs
+
Antimicrobial treatments for long-lasting freshness
Reasons to avoid
-
Not great for hotter climes – material extends to ankles
-
Breathability could be a little better
These full-length exercise leggings are perfect for fitness fiends who want to stand out from the crowd. There are two designs, and even the tamer of the two features a striking splash of colour in the form of a pastel pink version of Picture's pine tree logo. Don't make the mistake of assuming these extra-long leggings are for cold weather workouts only – although pricier leggings might offer better breathability, the thin (but surprisingly tough) material will help regulate temperature, and an antimicrobial finishing treatment keeps you feeling fresh and dry. Style-conscious exercise junkies can also pair the leggings with other garments bearing the same design.
For more options and extra buying advice, explore our guide to the best workout leggings.
How to choose the best workout wear for women
Don't underestimate the importance of the material. Choosing the right material for leggings, sports bras and tops can make or break your fitness regime. The right garment will wick away sweat and help air to circulate, while the wrong one will limit your movement, prevent heat from escaping and leave you with chafe marks in all the wrong places.
Many brands have created their own materials for garments designed to be worn close to the skin, whether it's Nike's Dri-FIT polyester, or Lululemon's Luxtreme, which provide unbeatable sweat-wicking without sacrificing stretch. These unique materials are usually quite expensive, but the best sweat-wicking materials don't need to cost the earth. Nylon, which is both breathable and stretchy, is a great option, as is polypropylene, which works by sucking moisture through to its surface, where it evaporates. Check the labels and supporting information before you purchase.
A growing number of brands are also using bamboo, which isn't just used for its sweat-wicking capabilities – it's anti-static, odour-repelling and chemical-free. It's been so successful that its use has transitioned from clothing to other fitness kit like yoga mats. However, while it's a great idea to opt for environmentally-friendly materials where possible, there's no denying that manmade ones will almost always perform better.
"I would always go with synthetic materials first and foremost," says Anna Cousins, a personal trainer whose at-home workouts were watched by thousands during lockdown. "Polyester is one of the best materials for heavy sweating because it's so good at wicking moisture, but it also dries quickly, which prevents bacteria from building up and causing odour. But remember that you've got to like the look of what you're wearing, too. Feeling and looking good will help spur you on."
For this piece, we've focused on the best items within certain categories, but despite this, we'd still like to give the Shock Absorber Ultimate Run Bra a shout-out. It's the perfect balance of hi-tech materials, stylish design and a comfortable fit, thanks to a cut which won't pinch or chafe but still offers plenty of support.
Another shout-out should go to the Arc'teryx Women's Cita SL Jacket – a wonderful example of a lightweight, rain-proof outer layer which can be stashed into the smallest of pockets.
Tamara is based in Surrey in the UK and is a freelance journalist who's equally passionate about cycling, snowboarding and traveling. Tamara's writing has covered workout clothes for women for better fitness sessions as well as covering topics including which bathroom scales to choose. Tamara has also provided expert advice for Fit&Well with tips and tricks for getting the most of a weight-based workout.