Ergatta vs Hydrow: Which is the top connected rowing machine for your home?
We're comparing Ergatta vs Hydrow to help you choose the right rowing machine for your home gym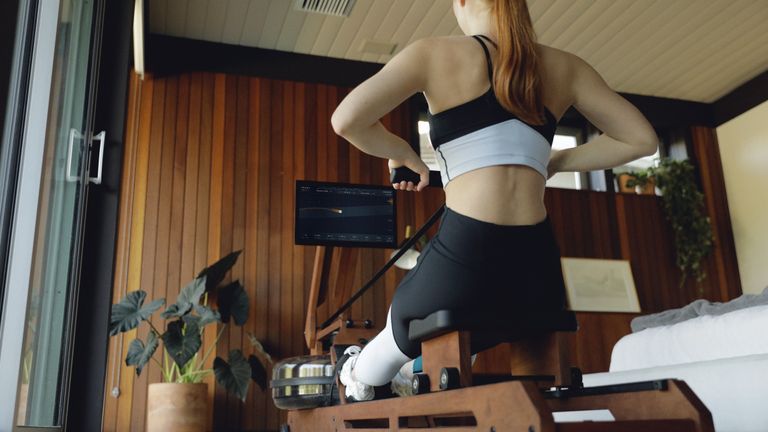 (Image credit: Ergatta)
If you're looking for a new smart rowing machine, you may have pitted Ergatta vs Hydrow against each other to determine which is the better buy. These two premium machines are well-designed, effective, and come with many interactive features, like on-demand workouts.
On the surface, it's not so easy to tell why you should choose one over the other, especially as they're about the same price. Like many of the best rowing machines, they both come with large screens so that you can keep track of your workout performance.
Although they sound similar, there are some key differences; the Hydrow machine automatically adjusts the resistance based on your pace, whereas the Ergatta rower uses a water-based mechanism for a more realistic experience.
When comparing Hydrow vs Ergatta, you'll also find that both approach exercise differently. You can stream Hydrow's instructor-led workouts live on the machine's 22-inch screen, but the Ergatta will win out if you find a bit of competition motivational, as each session takes a game-based approach to rowing.
To help you decide between Ergatta vs Hydrow, we'll compare the two smart rowing machines on price, design, and features so that you can find a rowing machine that'll help you hit your fitness goals.
Ergatta vs Hydrow: quick links
Ergatta vs Hydrow: price
There really isn't a significant gap in cost between the two rowing machine brands but they both sit higher-end compared to other options out there. If you are looking to equip your home gym with an advanced and durable rower then you will find yourself spending $2199.99 on a full-price Ergatta rowing machine and $2494.99 on a Hydrow rower.
In terms of warranty, the Ergatta rower offers a five-year warranty on the machine's structural frame, three years on parts, and one year on the tablet. The Hydrow offers five years on the structural frame, 12 months on components, and 12 months labor.
Winner: The Ergatta wins for price saving you almost $300. Paying more for a Hydrow machine might be better for those who prefer exercising with instructor-led training sessions.
Ergatta vs Hydrow: design and features
Ergatta uses real water inside its machines to create resistance and to make it feel as natural as possible. A water rower means you don't have to adjust your resistance level but if you want more resistance you just have to row faster or slower if you want less resistance. You may also adjust the water level with a siphon in your Ergatta machine to further add or take from the resistance level.
On the other hand, the Hydrow rower is a magnetically driven rowing machine. It differs from other more traditional magnetic rowers as it uses a computer-guided system to create resistance depending on how hard you row. So like the Ergatta, the more you pull the more resistance you will feel.
As mentioned earlier they both offer live interaction and input. The Ergatta rower features a 17.5-inch touchscreen, while the Hydrow provides you with a 22-inch touchscreen display.
Winner: If you aren't bothered about using a rowing machine powered by actual water then the Hydrow is ideal for you and its smart magnetic system gives off much the same effect. The Hydrow also saves you the hassle of adjusting the water level of your rower or keeping it clean.
Ergatta vs Hydrow: user reviews
Users say they especially enjoy the larger screen on the Hydrow rower because the workouts uniquely take place on the water via the screen. The sound and visuals are a popular feature for many making it feel very authentic despite it being a magnetic engineered rower. This paired with a helpful instructor makes for an enjoyable workout.
Whereas, if you get bored of following along a ready-made workout or perhaps get competitive when you exercise then the Ergatta rower is better tailored to this. If you use the streaming fitness platform you will realize it is much more game-based. You will have the choice to use your rowing machine for a racing workout, a custom HIIT session, which will all be curated from how you performed on an initial 2,000m calibration assessment.
Winner: While the Ergatta rower has lots of challenges included to keep you motivated on your rowing machine the Hydrow is best for those who perform better using an instructor-led workout. Plus being able to view scenic water views through your screen as you row is a nice distraction from an intense workout.
Ergatta vs Hydrow: verdict
All in all, Fit&Well recommends opting for a Hydrow rowing machine. They both are two of the most advanced rower brands out there right now and you aren't wrong to pick either option.
We just think that it is worth paying that little bit extra for a Hydrow rower to receive the audio input from an instructor as you see yourself rowing along water via the screen.
The Ergatta requires a little extra effort when it comes to playing around with water in order to adjust resistance levels but still offers a great rower for the more competitive rowers out there who are less dependent on receiving trainer input as they workout.
Jessica is Staff Writer at Fit&Well. Her career in journalism began in local news and she holds a Masters in journalism. Jessica has previously written for Runners World, penning news and features on fitness, sportswear and nutrition.
When she isn't writing up news and features for Fit&Well covering topics ranging from muscle building, to yoga, to female health and so on, she will be outdoors somewhere, testing out the latest fitness equipment and accessories to help others find top products for their own fitness journeys. Her testing pairs up nicely with her love for running. She recently branched out to running 10Ks and is trying to improve her time before moving on to larger races. Jessica also enjoys building on her strength in the gym and is a believer in health and wellness beginning in the kitchen. She shares all of this on her running Instagram account @jessrunshere which she uses for accountability and for connecting with like-minded fitness lovers.