Get summer ready! Save almost 50% on this full body workout home gym kit
Train your whole body with this piece of Amazon home gym kit and save $120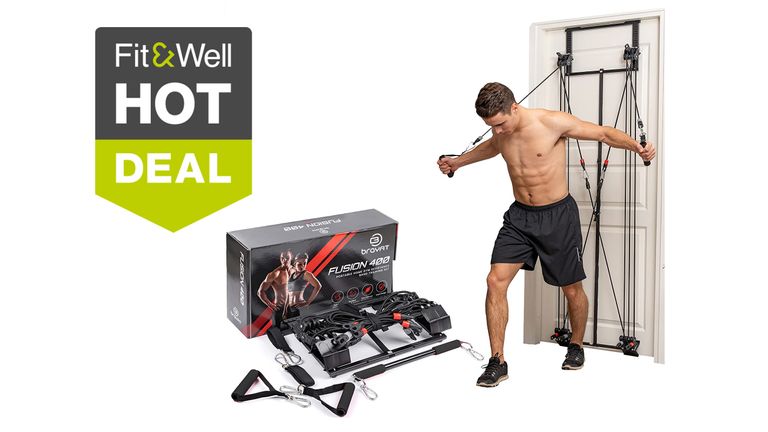 (Image credit: Amazon)
By Matt Evans published
Want a cracking deal on some home gym kit to build up muscle for summer? Look no further. Amazon is offering a Brayfit complete resistance-band-based home gym setup, with a squat bar, door attachments, handles, ankle straps, a training deck and exercise guidebook for $129.95, saving a huge $120. Check out the deal in full below:
Get this home gym deal here:
BRAYFIT Home Gym Equipment, Full Body Workout Door Gym | was $249.95 | now $129.95 at Amazon
Want to do squats, bench presses, cable flys, bicep curls, leg extensions, face pulls and loads more exercises, all without paying a gym membership? This is the deal for you. By standing on the training deck or clipping the frame to a door, you're able to use the resistance bands for over 70 exercises. 
Why get this home gym deal?
The best resistance bands use elastic tension, rather than heavy weight, to build muscle. For one thing, this is a lot safer for people with very weak joints, as you're less likely to lose your form or execute a movement incorrectly and either stress your muscle out as the weight wobbles, or drop it and hurt yourself.
Resistance bands also allow you to slowly release the tension, working your muscles on the lowering or "eccentric" phase of a resistance exercise. Once you reach the apex of a movement like a bicep curl, slowly lowering your arm under control will help build muscle more efficiently than quickly letting go.
This versatile piece of kit allows you to hook the bands onto a bar to squat or bench press. You can hook them to a door to pull the bands towards you, training your back, or pushing away from you, training your chest. With over 70 exercises, it's a great setup for beginners who aren't too sure about committing to the gym, or for those people for whom COVID shielding makes attending a gym impossible.
Matt Evans is an experienced health and fitness journalist and Channel Editor at Fit&Well. He's previously written for titles like Men's Health and Red Bull, and covers all things exercise and nutrition on the Fit&Well website. Matt originally discovered exercise through martial arts: he holds a black belt in Karate and remains a keen kickboxer and runner. His top fitness tip? Stretch.