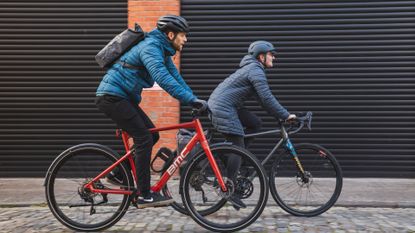 (Image credit: Altura)
The long days of cycling in a short-sleeved jersey in the summer sun are behind us. Instead, the nights are drawing in, and cycling to and from work is rapidly becoming fraught with weather-based peril: stormy winds, horizontal rain, bone-shattering frosts. It's enough to put even the hardiest of cyclists off.
But it doesn't have to be this way. Find the right cycling jacket and your commute will be transformed. This is where Altura's new range of commuting jackets comes in: each one has been put through the wringer to ensure they keep you warm, dry, and visible in every type of winter weather.
Shrug on the Twister, Zephyr or Electron jacket before you head out in the dark, cold mornings, and you can rest assured that your jacket will stand up to the conditions facing you on the road ahead. Precipitation will be locked out, body heat will be retained, breathable fabrics will let moisture out and nightvision tonal-reflective highlights will ensure you glow like a beacon when under car headlights.
Commuting jackets must also look good off the bike; too much high-viz luminescence can blind the barista as you order your morning coffee and dazzle your workmates when you arrive at the office. To combat this, Altura's design team has endeavoured to craft casual-looking jackets that work equally well both on and off the bike.
As a company, Altura knows what it's doing. It's been designing rugged, innovative, technical cycling clothing since 1997 for all types of cycling disciplines. From road to the trails, urban commuting to bike luggage, each item in Altura's range has been tested rigorously in real cycling conditions, meaning they all come with Altura's Tried Tested Trusted guarantee.
Altura's Twister Cycling Jacket
If you're seeking warmth on the coldest days, the Twister (opens in new tab) is for you. At first glance, it doesn't look like a standard cycling jacket, yet that's exactly what it is but with added insulation. That insulation – made from 100% recycled plastic bottles – provides a 9.95-tog rating, resulting in a jacket that's warm and cosy on the chilliest of commutes.
And it's not just the cold it protects you from, the jacket features a water-repellent coating to keep rain out during those unexpected downpours, plus a waterproof front zip so no droplets can work their way in.
To boost visibility in low-light conditions, you'll find the Twister comes with subtle reflective details on the sleeves and body, which you don't notice until a headlight picks them up.
The jacket also features a built-in hood to keep you dry off the bike and a pair of zipped hand-warmer pockets, and the women's Twister (opens in new tab) comes with a longer cut as requested by female riders.
The men's Twister comes in Blue or Carbon colourways, and the women's is available in Navy.
Altura's Zephyr Cycling Jacket
If you're worried about being seen while cycling along traffic-packed urban streets in early evening rush hour, then Altura's Zephyr (opens in new tab) jacket is the solution. The bright and reflective Nightvision panels on the upper arms, back and chest mean that you'll be unmissable under bright lights.
The jacket's taped seams also make it waterproof to a 10k rating, so it can handle average showers for short bursts. And don't be concerned that you'll turn up to work dripping in sweat from trapped perspiration – the Zephyr's rated 5k for breathability, making it breathable enough to keep you cool during urban travel.
Like with the Twister jacket, the women's Zephyr (opens in new tab) is designed with a longer cut, and is available in Purple/Pink and Green/Teal. The men's Zephyr is available in three colourways: Lime/Navy, Blue/Navy and Red/Dark Red.
Altura's Electron Cycling Jacket
The Electron (opens in new tab) Nightvision jacket will truly ensure you're seen on the roads in low-light conditions thanks to the innovative Scilif Sunfibre (opens in new tab) battery-powered lighting system that's built into exterior of the waterproof shell.
The optic-fibre lighting system runs over the shoulders and down each side of the back panel, and when you switch it on it glows bright red up to a distance of 3km, making you highly visible to vehicles overtaking you. In addition, there are multiple Nightvision reflective panels on the sleeves and body to boost visibility. The SCILIF powerbank is rechargeable via USB and easily removable for charging/washing the jacket.
The Electron's waterproof and breathability ratings are both 10k, making it Altura's most waterproof and breathable cycling jacket. Not only that, but it also incorporates handy fleece-lined panels on the arms and chest to keep you toasty when battling brutally cold headwinds. The hood is also removable and can be stashed away when you're riding.
The men's Electron is available in a Carbon colourway and the women's Electron (opens in new tab) comes in Navy.
To view the entire range of Altura's cycling jackets and other cycling clothing and accessories, visit Altura.co.uk (opens in new tab)
Howard is a freelance health and fitness journalist and copywriter. He has written for publications including ShortList, Runner's World, Trail Running, Women's Running, Red Bulletin, Wareable and Cycling Weekly. He enjoys nothing more than lacing up his trail shoes and heading out to explore new trails. He's run ultramarathons everywhere from the French Alps and Canadian mountains to the Welsh coast and Peak District. When not running, he's usually found hitting his local MTB singletrack trails or on a quest to find the country's best cinnamon bun.