8 healthy spices everyone should have in their store cupboard
These health-boosting spices will give your meals – and your body – a boost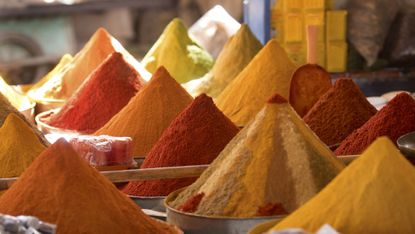 (Image credit: Getty Images)
It's an age-old challenge: you're trying to eat healthily - but you don't want to sacrifice flavour.
That's where our list of key healthy spices come in. Not only will they add a kick to your cooking to keep your tastebuds stimulated, but they also offer an added boost in the form of health-boosting properties.
Read on to discover the eight spices you should absolutely have in your store cupboard - and how to use them…
1. Turmeric
This yellow spice contains the compound curcumin that has powerful anti-inflammatory properties (indeed, it's a key ingredient in one of the entries on our list of the best vitamins for women over 50). 'Studies show turmeric may help to protect against arthritis, heart disease, liver disease, strokes, cancer, diabetes and bowel disease,' says Dr Tony Booker, Senior Lecturer at the University of Westminster.
Try this: Combine 1 cup almond milk, 1tsp turmeric, a pinch of grated fresh ginger and 2tsp coconut oil. Heat in a pan, then whisk for a frothy 'turmeric coffee'.
2. Black pepper
'Pepper is one of nature's more perfect foods,' says nutritional therapist Nat Hawes, author of Nature Cures. 'It aids digestion, increases nutrient absorption, helps with weight loss and clears congestion. For example, a mixture of pepper and honey can help to fight cold, mucus-producing diseases and sore throats.'
Try this: To improve taste and digestion, add a pinch of black pepper to every meal.
3. Ginger
'Ginger is an excellent natural remedy for nausea caused by nerves, travel and morning sickness,' says nutritionist Rob Hobson. It also contains anti-inflammatory compounds that help reduce pain, aid digestion and circulation.
Try this: Make ginger tea by adding ½tsp ground ginger to a mug of hot water. Leave for 10 minutes and strain.
4. Asafoetida
This Indian spice has a strong, pungent smell that mellows out during cooking. 'It's often used in place of garlic in Indian cooking,' says TV chef Ravinder Bhogal. 'Asafoetida adds flavour, but it also aids digestion problems.'
Try this: Add a small sprinkle to dishes containing beans and pulses, then cook through.
5. Nutmeg
Feeling anxious or having trouble sleeping? Add a sprinkle of nutmeg to hot milk. 'It stimulates the brain to help eliminate fatigue and stress, alleviate anxiety and depression, and improve concentration,' says Nat. 'It's also an effective sedative that can aid sleep.'

Try this: There are beauty benefits, too. Add a little grated nutmeg to water or honey to make a paste to brighten your skin.
6. Saffron
Saffron contains carotenoids that can help prevent eye damage from bright sunlight. Studies have shown that it might help protect against age-related macular degeneration (damage to cells on the retina), too.
Try this: Make a saffron stock to add to dishes by steeping a pinch of saffron in warm water for 30 minutes.
7. Cumin
This fragrant spice stimulates the liver to produce more bile (aiding digestion) and helps absorb nutrients. It's also a good source of iron, magnesium, potassium and zinc.
Try this: Sprinkle cumin seeds over root vegetables before roasting for an aromatic twist.
8. Cinnamon
'Use cinnamon liberally to reduce blood sugar levels,' says nutritionist Elizabeth Peyton-Jones, author of Cook Yourself Young. 'When eaten with sweet foods, it helps to stabilise blood sugar spikes. Cinnamon is also anti-inflammatory, kills bacteria, lowers cholesterol and improves gut health.'
Try this: Add a sprinkle of cinnamon to your morning coffee instead of sugar.
Get the Fit&Well Newsletter
Start your week with achievable workout ideas, health tips and wellbeing advice in your inbox.
Launched in 2020, Fit&Well.com is all about helping you meet your health and fitness goals in ways that are fun and achievable. With news and features on fitness, weight loss, running, nutrition, yoga, wellness and more, we're committed to helping you wherever you are on your fitness journey. We break down the best fitness tech, with reviews, buying guides and the latest deals on fitness and wellness kit, from dumbbells to diffusers.
We cater for all difficulty levels here. It doesn't matter if you're a beginner in the world of fitness or you're gearing up for your tenth marathon: we're all moving towards the same goal – creating a healthier, happier you. From guides on getting started doing walks around the block, to creating the perfect work-from-home space, to eating to fuel your first triathlon. It's all here.