Cross training benefits: 6 reasons why we should all be doing it
Cross training benefits? There are many, and our guide will show you all you need to know about this functional training method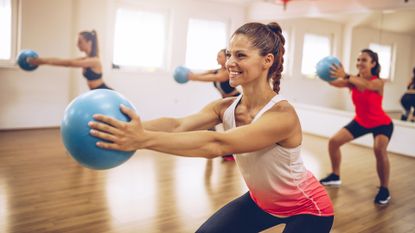 (Image credit: Getty )
Get the Fit&Well Newsletter
Start your week with achievable workout ideas, health tips and wellbeing advice in your inbox.
Thank you for signing up to Fit And Well. You will receive a verification email shortly.
There was a problem. Please refresh the page and try again.
If you're looking for a new activity, our guide to cross training benefits may persuade you to consider adding functional fitness to your routine. Cross training is incorporating different ‌types of movement into your normal workout to strengthen separate muscle groups, while improving overall fitness. This can include anything from resistance training to cardio and mobility sessions.
Incorporating cross training into your routine can help prevent injury, and rest different muscles – while giving you an opportunity to evolve your fitness and push yourself outside of your comfort zone. Many people also invest in multi-purpose equipment, such as the best cross training shoes, to make sure they can safely tackle different exercises and movements.
If done consistently, cross training can add variation to your routine and develop your overall fitness, confidence and mobility. To discover more about the benefits of cross training benefits read on.
1. Better mobility
When we repeat the same workout time and again, our bodies adapt to the session. This means it's harder for us to see results and we risk under-training other parts of our body. Cross training can help us work on our mobility, meaning that we can increase the range of movements that our body is capable of.
"A variety of movements, paired with stretching and mobility work, will not just get you stronger, but also lead to increased mobility," says Jess Rosart, a senior coach and gym manager at WIT TRAINING. "I see countless members come in to Cross Fit classes for the first time barely being able to get into a comfortable squat, after a few months they're not only able to achieve a full-depth air squat but are able to perform front squats and back squats with a barbell."
To help improve your mobility, Rosart suggests warm-up movements, such as the kang squat (hips, ankles and lower back) and hindu push ups (shoulders, back and hamstrings).
2. Increased strength
One of the biggest benefits of cross training is that it can improve your overall physique and accelerate your fitness level. Many people take up cross training with the purpose of strengthening other muscle groups.
"One of the biggest goals I hear from people when they join us at WIT is that they want to get stronger," says Rosart. "Compound lifts, such as deadlifts, squats, pressing, weighted rows, and lunges work multiple muscle groups at once, while helping you develop muscle growth throughout your body."
Strength training can do more than help you build muscle. Research from the British Medical Journal has revealed that when you combine aerobic exercise and strength training together, you can reduce your risk of dying from diseases such as cancer, cardiovascular disease, and Alzheimer's by up to 40%. The study also showed that when strength or aerobic exercises were performed individually, that figure fell to 29% for people who only did aerobic exercise, and 11% for those who only did strength training.
3. Injury prevention
Strengthening the under-used areas of your body and working on your mobility help to reduce your risk of injury, but swapping your high-impact sessions (running, HIIT workouts, cycling etc) for low-impact workouts (resistance training, walking, yoga) also has enormous benefits.
Studies, including one from the Journal of Orthopedic Research, have shown that continual strain on muscle groups can result in injury. By training other muscle groups our bodies not only recover in between sessions but we strengthen other parts to support weaker areas.
4. It's time-efficient
Cross training can help you use your time efficiently. While you're resting a muscle group one day, you can work on your mobility, or strengthen your core with a pilates workout. For people who do outdoor sports, these active recovery days are an opportunity to mix up your training when the weather isn't ideal and gives you a chance to rest a muscle group that would otherwise be overworked.
"You just need to show up, follow along and stay consistent with your training to see the results," says Rosart.
5. Boosts your confidence
Have you ever noticed the confidence you get in your personal life when you show up and have a great workout or hit that PB lift you have been working so hard to get? Mixing up your training can be good for your confidence.
"Every time you achieve something big or small it gives you that confidence in other aspects of your life," says Rosart. "Active activities can result in meeting some of your closest friends, as it brings people from all walks of life together under one roof taking on workouts that they never thought would be possible for them to complete."
Group classes, such as CrossFit and F45, can be great for cross training as they work different areas of your body, often covering cardio and strength within the sessions. They also provide a great opportunity to meet new people.
6. Improves endurance
There are plenty of studies to show that cross training can improve your Vo2 Max – an essential component of aerobic fitness. According to the Journal of Frontiers in Physiology, our heart can adapt to different types of training, meaning that the cardiac ability of a swimmer isn't the same as that of someone who goes to spin classes three times a week. Researchers in the study termed this "sport-specific adaptations to the heart".
Just as our muscles adapt to one specific type of training, so does our aerobic threshold. This means varying your training is important if you want to achieve a balanced cardiovascular baseline for any activity.
Get the Fit&Well Newsletter
Start your week with achievable workout ideas, health tips and wellbeing advice in your inbox.
Stacey Carter is a Freelance Health Writer who has written print features and digital content for titles such as Woman & Home, Natural Health, Women's Health, Get The Gloss, and Stylist. You'll find her covering a wide variety of health-based topics, talking to leading figures in the fitness industry, and investigating the latest trends in wellness. When she's not at her laptop, weekend hikes, testing out new recipes in the kitchen and LISS-style workouts are her favourite ways to switch off.