Easy protein mug cake recipes
For a quick snack or dessert, give one of these protein mug cake recipes a try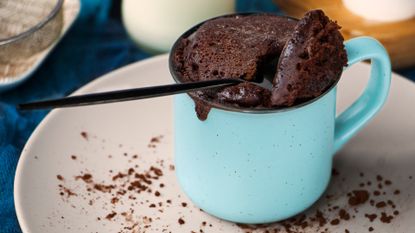 (Image credit: Getty images)
There are a multitude of protein mug cake recipes online. From the quick and easy through to the slightly more complicated, a protein mug cake is a great way to increase your protein intake, in a fun and tasty way. Plus, they're made in a mug, so there's minimal equipment required.
Essentially, protein mug cakes combine one of the best protein powders for women, with baking powder, sometimes flour and egg, a milk of choice and the necessary flavourings, including fruit slices, oats, sauces, chocolate and yoghurt. As the name suggests, protein mug cake recipes tend to be high in protein. They can also be adapted for different diets such as keto or vegan.
Protein, a vital macronutrient for bones and muscles, is needed for growth and repair in the body. It's important for everybody, however anyone who exercises and lifts weights needs to ensure a healthy dose of protein to ensure muscles can repair and recover properly. Sometimes, chicken, fish and other protein sources might not appeal, so a protein mug cake offers an inventive way to enjoy something sweet whilst still hitting your health goals.
Give one of these protein mug cake recipes a try, created by experts.
Protein mug cake recipes
Banana Chocolate Chip Protein Mug Cake
Fruity, nutty and chocolatey is the name of the game with this protein mug cake mix, created by personal trainer and nutrition coach Aimee Victoria Long.
Ingredients
1 large banana
30g whey protein powder of your choice. "I personally love salted caramel flavour," says Long.
1 tbsp peanut butter
150ml oat milk
10g chocolate chips
1tsp baking powder
1. First, stir together all the ingredients in a large mug. Spray the mug with cooking spray before adding the ingredients to prevent sticking, if you so wish.
2. Next, microwave your mug for one minute. After it's done, check to make sure it's cooked through and has a cakey texture. If not, microwave for another 15 seconds.
3. Finally, drizzle over a little extra peanut butter and chocolate chips. Or use any other toppings you like such as ice cream.
The Chocolate Lover's Protein Mug Cake
Nutritionist Rob Hobson has created a treat for any chocoholics. If you double the mix, this works great as a dessert for you and a friend.
Ingredients
1 tbsp (8g) all-purpose flour
30g scoop chocolate protein powder (whey or vegan works best)
2 tbsp granulated sugar
2 tbsp cocoa powder
1/4 tsp baking powder
70g water
1 egg white
1/2 tsp vanilla extract
1 tbsp chocolate chips
1. Whisk together the flour, protein, sugar, cocoa and baking powder in a bowl. Add the water followed by the egg white, and vanilla. Whisk until all lumps are gone.
2. Pour into a mug, topping with the chocolate chips, and heat for one minute.
3. If the mix is still liquid, or the center is liquid, then heat for a further 10 seconds.
The Birthday Cake Protein Mug Cake
It doesn't actually need to be someone's birthday to whip up this sprinkle tipped protein-packed treat, created by Hobson.
Ingredients
30g scoop protein powder (Try Fit&Well's top pick: Dymatize Nutrition ISO100 in birthday cake flavor)
2 tbsp sugar
3 tbsp plant-based milk
1/4 tsp baking powder
1 tbsp apple sauce
1 tsp vanilla extract
Multicolored sprinkles (to top) and peanut butter
1. In a bowl, mix the flour, sugar, milk, baking powder, apple sauce or oil, and vanilla. Keep mixing until all lumps are gone.
2. Cook in the microwave for 60-90 seconds. Check to make sure the mug cake is cooked through.
3. When it's done, top with peanut butter and sprinkles.
Get the Fit&Well Newsletter
Start your week with achievable workout ideas, health tips and wellbeing advice in your inbox.
Lucy is a freelance journalist specializing in health, fitness and lifestyle. She was previously the Health and Fitness Editor across various women's magazines, including Woman&Home, Woman and Woman's Own as well as Editor of Feel Good You. She has also previously written for titles including Now, Look, Cosmopolitan, GQ, Red and The Sun.
She lives and breathes all things fitness; working out every morning with a mix of running, weights, boxing and long walks. Lucy is a Level 3 personal trainer and teaches classes at various London studios. Plus, she's pre- and post-natal trained and helps new mums get back into fitness after the birth of their baby. Lucy claims that good sleep, plenty of food and a healthy gut (seriously, it's an obsession) are the key to maintaining energy and exercising efficiently. Saying this, she's partial to many classes of champagne and tequila on the rocks whilst out with her friends.