Eight foods with hidden sugar
Trying to cut down on the sweet stuff? Here are eight foods with hidden sugar that you should avoid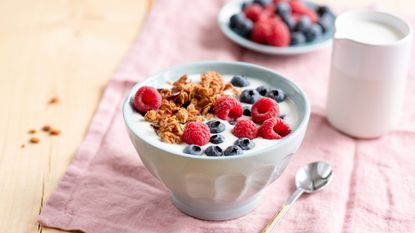 (Image credit: Getty)
Sugar can give us energy, help our brain function and keep our central nervous system working. But eating an excessive amount can cause various health problems including obesity, diabetes, and high blood pressure.
It's a naturally occurring carbohydrate in many healthy foods, so it's not always something you can (or should) avoid. However, processed foods can pack in an excessive amount of it – and it's hard to spot when it's camouflaged on long lists of ingredients.
To help you dodge the sweet stuff, we looked at the latest research to find out which common foods contain hidden sugar. We also got expert tips and advice on how to avoid it more generally.
Trying to lose weight? Reducing sugar and being active can help. In addition, our expert guide to the best protein powder for weight loss can help you feel fuller for longer.
Expert input from
Expert input from
Lena Beal
Lena Beal is a registered nutritionist and spokesperson for the Academy of Nutrition and Dietetics. She is also a cardiovascular dietitian at Piedmont Atlanta Hospital, an author and public speaker. She has experience in food science research, critical care nutrition, sports nutrition, and policy. She also served for eight years as the legislative chair for both the Greater Atlanta and Georgia Academy of Nutrition and Dietetics.
Unless otherwise specified, the following foods' sugar content comes from the U.S Department of Agriculture nutrition database.
1. Fruit juices and smoothies
Commercial smoothies and fruit juices often contain lots of added sugar. For example, a Pineapple and Kale smoothie from SmoothieKing includes 1.2oz/34g of sugar – more than the recommended daily amount.
A 2016 review of drinks sold in UK supermarkets found that almost half of fruit drinks, primarily marketed towards children, contained a child's maximum amount of recommended daily sugar.
2. Other beverages
According to the Dietary Guidelines for Americans (2020 - 2025), sugar-sweetened beverages, such as soda, sports drinks, energy drinks, ready-to-drink teas and coffees, and beverages with flavored syrups, contribute more than 40% of sugar to our daily diet.
3. Pasta sauces
Ready-made pasta sauces can contain as much as 11g of sugar in just one ½ cup. That's more than two teaspoons of sugar on every plate. Making pasta sauce at home is quick, easy, and can sometimes be cheaper too.
4. Breakfast cereal
Breakfast cereals can be loaded with hidden sugars, even when they look healthy. For example, a 1-cup serving of Reese's Puffs contains 0.35 oz/10g of sugar, while the same amount of Kellogg's Raisin Bran Crunch contains 0.6 oz/19g, around four and a half teaspoons.
It's best to stick to low-sugar cereals or ones with no added sugar, such as wheat biscuits or shredded wheat.
5. Yogurt
Flavored yogurt and yogurt products can be packed with sugar. Gerber yogurt melts, for example, contain a teaspoon of sugar in every 0.2oz/7g serving. One 6 oz/170g container of Silk Peach Soy Yogurt includes 0.8oz/25g of sugar, and even a 6oz/170g container of non-fat fruit yogurt contains as many as seven teaspoons.
Beal warns, "Food may be marketed as 'healthy' or 'all-natural' when in reality, it's not."
6. Condiments
A tablespoon of ketchup contains as much as 0.1oz/3g of sugar, while a tablespoon of BBQ sauce contains double that amount - 0.2oz/6g of sugar. Even salad dressings can pack in the sweet stuff. French dressing contains around 0.06 oz/2.4g per tablespoon, while thousand island dressing has 0.09oz/2.6g.
Beal also has a warning on peanut butter. "Reduced-fat peanut butter can be a surprising source of extra sugar," she says. "To replace the fat, sugar is often added as maltodextrin, corn syrup solids, and molasses."
7. Alcoholic drinks
Before you reach for that coffee liquor, you might want to know that just 1.5 fl ozs contain 0.9oz/24g of sugar. Some cocktails also contain huge amounts of sugar. For example, a pina colada contains around 1 oz/31g of sugar.
Pre-mixed alcoholic drinks tend to be the worst offenders, according to Action on Sugar, with some containing almost 1.7oz/50g of sugar per serving.
8. Granola or cereal bars
It's essential to look carefully at the ingredient labels on these products. While many can offer a nutritious, filling snack, there are lots of brands that are loaded with added sugar. For example, Quaker Oatmeal To Go Granola bar contains 0.7oz/19g of sugar, around four and a half teaspoons.
Aim for granola and cereal bars with no more than 0.4oz/10g of sugar, or make your own at home.
How does sugar affect the body?
According to Harvard Health, consuming too much sugar can increase your risk of:
Obesity
Cardiovascular disease
Fatty liver disease
Type 2 diabetes
High blood pressure
Chronic inflammation
Stroke
The latest research, including this 2020 study of over 100,000 people from the American Journal of Nutrition, also finds correlations between increased sugar intake and increased overall risk of cancer, breast cancer in particular.
Hidden sugars in many foods can even change our tastes and dietary preferences. For example, eating sugary foods triggers our brains to produce dopamine, which makes us feel good. This reinforces the urge to eat more sugary foods in search of the next dopamine hit.
How to cut down your sugar intake
American adults eat 2.7 oz/77g of sugar every day, three times the recommended amount, according to the American Heart Association. With 0.14oz/4.2g equalling one teaspoon, we're putting away over 18 teaspoons of sugar daily.
While these stats and facts may seem shocking, the good news is that three-quarters of us are trying to cut down. Knowing which foods contain hidden sugar is a great place to start.
We spoke to registered nutritionist and spokesperson for the Academy of Nutrition and Dietetics, Lena Beal, and asked for her expert advice on how to cut down on hidden sugars. Here are her top tips:
Look out for these ingredients on food labels: Barley malt, beet sugar, brown sugar, buttered sugar, cane juice crystals, cane sugar, caster sugar, and coconut sugar.
Avoid sugary drinks and opt for tap water over soft drinks, sports drinks, energy drinks, or flavored milks.
Try cooking healthy recipes at home instead of relying on over-processed packaged foods.
Get the Fit&Well Newsletter
Start your week with achievable workout ideas, health tips and wellbeing advice in your inbox.
Joanne Lewsley is a freelance health and lifestyle writer who specializes in evidence-based content. She is a regular contributor to Live Science, Medical News Today, and Fit&Well.
Joanne has worked for some of the web's biggest brands, including BabyCentre UK, BBC and Lastminute.com. She has also worked with ITV, Sky and Channel 5 in launching flagship TV websites to support broadcaster content.
Previously UK editor at parenting site BabyCentre UK, Joanne led a team of editors and freelance writers to create award-winning health content.
Moving to freelance has allowed Joanne to explore and develop her passion and expertise in creating health, wellness and lifestyle content that is clear, easy to read and based on solid evidence.
She also regularly reviews health and wellness gadgets and tech for a fleet of websites, including Top Ten Reviews and LiveScience.
As well as creating long-form content, Joanne has a keen news sub-editor's eye, creating compelling news headlines and packages for breaking news on the AOL and Yahoo websites.
In her spare time, she loves visiting the Norfolk Broads close to her home in Norwich, trying to break the 5k barrier on her running, and indulging in her love of live music.