Fitbit Sense 2 vs Versa 4: here's which one I think is really worth buying
I put Fitbit's two smartwatch-style fitness trackers to the test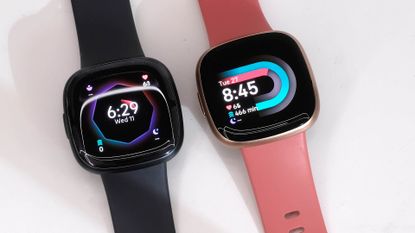 (Image credit: Future)
The Fitbit Sense 2 and Versa 4 are Fitbit's premier smart fitness watches. The watches are evenly matched at monitoring your workouts and tracking your runs, but the Sense 2 offers an electrocardiogram test and an EDA scan. These features can give you additional insights into your heart health and stress levels.
I've tested both watches extensively and I'd normally recommend buying the Versa 4. I rarely use the Sense 2's additional health-tracking tools and I think the Versa 4 packs in all the features you need at a lower price.
However, the Sense 2 is currently discounted as part Fitbit's early Black Friday sales. It's retailing at $198.04 on Amazon, which is the same price as the Versa 4. With this discount applied, you might as well get the model with the better features, even if you don't end up using the health-tracking tools all that often.
Fitbit Sense 2: was $299.95, now $198.04 at Amazon
Save over $100 Fitbit's most advanced watch offers all-day stress detection and gives you a daily stress management score. It has a built-in ECG app for atrial fibrillation assessment and even offers Fitbit pay.
Price check: Walmart $204.95 | Target $199.95| Best Buy $199.95
The Fitbit Sense 2 is significantly more expensive than the Versa 4 despite looking very similar. It does have more features, including a temperature sensor and ECG heart rate reader.
For
Can assess heart health
Has superior stress-tracking
Against
Costs more
Have to manually input some data
The Versa 4 is slightly cheaper than the Sense 2 and its display is arguably better looking. However, it lacks some of the headline features of the premium model.
For
More affordable
Cleaner design
Against
Less in-depth stress-tracking
No ECG measurement
Price
Normally, the Fitbit Sense 2 costs $299/ £269 and the Versa 4 costs $199/ £179. At the moment, the Sense 2 is discounted to $200 as part of the Black Friday Fitbit sale, but there aren't any deals available on the Versa yet.
This might change as we get closer to the official Black Friday date (November 24). Previously, I've seen the Versa 4 discounted to $149.95, but there's no guaranteeing that it will drop this low again.
Health tracking features
The Fitbit Sense 2 and Versa 4 are both big on health and wellbeing. There's a Relax app in both watches, which can guide you through a structured breathwork session. And both models can sleep and your resting heart rate.
However, the Sense 2 boasts two features that are missing from the Versa 4: an ECG and EDA scan.
The ECG analyzes your heart rhythm through its electrical signals, and can pick up signs of arrhythmia, which could be indicators of major underlying health issues. A scan takes 30 seconds.
The "EDA" scan, which stands for electrodermal activity, takes two minutes. This was initially sold as a stress-tracking feature, but at the end you'll simply be told how many electrodermal activity "events" the Sense 2 noticed. These are caused by changes in things like skin temperature or sweat production. They can be caused by stress, but also excitement and other emotions.
Because the Sense 2 can't detect which emotion caused the electrodermal activity, you'll be asked to input how you were feeling during the event. To be honest, this felt like a lot of effort to me, and made the tool less useful.
Unlike the EDA scan, you'll need to manually start the ECG. So it's worth thinking about whether or not you'll use this tool all that often—it feels a bit redundant, unless you're someone who is concerned about your heart health.
Both the Versa 4 and Sense 2 can inform you of irregular heart rate readings recorded using their standard pulse readers. And you don't have to actively take time out of your day to do that, because it's automatic.
Fitbit premium vs the free app
When I set up my Fitbit with my phone, I was bombarded with mentions of Fitbit Premium. This is an optional service that costs $7.99 a month, or $80 for the year. You'll get a six-month trial free with either watch, but what does Premium actually give you?
The real meat of Fitbit Premium is a library of video workouts and meditation sessions, similar to those of Apple Fitness+.
There are also lots of recipes in Fitbit Premium and accessing the platform unlocks a few important watch stats. There's training 'Readiness', which plots your sleep against factors like stress and recent activity to judge whether you are ready for a hard workout or not. It also improves the basic sleep tracking functionality on the watch, assigning you a sleep profile animal based on your sleep behavior.
If you don't care about the mound of exercise and wellness content included with Fitbit Premium, the monthly fee isn't worth it. It's also worth thinking about whether or not you will actually follow Fitbit's guidance on sleep and workout readiness. If you prefer to use the model for passive tracking, skip the Premium subscription.
Sports tracking
The Sense 2 and Versa 4 have exactly the same sports tracking modes. This includes everything from walking and running to weightlifting, surfing and rollerblading. I counted 41 modes during testing.
Before you get too excited, most of these don't have any specific stats attached to them. The real benefit of having so many modes is that when they get filed away in your activity history on your phone, you can see what they were. You don't want your rollerblading session to be called "general workout" do you?
You can also track and record outdoor exercise, thanks to on-board GPS. This tool will help with rough estimates of running speeds and distance, although the accuracy here is poor. I found that it took ages to triangulate. However, you can at least link your Fitbit with your phone, which will usually be able to provide a better GPS signal.
For indoor exercise, the Sense 2 and Versa 4 have to rely on motion sensors to estimate distance, and the heart rate sensor to judge exertion. I found the accuracy of heart rate recordings to be a bit hit-and-miss. The figure spiked unrealistically high during the first few minutes of a workout. And during strength training, the Sense 2 and Versa 4 were slow to pick up on heart rate increases and decreases.
That said, my peak and average heart rate readings were extremely similar to those of a Garmin watch that costs twice as much in all of our test sessions.
Fitbit also makes a bigger deal of heart rate zones than most, buzzing you with a little vibrate notification as you move from one zone to another.
Also, top tip: don't snooze on the HIIT mode. You can use it to create custom workouts, which are just as handy for recording run/walk interval sessions as they are sweaty gym sessions.
Style and design
I find the Fitbit Sense 2 and Versa 4 to be comfortable watches. They are not heavy, at 37g a piece, and they look a little cuter than most wearables thanks to their rounded shape.
Their build quality is nearly identical. They have toughened glass up top, called Gorilla Glass 3, and the sides are aluminum. The underside looks like glass but is actually plastic.
If I were to plan to wear one of these all year, I would switch out the strap. There's nothing wrong with the supplied silicone one, but the design and material makes loosening and tightening a bit of a chore. It's also impossible to make fine adjustments to the fit, which could mean that you can't pull it tight enough for accurate heart rate readings.
You will need to get a dedicated Sense/Versa strap as Fitbit uses its own fastening system. But you'll find plenty online and changing the strap takes two seconds.
The watches' OLED screens are evenly matched. They are fairly sharp and colorful and bright enough to handle sunny days.
Smartwatch features
The Fitbit Sense 2 and Versa 4 are halfway to being smartwatches, without quite getting all the way there. They can't play music, but they do both support Fitbit Pay, which lets you pay for stuff with a simple swipe.
They will receive phone notifications and I found these easy to read, thanks to the Fitbits' fairly sharp screens. You can also use them to get Google Maps directions. You can't see maps on the watch, but you can get turn-by-turn instructions on your wrist.
Both watches also support Amazon Alexa, which I found useful for setting timers when cooking, but there was little else I found useful about this last feature.
Battery life
The Fitbit Versa 4 and Sense 2 use the same battery, which the company claims can last for six or more days. This is affected by how you use these watches and it's better to expect a bit less from the battery, perhaps five days. The battery is also rated for 12 hours of GPS, which is accurate judging by my test runs.
Runtime is going to dip significantly if you use the "always on" display mode, which keeps the display brightly lit. As standard, it dims after a few seconds (you can set this up to 60 seconds).
With always-on engaged, you're looking at more like two or three days of use between charges. Still better than a Pixel Watch, but not ideal. One compromise is to use always-on doing exercise, but not all day. I found the arm whipping gesture that turns the screen on a bit sluggish during runs and gym sessions, so only used the permanent display feature while I was working out.
Final verdict
The Fitbit Sense 2 is a better watch than the Versa 4, purely because it offers the ECG and EDA scans. But is it a better buy? I don't think so.
I'd recommend the Versa 4 for most people, because I don't use the Sense 2's heart health and stress-related features. Sure, they're a neat bit of tech and a "clean" ECG is reassuring, but the Versa 4 has all the features I really need in a fitness tracker, at a lower price.
That said, if you can find a deal that bring the Sense 2 down to a similar price as the Versa 4, it might be worth taking advantage—especially if you're likely to use the ECG tool.
Get the Fit&Well Newsletter
Start your week with achievable workout ideas, health tips and wellbeing advice in your inbox.
Andrew is a freelance contributor to Fit&Well. He has written about health and fitness for more than a decade, specializing in consumer tech. When not testing fitness tech for Fit&Well he writes about fitness for Forbes and contributes to publications including WIRED, TechRadar, Stuff, Trusted Reviews and others. Andrew runs to keep fit, and can often be round jogging around the parks of South London with several wearables and a heart rate strap attached. He also enjoys indoor cycling, using a turbo trainer and platforms like Zwift to get some kilometers in while avoiding London's busy streets.